May 26, 2007.
Passport America - Discount Camping Club
Dairy operation around Elberta in the South Valley southwest of Provo, Utah
On the southwest side of Utah Lake we came across a large dairy in the town of Elberta.
Dairy operation in the South Valley town of Elberta, southwest of Provo, Utah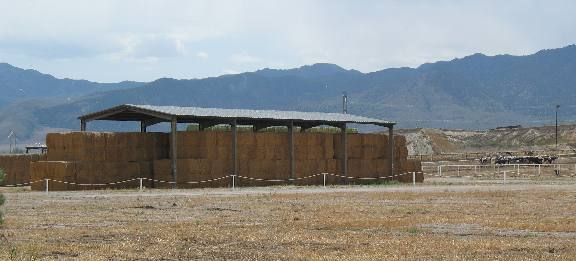 This large dairy seemed to be the only industry in Elberta.
Old Sinclair station in Elberta, Utah
This old Sinclair station in Elberta was meant for a photograph, don't you agree?
Old mine east of Elbetta, Utah
Between Elberta and I-15 while traveling east on U.S. 6 we spotted this old mine on the side of a large hill. I suspect this that this was a dolamite or limestone mine. If anyone knows please let me know. It was located on a large hill southwest of Santaquin and visible when heading east on U.S. 6.
Grain field in the valley surrounding Utah Lake near Provo, Utah
This is one of the unidentified grain fields in the south valley. I wish I knew more about grain identification but all grains look so similar to us. For all I know it was oats to feed those dairy cattle with.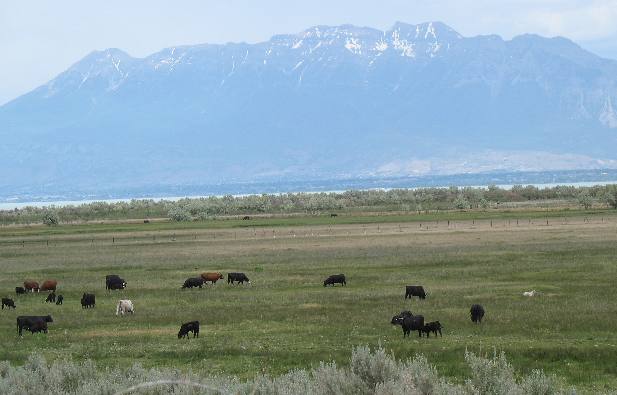 Joyce took this picture looking east from what is known as south valley about 30-miles south west of Provo. The cattle are grazing at an elevation of around 4,300 feet while the mountain peak is around 11,926 feet. That mountain is the one we took the Alpine Loop around yesterday.
This picture was taken south of Utah Lake in the valley known as south valley. South Valley is an agricultural area with a combination of fruit orchards and alfalfa fields. The nearest named spot in the road would be Elberta.
Until next time remember how good life is.
Until next time remember how good life is.
Mike & Joyce Hendrix who we are
We hope you liked this page. If you do you might be interested in some of our other Travel Adventures:
Mike & Joyce Hendrix's home page
Travel Adventures by Year ** Travel Adventures by State ** Plants ** Marine-Boats ** Geology ** Exciting Drives ** Cute Signs ** RV Subjects ** Miscellaneous Subjects
We would love to hear from you......just put "info" in the place of "FAKE" in this address: FAKE@travellogs.us
Until next time remember how good life is.