Passport America - Discount Camping Club
Provo Tabernacle
This is the Provo Tabernacle constructed in 1883 by Mormon pioneers. This beautiful religous edifice is utilized by faithful throughout the valley.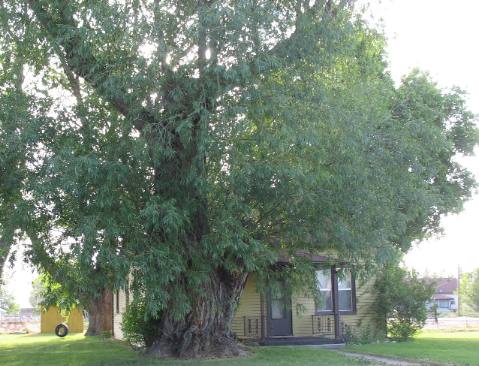 We stopped to take a picture of this large willow tree. Look closely at the size of this trunk. This tree was located on west Center Street near Utah Lake State Park and the campground we were staying in. I could not believe the size of the trunk on that willow tree.
Grain field in the valley surrounding Utah Lake near Provo, Utah
This is one of the unidentified grain fields in the south valley. I wish I knew more about grain identification but all grains look so similar to us.
Wasatch Mountains as seen from the valley on the west side of Utah, Lake near Provo, Utah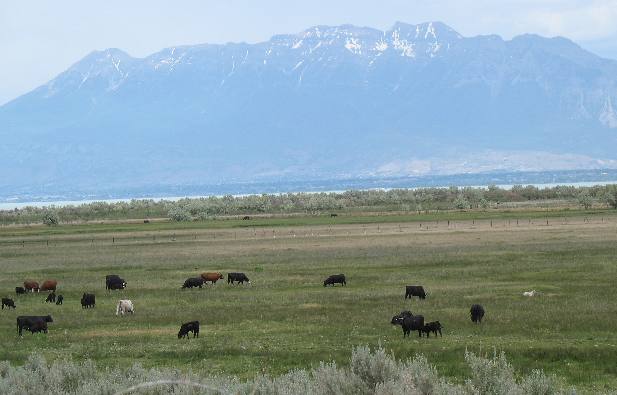 Joyce took this picture looking east from what is known as south valley about 30-miles south west of Provo. The cattle are grazing at an elevation of around 4,300 feet while the mountain peak is around 11,926 feet. That mountain is the one we took the Alpine Loop around yesterday.
The town of Provo, Utah is at the base of that mountain as in between us and that mountain.
Quirrh Mountains & Utah Lake west of: Provo, Utah
This was taken at a recreation area on Utah Lake with facilities for fishing, camping, swiming beach, and boat launching.
Provo, Utah is on the east side of Utah Lake while the Quirrh Mountains are on the west side of the lake.
This is a fruit growing area with orchard upon orchard of various fruit trees.
Joyce took this picture off Lincoln Beach Road that runs along the shore of Utah Lake about 25-miles southwest of Provo.
Saturday, of the Memorial Day weekend, was a big boating day on Utah Lake as can be seen in this picture taken in the boat basin at Utah Lake State Park.
Joyce took this picture from Utah Lake State Park on the western side of Provo Utah. That is the Wasatch Mountains. Provo is situated between that mountain and where we are located on the eastern bank of Utah Lake.
Utah Lake is one of the largest freshwater lakes west of the Mississippi River.
Until next time remember how good life is.
Until next time remember how good life is.
Mike & Joyce Hendrix who we are
We hope you liked this page. If you do you might be interested in some of our other Travel Adventures:
Mike & Joyce Hendrix's home page
Travel Adventures by Year ** Travel Adventures by State ** Plants ** Marine-Boats ** Geology ** Exciting Drives ** Cute Signs ** RV Subjects ** Miscellaneous Subjects
We would love to hear from you......just put "info" in the place of "FAKE" in this address: FAKE@travellogs.us
Until next time remember how good life is.