Mustang Island and Port Aransas, Texas
Mustang Island and Port Aransas, Texas
April 10, 1007
Yesterday we visited the small town of Wadsworth and took our Saturn to the famous fishing village of Matagorda. A travelogue of that area is here: Matagorda
Our motorhome is in Lyons Park the City Campground in Refugio, Texas. We tell you all about Refugio in another travel adventure here: Refugio, Texas
Earlier today we visited two other places we have written about they are here:
Big Tree or Goose Island Oak at Goose Island State Park near Rockport
From the coastal town of Aransas Pass we headed south across a causway to Mustang Island and Port Aransas on this ferry.
Ferry between Aransas Pass and Mustang Island
To reach Port Aransas (Mustang Island) from the bayside town of Aransas Pass requires a ferry ride. Four or more ferrys like the one pictured here transport automobiles to and from Mustang Island. It is a short ride and only takes a few minutes.
The jetty protecting Aransas Pass
This is the eastern jetty protecting the pass into Port Aransas and Aransas Bay.
Dry Camping on beach at Aransas Pass (Port Aransas)
This RV'er appears to be dry camping on the beach at Port Aransas. That is Aransas Pass behind the RV.
Automobiles drive on this stretch of beach as do RV's.
Royal Terns
Royal terns doing what royal terns do at the beach.
Surf fishing for stingray on Mustang Island
A snowbird with a sting ray that he just caught while surf fishing. You can see the both the sting ray barb and its tail. The tail is the long thing while the barb is the much shorter "barb" that is pointed down where the tail meets the body. It is that barb that was thrust into the Crocodile Hunter not long ago by a much larger sting ray.
Mike & Joyce Hendrix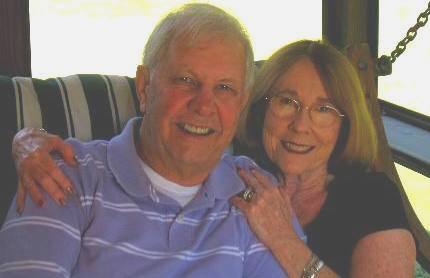 Mike & Joyce Hendrix who we are
We hope you liked this page. If you do you might be interested in some of our other Travel Adventures:
Mike & Joyce Hendrix's home page
Travel Adventures by Year ** Travel Adventures by State ** Plants ** Marine-Boats ** Geology ** Exciting Drives ** Cute Signs ** RV Subjects ** Miscellaneous Subjects
We would love to hear from you......just put "info" in the place of "FAKE" in this address: FAKE@travellogs.us
Until next time remember how good life is.