Matagorda, Texas
Matagorda, Texas
April 10, 2007.
Joyce snapped this picture of a tug boat pushing several barges of liquid petroleum products just after it passed through a draw bridge. Obviously we were stopped for the draw bridge to open while this tow passed through the opening. Note that these barges are very low in the water and carrying a full load.
Tug with loaded barges in intercoaster waterway near Matagorda, Texas
Tug empty barge in intercoaster waterway near Matagorda, Texas
Before the bridge closed it let this empty petroleum barge through that was going in the opposite direction. Note that this lone barge is sitting well out of the water indicating that it is either empty or nearly empty. If you look close you can see two men walking on top of the barge. They are heading to the front corners of the barge to talk the captain through the small opening in the draw bridge we are waiting to cross.
Commercial traffic in intercoastal waterway near Magagorda, Texas
In total the bridge let all three of these vessels through the opening before the bridge was closed and we got to cross. Refer back to the two pictures of tow boats pushing barges and you will see both of those barges in this picture as they pass one another. The lone push boat to the left of this picture also passed under the bridge. Can you imagine the responsibility these tow boat pilots have. As you can see they are navigating is very close quarters. The opening in the bridge was so tight that the barges had crew members with radios standing at each side of the barge telling the tow boat operator how close the front of the barge was to the bridge pilings. You can see both of the men standing together on the left side of the big barge headed toward us.
Canary Island date palm
This was an absolutely gorgeous Canary Island date palm that has been allowed to look natural. So many homeowners want to trim the bottom fronds off to make them look manicured. Note how this one is "full-bodied". I would suspect this palm is over 100-years old.
Yellow beach vine on dunes at Matagorda beach
I don't know the name of this yellow beach vine but it was growing on the dunes at Matagorda.
Click here and go to Rockport, Texas with us
Click here for more Texas Travel Adventures
Mike & Joyce Hendrix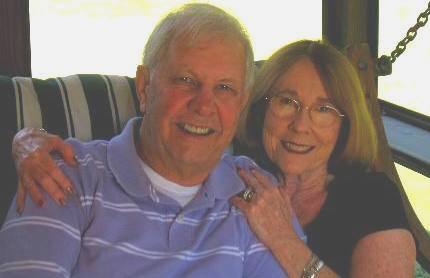 Mike & Joyce Hendrix who we are
We hope you liked this page. If you do you might be interested in some of our other Travel Adventures:
Mike & Joyce Hendrix's home page
Travel Adventures by Year ** Travel Adventures by State ** Plants ** Marine-Boats ** Geology ** Exciting Drives ** Cute Signs ** RV Subjects ** Miscellaneous Subjects
We would love to hear from you......just put "info" in the place of "FAKE" in this address: FAKE@travellogs.us
Until next time remember how good life is.