May 13, 2007.
We are "camped" at Rocky Mountain RV and Marine on east Central Avenue in Albuquerque. We are there moving our belongings from our old Trek motorhome to our new (to us) Winnebago Adventurer Motorhome.
Frank & Sandy invited us to return to their house for a Mother's Day get together.
Once you have been to one of Frank & Sandy's feeds you aren't going to miss a chance to indulge your taste buds. This is Sunday afternoon and we were headed back up the Turquoise Trail toward Madrid and Cerrillos.
Gold Mine Road in Madrid, New Mexico
This is the landmark that we have been looking for. This unusual fence borders both sides of Gold Mine Road where we turn to go to Frank and Sandy's home on the outskirts of Madrid, New Mexico.
Frank has some yard art of his own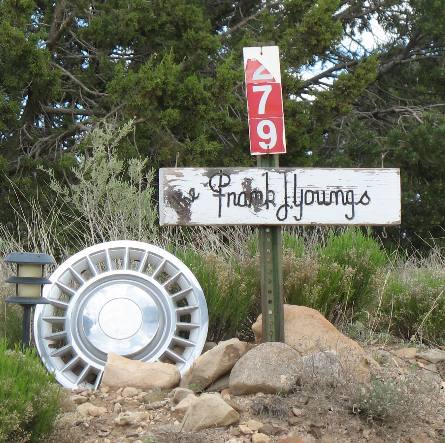 Frank has got some yard art of his own. However, Frank can't run with the big dogs with this small display. If you don't believe me hang on for a few more minutes and I will show you what real yard art is.
As it turns out Frank and Sandy had invited an eclectic group of individuals from all over New Mexico and Pensacola, Florida. A good number in the group had Pensacola connections. One lady, a neighbor, showed up on her horse with two Australian sheep dogs accompanying her. She said she lived several miles on the other side of the arroyo as she pointed where the road didn't go. A retired couple originally from California showed up that lived a few miles away in straw home that was "off the grid". Of course there is us that spend 6-months a year in our motorhome (how eccentric can that be?). Another couple lived in Albuquerque where she was a court reporter and he an air traffic controller. There was a college student, several college teachers, one did computer work while another was a physicians assistant with the remainder just old retired folks.
Conversation was not a problem with that group. I was interested in living off the grid in a straw house. Actually, you wouldn't know it was a straw house since it has stucco on the outside wall and plaster on the inside wall. When the power company quoted what it was going to cost to run power to their place they decided spend the money on solar collectors and batteries instead. Their experience is so interesting. Of course their house is constructed to make the most of the suns heat and the cool evenings experienced in New Mexico. The straw house was on a slab with hot water running through pipes in the concrete for some of their heat. Frank & Sandy are able to heat their entire home with a wood fireplace. Of course their home is also constructed to take advantage of winter solar heat.
Water throughout New Mexico is a concern. It is interesting to listen to those that live in New Mexico discuss how they conserve water, collect rain water and utilize grey water from their homes.
I could sit and listen to them explain what they are doing and how well it works for days on end. I am so interested in things like that but not interested enough to give up the motorhome and settle down in one place to put the ideas into practice.
The neighbor lady arrived on this horse. The slicker is covering blankets
This is the horse the neighbor lady arrived on. As you might suspect the horse is tied to the hitching post near the front gate. She had placed her rain slicker over the blankets she is riding on. She arrived in the pouring rain. Needless to say I waited for the rain to stop before I ventured out to get this picture.
Dog gets free ride
When the neighbor lady headed home I went outside to see her off. Before heading out she realized one of her dogs had a cactus spine in his front foot. Not being able to get the cactus spine out she had the dog jump up on the horse to ride home with her. The other dog did not think that was a fair deal as you can see.
Heading home after a day at the party
The neighbor headed off for her place with the dog along for the ride. When she arrived is was pouring rain. That is the reason for her slicker suite. Also note that she is riding bare back.

This was some of the Pensacola connection at our friends house.
Sandy Young and her daughter Wendy
This is Sandy and her daughter Wendy. Wendy and her family live in Cerrillos.
Real yard art
Now this is the picture I promised earlier when I mentioned that Frank had a small display of yard art but he didn't stand a candle to the really big dogs. This yard is the "boss-hog" of yard art.
Now you know why I said Frank couldn't compete with the true pros. VBG
Sunset over the Rio Grande Valley from Sandia Mountains
Joyce snapped this sunset picture on our way home. It pretty well sums up our day ---- as good as it gets!
Frank and Sandy have treated us like VSP's (Very Special People). We have eaten like Kings and enjoyed wonderful fellowship.
We will cherish the time we spent with Frank & Sandy and Wendy and her family. Thanks for everything.