Turquoise Trail from Tijeras to Madrid and Los Cerrillos on SR-14
May 9, 2007.
We got up this morning and moved the motorhome from the extreme western side of Albuquerque to the extreme eastern side. Thirty something miles later we exited 1-40 at exit 178 where we entered Hidden Valley Resort, a PPA park $11.88 FHU 30-amps nice level pull-thru sites with gravel interior roads and sites. Level sites in New Mexico are a bonus. VBG
For those of you that are not familiar with PPA (Pass Port America) it is an organization you can join for less than $50 per-year. Campgrounds that belong to PPA offer 1/2 price discounts. That kind of savings can quickly add up. While participating PPA parks generally have some restrictions on dates the PPA offer is valid, or possibly days of the week the discount is valid, or perhaps the number of days that the PPA discount will be honored the discount is genuine. Many times PPA campgrounds are new campgrounds that need help in getting established. Other times PPA campgrounds may be on the outskirts of town instead of in the "prime" location thus they need to provide an incentive for campers to stay with them. Whatever the reason PPA campgrounds generally provide a much cheaper option. PPA is the only campground organization that I think is worth the cost. PPA does not have a gimic. What you see is what you get. Once you join they send you a directory listing all participating campgrounds. The PPA directory is the FIRST directory we check when trying to locate a place to spend the night. You can join PPA by calling 228-452-9972. If you decide to join PPA, it would be nice if you gave them my number "R-0156251" as the PPA member that told you about PPA. In return PPA will give me a years membership free. I will thank you in advance for that kindness. Thank you.
We made this move to be closer to the dealer that we are purchasing our new motorhome from and to be closer to things we have yet to do around Albuquerque.
We are scheduled to switch motorhomes on Saturday. Until then we are free to continue our exploring.
Last night Joyce contacted old friends from Pensacola who have moved to New Mexico. Most people would say they live near Santa Fe and that would be accurate enough for Government Work. But the truth of the matter is they live off SR-14 between the historic old communities of Madrid and Los Cerrillos. That is only 36-miles north of the Hidden Valley Resort we are staying in.
Turquoise Trail
Well, you have guessed it. We are heading up SR-14 the (Turquoise Trail) to visit with Frank and Sandy.
Tijeras Canyon
Upon leaving the RV-Park we have to travel west on old Route 66 (now SR-333) for about 5-miles where we connect with SR-14 (Turquoise Trail) to head to Frank and Sandy's. While still on SR-333 we are driving through historic Tijeras Canyon. We stopped to read this historical marker. Today I-40 follows that same route through the Sandia and Manzano Mountains.
Mt Taylor in the distance
Once on SR-14, the Turquoise Trail, we started climbing. Eventually the highway meandered to a spot where we could look out on an extensive valley to our west and south. This picture is looking west toward what we assume is Mt. Taylor that we wrote about in a travel log last week.
View from Turquoise Trail
Another view from Turquoise Trail.
Cholla Cactus
This was the view to our east. That is a cholla cactus in the center of the picture.
View looking to the southwest across the Rio Grande Valley
This was a view to the southwest across that huge plain.
Cholla cactus with fruit
This is a close-up of a cholla cactus with fruit. The yellow things are not flowers.
Igneous rocks
Finally we are starting to see igneous rocks. Here they are poking out the top of this rise. Turquoise is found where molten rock produces hot, mineral-rich fluids that alter the surrounding rocks. One of the most sought after products of this alteration is turquoise. Turquoise has been mined in this area since pre-Spanish days. After the Spanish Conquest of this area turquoise found its way to Spain, where it took its place among the crown jewels.

Sangre De Christo Mountains
In the distance we get a peak at the extreme southern tip of the Sangre de Christo Mountains. Santa Fe is located at the southwestern tip of that range.
Sangre De Christo Mountains and Mt Taylor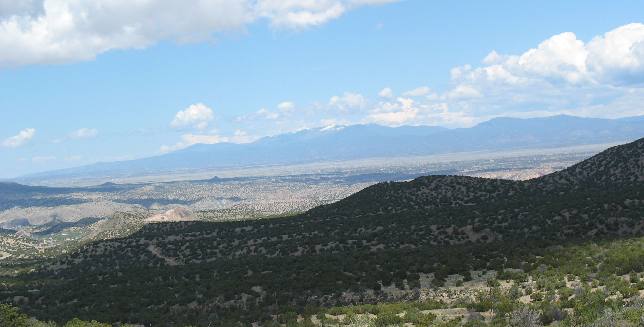 This is a better look at the Sangre De Christo Mountains and the broad valley that sweeps south of Santa Fe. Mt Taylor that we wrote about last week is the tallest peak.
Outskirts of the old coal mining town of Madrid, New Mexico
Now we are about to reach the outskirts of the old coal mining town of Madrid. Frank told us that a group of miners from southern Missouri moved here to mine coal. They named the town Madrid after the Madrid fault region of Missouri where they were from.
In 1828 gold was discovered in these hills. It was placer gold that could be washed from stream gravels. Production was limited, of course, by the lack of water. Lack of water is a problem in most of New Mexico. Lode gold was found in bedrock a few years later, inaugurating a gold rush that preceded the more famous California gold rush by more than a decade. Later, lead, silver, and hard anthracite coal, rare in the West, were mined in these hills.
Madrid Diner from movie "Wild Hogs"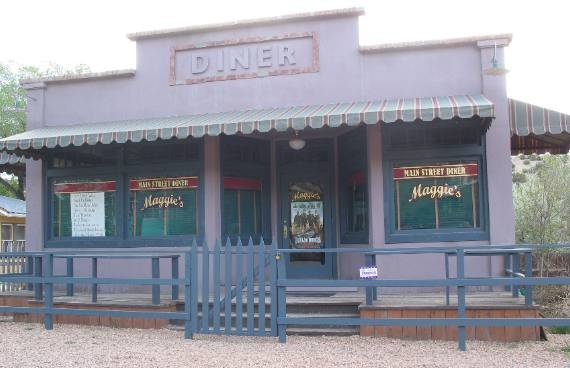 We stopped in front of this diner that was used in the movie "Wild Hogs".
Taco Cafe Madrid, New Mexico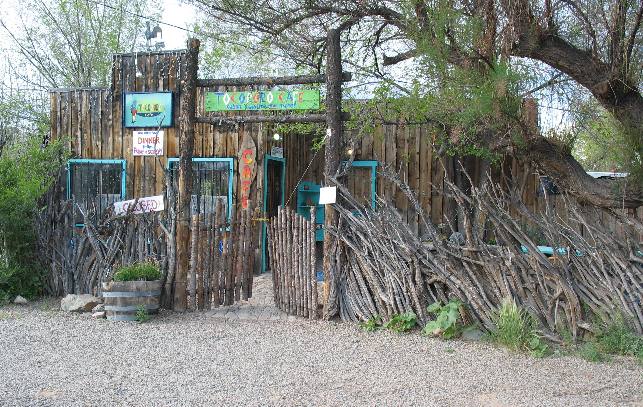 This is the Taco Cafe, a block or so south of Maggie's and the Sears Roebuck sign. I don't know if it was in the movie but it should have been. The movie makers wouldn't have had to do anything to juice up the ambiance. I think most of the dining takes place under that tree to the right.
Mike & Joyce Hendrix
Mike & Joyce Hendrix who we are
We hope you liked this page. If you do you might be interested in some of our other Travel Adventures:
Mike & Joyce Hendrix's home page
Travel Adventures by Year ** Travel Adventures by State ** Plants ** Marine-Boats ** Geology ** Exciting Drives ** Cute Signs ** RV Subjects ** Miscellaneous Subjects
We would love to hear from you......just put "info" in the place of "FAKE" in this address: FAKE@travellogs.us
Until next time remember how good life is.