Volcanic Cinder Cones of El Malpais National Monument
May 5, 2007
We are staying in the Blue Spruce RV Park $13.50 for 50-amps, water & Cable TV with central dump. Blue Spruce is located on the south west corner of the I-40 exit 81 intersection.
In an earlier travel log we visited the Ice Cave & Bandera Crater along the western side of El Malpais National Monument. As you will recall it was all about volcano activity and what they left behind. In yet another Travel log we were traveling south on NM-117 along the eastern edge of El Malpais National Monument. During the segment covered in this travelogue we continued south on SR-117 after we exited El Malpais National Monuments south boundary. South of El Malpais we were on a grassy plain surrounded by volcanic mountains and sandstone cliffs. SR-117 ends when it terminates at it's intersection with SR-36. From that intersection we turned west on SR-36 to the small community of Fence Lake where SR-36 turns and heads north terminating when it intersects SR-53 between the small communities of Zuni and Ramah.
Cinder cone of ancient volcano
One of the volcanic cones visible from SR-117 on the southern leg of our drive. More importantly this valley is covered with sand eroded over the centuries and not lava flow. If you look closely in the distance you may see the southern end of the El Malpais lava flow.
We are looking north into El Malpais National Monument.
Cinder cone of ancient volcano
Looking south you can visualize the immense size of this valley. There is yet another cinder cone of an ancient volcano in the distance.
Cinder cones of ancient volcanos
Again, another look at the large plain with volcanic cones in the background.
View of the plain or valley with no cinder cones in sight
In this picture looking south there is nothing visible on the horizon.
Multiple cinder cones of ancient volcanos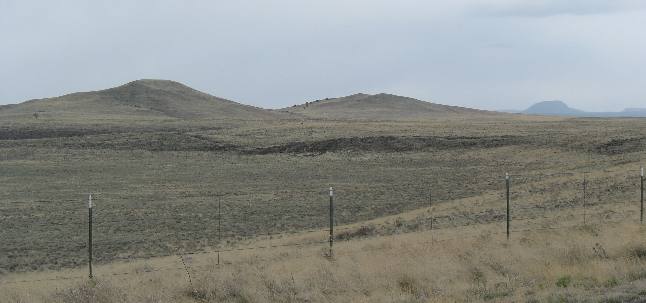 SR-117 terminates at it's junction with SR-36 some 50-miles or more south of I-40.
As we travel west on SR-36 toward Fence Lake we began to see evidence of small volcanic vents on the otherwise featureless valley floor.
Cinder cone of ancient volcano
By the time we approach Fence Lake, New Mexico on SR-36 we are entering the region containing a string of some 30-volcanic cones that generally stretch from north to south through here.
Mike & Joyce Hendrix
Mike & Joyce Hendrix who we are
We hope you liked this page. If you do you might be interested in some of our other Travel Adventures:
Mike & Joyce Hendrix's home page
Travel Adventures by Year ** Travel Adventures by State ** Plants ** Marine-Boats ** Geology ** Exciting Drives ** Cute Signs ** RV Subjects ** Miscellaneous Subjects
We would love to hear from you......just put "info" in the place of "FAKE" in this address: FAKE@travellogs.us
Until next time remember how good life is.