Yorks Islands from Lewis & Clark

July 30, 2007.
We are staying in Lincoln Road RV-Park Helena, Montana less than a mile west of I-15 at exit 200. Lincoln Road RV-Park is about 10-miles north of downtown Helena but in a very good position to access everything in the area. $25.04 with Good Sam discount plus-taxes for FHU in nice gravel pull-thru sites with some shade. Free wifi was available but no cable TV. The free wifi was available but you had to take your laptop to the office (it wasn't available from your RV).
We have traveled south on US-278 today looking for the Red Bluffs and Yorks Islands made famous in the Journals of the Lewis & Clark. The Missouri River flows under US-278. We turned west and followed River Road along the western bank of the Missouri. It should be noted that the Missouri River flows from south to north in this area of Montana. We are on the west side of the river to visit several locations (Red Bluffs and Yorks Islands) mentioned in journals of the Lewis & Clark Expedition.

We are at the Red Bluffs mentioned in Lewis & Clark Journals when Joyce took this picture looking to the south (upriver) of the Missouri River. We thought we might be seeing York's Islands but York's Islands turned out to be just a little further upriver that we can see in this picture.
Lewis & Clarks Red Bluffs
Not far upriver from these red-cliffs (upriver is south) will be York's Islands another landmark noted in the journals. You will recall that York was Clark's slave that accompanied him on the expedition. We took a picture from the top of the cliff looking upriver thinking we were getting a picture of York's Islands but we later discovered that they were a few miles further upriver that we had suspected.
York's Islands of Lewis & Clark fame
These appear to be York's Islands as best as we can tell. Information along the road is nonexistent but from mileage indications this appears to be the area. The best way to to see this area would be to float down the Missouri like some people are doing today.
At this time it seems appropriate to provide more information on "York" (ca. 1770-1831). York is the only name given for Captain William Clark's slave in the journals of Lewis and Clark.
Lewis and Clark's journals frequently refer to York, a black slave to Captain William Clark. York played an important role in the success of the Corps of Discovery. The journals document how York tended to the sick, hunted and fished for food and contributed to wildlife observation. This muscular, black man's appearance was curious to the native people the Corps encountered and he gained their respect which helped the expedition. York was given an equal vote in the Corps' decision to winter at Fort Clatsop on the Pacific Ocean in 1805. York requested is freedom upon returning from the expedition citing his contributions to its success. However it would be another 5-years before William Clark gave him his freedom. Still, York remained a black man in a world of slavery and segregation, history has not fully revealed how successfully this man who traversed the continent was able to function in a society still developing its ideals of equality and freedom.
Two places in Montana were named in his honor: Yorks 8 Islands and Yorks Dry River (now Custer Creek) along the Yellowstone River. Today Yorks Islands are private property so the only way to really see them is to float down the Missouri River.
Keeping in mind that York became a "free-man" around 1811 and that was almost 50-years before the Civil War. I can only imagine that he was one of FEW black "free-men" at that time.
That grouping of green trees near us is most likely Yorks Islands.
Mike & Joyce Hendrix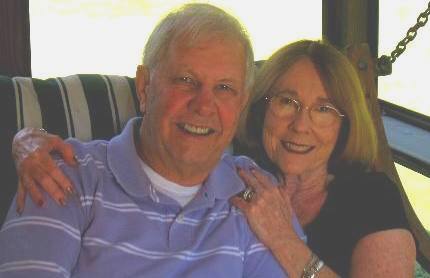 Mike & Joyce Hendrix who we are
We hope you liked this page. If you do you might be interested in some of our other Travel Adventures:
Mike & Joyce Hendrix's home page
Travel Adventures by Year ** Travel Adventures by State ** Plants ** Marine-Boats ** Geology ** Exciting Drives ** Cute Signs ** RV Subjects ** Miscellaneous Subjects
We would love to hear from you......just put "info" in the place of "FAKE" in this address: FAKE@travellogs.us
Until next time remember how good life is.