The story of Shep
Shep
July 21, 2007.
We are staying in Dick's RV Park in Great Falls, Montana. It is a nice enough park with paved FHU sites & Cable for $27. They do charge extra for wifi but we found an open wifi signal in the park. There isn't a lot of choice in Great Falls, it is either Dick's or KOA and we avoid KOA if at all possible. Bottom line, we would recommend Dick's when stopping in Great Falls.
The story of Shep is part of Fort Benton history.
The story of Shep and Shep's vigil is a heart warming story.
In August 1936 a casket containing a sheepherder's body was loaded on a baggage car headed East for burial. A dog, of collie strain, watched with anxious eyes. He was to be there to meet every train year after year.
Conductor Ed Shields pieced the dog's story together, linking Shep with the body shipped that August day. With the real story known, Shep became famous. Many well-intentioned offers to adopt Shep. Over 50 sheepherders offered to give Shep a home, but he would not leave his vigil. Friends knew Shep's sole aim in life was to keep his vigil. Shep, not a young dog at the time of his masters death, met every train for the next 5 1/2 years! Shep died one January day in 1942 when he slipped on the tracks before an incoming train. His passing was mourned by all who knew his story.
Townsfolk buried the faithful Shep January 14, 1942 on a bluff overlooking the depot. His funeral was attended by hundreds, and school was dismissed so the children could attend. The Fort Benton Boy Scout Troop #47 acted as pallbearers and another scout sounded taps at the grave side.
Great Northern employees erected a profile monument of Shep and built a concrete marker in his honor. The station installed a spotlight which was turned on the grave each night so passengers on evening trains could see the monument.
Fifty-two years later Fort Benton residents and fans of Shep from around the world erected a heroic size bronze statue of Shep that is located on the banks of the Missouri River in downtown Fort Benton.
And now you know the story of Shep.
Until next time remember how good life is.
Mike & Joyce Hendrix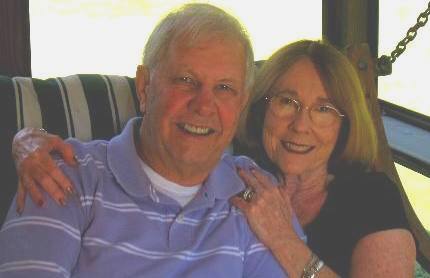 Mike & Joyce Hendrix who we are
We hope you liked this page. If you do you might be interested in some of our other Travel Adventures:
Mike & Joyce Hendrix's home page
Travel Adventures by Year ** Travel Adventures by State ** Plants ** Marine-Boats ** Geology ** Exciting Drives ** Cute Signs ** RV Subjects ** Miscellaneous Subjects
We would love to hear from you......just put "info" in the place of "FAKE" in this address: FAKE@travellogs.us
Until next time remember how good life is.