Idaho's Dworshak Dam
June 27, 2007
We are staying at: Hells Canyon Resort in Clarkston, Washington. Hells Canyon Resort is a top notch RV-Resort at $30 per-night with cable and wifi; FHU totally paved interior roads and pads.

We are exploring and sightseeing along the Clearwater River east of Lewiston. We visited Dworshak Dam on the North Fork of the Clearwater River near Orofino. After driving through the small Idaho town of Orofino we continued on to Dworshak Dam. Dworshak Dam is one of those engineering marvels that one has to visit when in the area. Dworshak Dam is a 717 foot high concrete structure that happens to be the highest straight axis gravity dam in North America. The dam backs up water from the North Fork of the Clearwater River forming a 54-mile lake at "full pool". Flood control, power production, and recreation are the benefits of the Dworshak Project.
Dworshak Dam at Orofino, Idaho on the North Fork of the Clearwater River
Guided tours of the dam and powerhouse begin from the Visitor Center located on the top left side of the dam.
We stopped at the Dworshak Dam Visitor Center around 2 pm and they had a tour scheduled for 2:30. I did not get to do the Dam Tour because Joyce put her foot down and announced that she wasn't going to do another "Dam Tour". I relented, but I am going to remember this and refuse to do a "mall" outing sometime in the future. Remember I have a "chit" in my pocket!
On the road between Orofino and the Dworshak Dam I had spotted a small grove of pie-cherry trees with thousands of ripe, bright red cherries and best of all the trees were on railroad right of way. On the way back I pulled over and started filling a Wall-Mart bag with these small cherries. I had visions of Joyce making several cherry pies with these cherries. After getting a good bag full I headed back to the car when I heard this voice calling out to me "would you like some GOOD-SWEET cherries"? When I located where the voice was coming from it was from a nice man in his back yard across the street. He was picking big red berries from bushes that looked like large blackberry bushes to me. He said he had a large sweet cherry tree in his yard and was leaving town in a few days and they would just rot. I could have all I wanted. Joyce and I gathered up several more Wall-Mart bags and followed the man to the cherry tree in his yard where he had a step ladder waiting for us. Joyce and I filled up large plastic bags with what this fellow called sweet cherry. I think I remembered him saying something about a type of bing.
In addition to giving us these cherries this man was such a wonderful joy to talk with. He was on his way to Alaska where he works as a fishing guide during the summer. He had just returned from one of those long range fishing trips out of San Diego on the Royal Polaris. This was truly interesting because my son and I have talked about doing one of these long range trips out of San Diego. He was such an interesting individual to talk with.
What did we do to deserve a serendipity like this?
Joyce took this last picture of the Clearwater River as we were returning to our motorhome.
Until next time remember how good life is.
Mike & Joyce Hendrix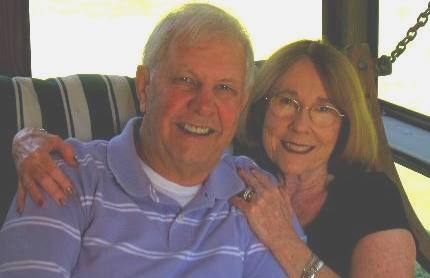 Mike & Joyce Hendrix who we are
We hope you liked this page. If you do you might be interested in some of our other Travel Adventures:
Mike & Joyce Hendrix's home page
Travel Adventures by Year ** Travel Adventures by State ** Plants ** Marine-Boats ** Geology ** Exciting Drives ** Cute Signs ** RV Subjects ** Miscellaneous Subjects
We would love to hear from you......just put "info" in the place of "FAKE" in this address: FAKE@travellogs.us
Until next time remember how good life is.