White Bird, Idaho Agriculture
June 22, 2007.
We are staying in White Bird tonight.
We are staying at Angel's Nook RV-Park in White Bird, Idaho. $12.80 FHU no TV signal, no cell phone service, no wifi. Actually, there is no TV service or cell phone service in town. This is a small private RV-Park definitely mom & pop but close to town in the back yard of one of the oldest homes in town an an easy walk to everything in White Bird. It is a Passport America Park and we would stay here again.
We are seeing more and more deer. We did not see any deer when crossing the southern part of Idaho along the Snake River. Along the Oregon border in central Idaho we are seeing plenty of deer in Western Idaho around Riggins and White Bird.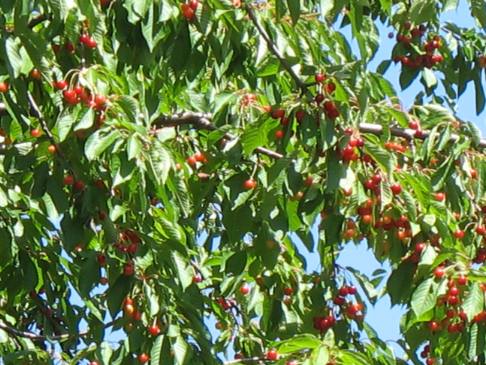 We dropped the motorhome at Angel's Lair RV-Park in White Bird then headed out on an adventure filled drive to Hells Canyon in the Saturn. While admiring other forms of White Bird agriculture we passed numerous cherry trees like this one. The ranger at Pittsburg Landing told us they were pie cherries.
We stopped and picked some of these "apple pie cherries" about a week later and made an apple pie.
The drive from White Bird to Pittsburg Landing is on a 17-mile long NFS road most of which is good gravel.
Ranches and farms were scattered out along the first half of the drive. They are all putting up hay for the winter. This is typical White Bird Agriculture.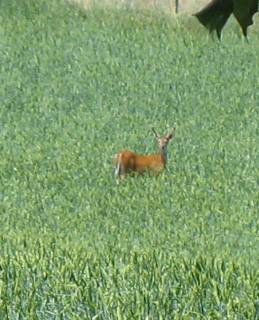 We stopped to watch several deer feeding in the middle of this grain field. They both watched us for a few moments then went back to eating.
Another example of White Bird agriculture is this hay being stored for winter
White Bird agriculture includes farmers growing grass hay instead of alfalfa.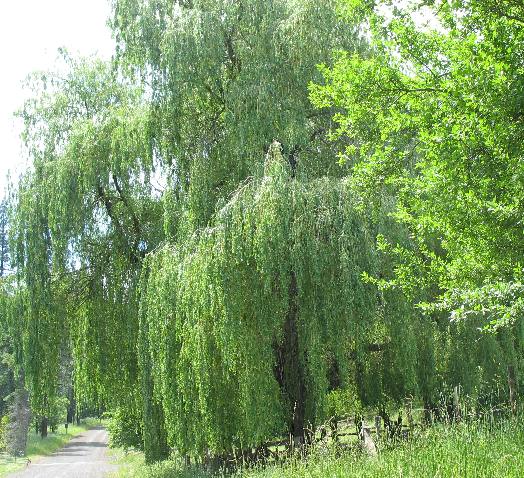 This beautiful willow tree was located at the corner of a property where livestock took advantage of the shade.
Blackberry bushes while prolific did not seem to be part of White Bird agriculture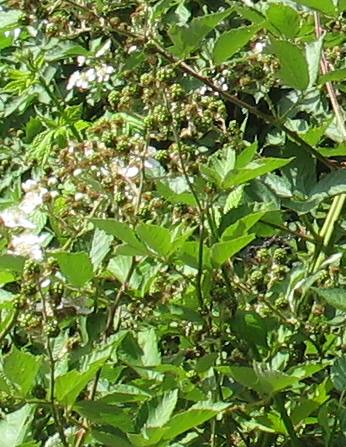 We are totally amazed at the blackberry bushes in this area. The bushes are huge in comparison to blackberry bushes in the southeast. These bushes are 6 to 8 feet tall and loaded from top to bottom with big berries plus they are still blooming. It won't be long until there will be more blackberries available than can be picked. Our daughter-in-law would go wild. She really loves blackberries.
We seem to be seeing deer around every turn.
As we get down to the Salmon River near White Bird this deer was there to welcome us home.
Until next time remember how good life is.
Mike & Joyce Hendrix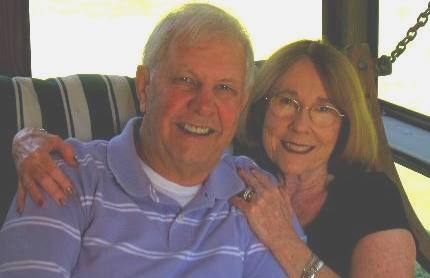 Mike & Joyce Hendrix who we are
We hope you liked this page. If you do you might be interested in some of our other Travel Adventures:
Mike & Joyce Hendrix's home page
Travel Adventures by Year ** Travel Adventures by State ** Plants ** Marine-Boats ** Geology ** Exciting Drives ** Cute Signs ** RV Subjects ** Miscellaneous Subjects
We would love to hear from you......just put "info" in the place of "FAKE" in this address: FAKE@travellogs.us
Until next time remember how good life is.