Stanley, Idaho
June 14, 2007.
We are staying at Garrity RV-Park in Nampa 10-miles west of Boise. It was $21 per-night for FHU & Cable while every place else in the area seemed to start at $26 and rapidly go up. Garrity was just fine. It was clean, well managed, the sites were close but we were not there and didn't go outside except when heading to and from the automobile. There was a good number of permanent or long term in the campground but they were being managed properly thus were no problem. We would stay at Garrity again but those that like to spend the day and evening under the awning sipping cool ones might rather be in one of the other area parks. N43° 35.245' W116° 31.592'
I decided to do this travelogue on just Stanley, Idaho. Stanley sits in the center of Idaho on a high plateau surrounded by multiple mountain ranges. At this elevation it is a well watered plateau and as such has lush green pastures. The Sawtooth Mountains rise in a north and south trending line forming the western border of the plateau. Stanley is on the northern end of the plateau.
The Salmon River has its beginnings 30-miles south of Stanley in the extreme southern end of the plateau. By the time the Salmon River reaches Stanley it is large and swift enough to support river recreational activities. Here you can see rafting companies loading rafts for a days play on the Salmon River.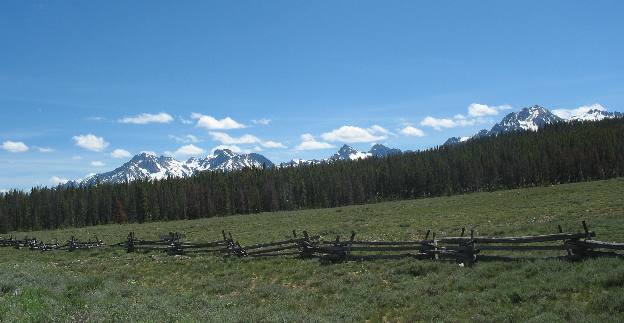 These are the Sawtooth Mountains. They look more like saw teeth from a different angle.

Does anything need to be said? Stanley, Idaho is a place everyone needs to visit.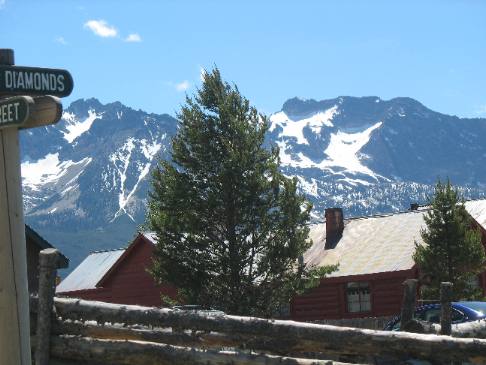 This view is from downtown Stanley, Idaho.
I am not sure but I think this picture was from Stanley Lake. That is the Sawtooth Mountains in the background.
This a view from our motel room in Stanley, Idaho. I guess I forgot to tell you that when we got to Stanley this morning that we decided to stay over instead of driving back to the motorhome. There just wasn't enough time for us to see all we wanted to see if we returned to the motorhome. Thus we got a room and spent the night.
It is difficult but if you try you can take a picture in Stanley, Idaho without a snow capped mountain in it. Still, it is an absolutely beautiful view. If I am not mistaken Joyce took this out the back door of our motel room.
This picture was taken out the front door of our motel room in Stanley, Idaho facing to the southwest.
This picture like the one above was taken out the front door of our motel room in Stanley, Idaho but pointed more to the south so that the length of the Sawtooth Mountains could be better seen.
Until next time remember how good life is.
Mike & Joyce Hendrix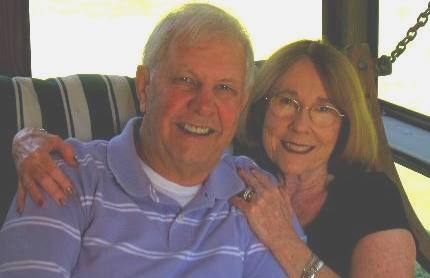 Mike & Joyce Hendrix who we are
We hope you liked this page. If you do you might be interested in some of our other Travel Adventures:
Mike & Joyce Hendrix's home page
Travel Adventures by Year ** Travel Adventures by State ** Plants ** Marine-Boats ** Geology ** Exciting Drives ** Cute Signs ** RV Subjects ** Miscellaneous Subjects
We would love to hear from you......just put "info" in the place of "FAKE" in this address: FAKE@travellogs.us
Until next time remember how good life is.