July 3, 2007.
We are staying in Pair-A-Dice RV-Park, in Creston, British Columbia. $26.71 gravel interior roads, FHU including cable. This is an OK RV Park.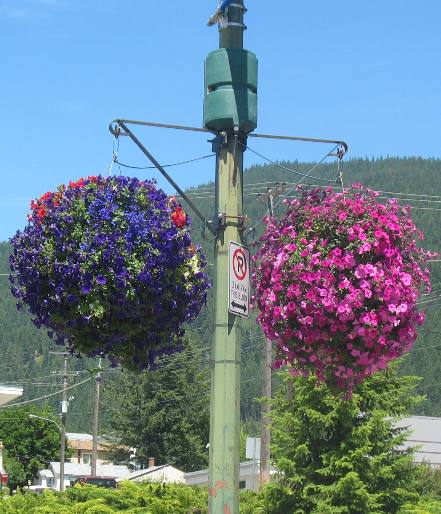 Downtown Creston, British Columbia is all decked out with colorful flowers.
From our location in Creston, British Columbia the sun is setting over the mountains bordering the Creston Valley.
This farmer stopped for supper with his bailer about to "deliver" a large bale of hay. We passed back by this field, not far from Creston, British Columbia, 15-minutes later and the farmer had returned from supper and was back to bailing more hay.
The sunset didn't cooperate tonight so we headed back to the motorhome minus a good sunset picture.
Back in Creston the falling sun is shining on the cliff to the east of Creston. Eons ago large glaciers carved rock off the face of this cliff depositing the moraine near Rathdrum, Idaho.