This travelogue is going to be different in that we covered a lot of ground in a short amount of time and were not really doing the type of *exploring and adventure* routine that is our norm.
October 18 through 20, Dry camping for free in Brunswick, Georgia for 3-nights.
Mid-October found us taking the motorhome from our home in Pensacola, Florida to Brunswick, Georgia where Joyce's high school was celebrating a 60'th birthday party. We were in Brunswick for 3-nights renewing old friendships and generally having a good time. The 60'th birthday party was fun as was the get together the night before the birthday party.
October 21 through 25 Oak Plantation Campground in Charleston, South Carolina, $23.76 for water & elect. We were on a large grass site with plenty of shade. Full-hookups were available but we did not need FHU. This is a nice campground and we would recommend it if you are visiting the area.
From Brunswick we ventured north to Charleston, South Carolina. Joyce's sister's family lives in Charleston and we stopped to visit with them for a few days. Jeff & Kathryn and our two grandsons met us in Charleston. They stayed with Joyce's sister & her husband. As a large group we did a variety of activities including a plantation tour as well as walking around in downtown Charleston.
One morning Joyce and I visited the famous Angel Oak. Angel Oak is huge and ancient. It is named for Murtha & Justin Angel who were previous owners.
The Angel Oak is a 1400 year old live oak tree located in Angel Oak Park, that is owned by the city of Charleston. To find this old oak tree we had to drive out to Johns Island, one of South Carolina's Sea Islands. While this giant tree is only 65-feet tall, the crown covers an area of 17,000 square feet.
Its longest limb is 11.5' in circumference and 89 feet long, now that is one massive limb! Many trees, indeed even live oak trees would be proud to have a trunk that was 11.5' in circumference.
Angel Oak is a giant among Southern Live Oak trees.
Live oak trees can be found throughout the south especially along the coast.
Angel Oak is thought to be one of the oldest living things east of the Mississippi River, or the Rocky Mountains for that matter.
Its limbs, the size of tree trunks themselves, are so large and heavy that some of them rest on the ground (some even drop underground for a few feet and then come back up), a feature common to only the very oldest lived oaks. These massive draping limbs and widespread canopy create an awe inspiring sight. Drooping limbs that touch the ground are characteristic of very old live oak trees.
It has survived countless hurricanes, floods, earthquakes, and human interference.
This is one of those limbs that stretch up to 89-feet from the trunk. You can see how far this particular limb stretches beyond where Joyce is standing. If you pay attention to this particular limb it falls to the ground 3 times in this view alone.
Angel Oak was damaged severely during Hurricane Hugo. In this picture you can see several steel poles that help support the massive limbs.
Angel Oak has a diameter of 11.25-feet and a circumference of just over 25-feet.
Far from the trunk this massive limb rests on the ground before taking to air once again resuming its search for sunlight.
After visiting Angel Oak we headed to the Charleston Tea Plantation not far away on Wadmalaw Island. Charleston Tea Plantation is the only tea plantation in North America.
The countryside around Charleston is commonly referred to as the Lowcounty and is famous for frequent rain, high temperatures and humidity which happens to be the ideal climate for growing tea.
Founded in 1960, the plantation is home to bushes brought to the Lowcountry in the mid-1800s from China.
In addition to seeing the actual tea plants in the field the Charleston Tea Plantation conducts factory tours. We spent time in their brand new factory featuring an air-conditioned 125 foot long window gallery overlooking all the various pieces of equipment utilized in processing fresh tea leaves into tea bags.
Charleston Tea Plantation may be the only exposition hall of its kind in the world where visitors can learn how tea is made… from the raw leaf to finished black tea. In the event tea is not being processed on a particular day, three giant TV screens have been placed strategically along the gallery illustrate each step of the tea making process in great detail. Tea was being processed when we taking the tour.
The Charleston Tea Plantation is home to American Classic Tea. This high-quality black tea has a mild tone and sweet flavor. It is produced on-site at the plantation from leaves harvested from the bushes on the plantation.
The nearest tea plantation is located more than 4,000 miles away.
Several hundred thousand tea bushes are cultivated on approximately 127 acres.
These live oak branches are forming a canopy over a road at Charleston Tea Plantation.
If you are visiting Charleston make sure that you take time to visit Charleston Tea Plantation.
This is a typical Lowcountry scene, a shrimp boat navigating its way home from a night of shrimping.
Shrimp boats and the South Carolina "Lowcountry" go together like a ball & glove.
October 27 through 29 we spent dry camping in Panama City and in our driveway in Pensacola.
We stopped by Panama City, Florida on our way back to Pensacola to pick up my Mother who is riding with us to Houston, Texas for a visit with her sister.
We traveled from Panama City to Pensacola on Saturday where we parked the motorhome in our driveway and lived in it while we washed clothes and took care of a number of other things that have to be done after being away for a week or so.
October 30, Acadiana City Park, Lafayette, Louisiana; $13 for electricity & water with a central dump station.
We left Pensacola and headed west on I-10 to Lafayette, Louisiana where we stopped for the night in their city park
The next moring we continued our journey to Houston. Normal people would just follow I-10 west from Lafayette to Houston but we aren't normal and we have traveled that section of I-10 before. Joyce and I have vowed to never travel I-10 from Lake Charles, Louisiana to Houston, Texas ever again in a motorhome. That stretch of interstate highway has to be the worst excuse for a major highway in the civilized world. One would have to visit a third-world country to find a comparable stretch of roadway.
Since we are heading to Houston, actually the bedroom community of Passadena, and are avoiding I-10 we dropped down to the coast from Lafayette. Once on the Coast we followed State Highway 82 through Pecan Island, Oak Grove, Cameron and Holly Beach. At Sabine Pass we enter Texas and Port Arthur. At Winnie, TX we turn south to High Island and follow the coastal route on State Highway 124 to Port Boulivar.
The highway ends at the Port Boulivar ferry terminal where we board a large ferry that took us across Galveston Bay and the Houston Ship Channel.
I took this picture of ships waiting to enter the Houston Ship Channel. I was sitting in our Motorhome which was on the ferry that was about to transport us across the Houston Ship Channel. We were still tied up at the ferry landing in Port Boulivar, Texas which is located on the eastern side of the Houston Ship Channel. Those ships are several miles offshore in the Gulf of Mexico.
This is a look from the east side of the Houston ship channel looking to the southwest. These ships are in the Gulf of Mexico. We are on the ferry at the dock.
Galveston is located on the right side of this picture.
This view, again from the eastern side of the Houston Ship Channel looking to the west toward Galveston Island. The buildings behind that ship are on Galveston Island. Our ferry is headed to Galveston somewhere around those large buildings.
This is one of the other ferries transporting vehicles across the Houston Ship Channel.
October 30th through November 2nd Marina Bay RV-Park in Kemiah, Texas; $39 for full hookup complete with concrete pad.
We stayed in the Marina Bay RV-Park in Kemiah, Texas while visiting Mother's sister in Passadena. We headed back to Pensacola on November 3 retracing the route that brought us here less than a week ago.
From Kemiah, Texas we returned to Galveston where we once again boarded a ferry that would transport us east across the Houston Ship Channel. As the ferry pulled away from the dock I took this picture of a shrimp boat returning to port.
As we departed the ferry on the east side of Galveston Bay in Port Boulivar, we took this picture of hundreds of motorcycles that were waiting to ride one of the ferries to Galveston. There was a big bike rally this weekend in Galveston.
Joyce took this picture of a giant natural gas platform near Port Arthur, Texas. The picture was taken from the very high bridge that crosses over the Port Arthur Ship Channel.
In Cameron, Louisiana we are waiting on the ferry that will take us across the ship channel. That is the ferry you see but it is headed to the other side. We arrived just as the ferry was pulling away from the loading dock. That puts us first in line when it returns.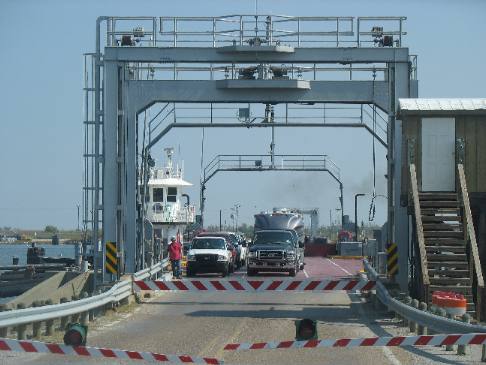 The ferry has returned and is about to unload, then it will be our turn to get on the ferry.
The man you see is giving me directions. It is our turn to load.
November, 4th we stayed in Acadiana City Park in Lafayette, Louisiana; $13 for electricity & water with central dump station.
The next morning we made our way back to Pensacola and another wonderful adventure ended.