Places Visited: Florida: St Marks National Wildlife Refuge & Wakulla Springs
Thursday, March 8 found us traveling from Pensacola, Florida to the small coastal town of Carrabelle in the Big Bend of Florida south of Tallahassee. We stopped in Ho Hum RV-Park where we visited with long time RV'ing friends Det & Judy who are spending the winter in Ho Hum.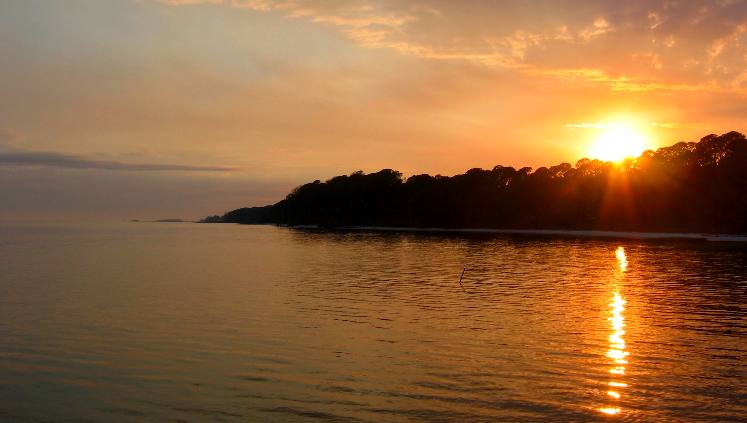 Ho Hum RV-Park on US highway 98 a few miles east of Carrabelle is one of the last RV-Parks located directly on the Gulf of Mexico. Most RV-Parks on the Gulf have been converted to condominiums. As the sun went down I strolled out on the dock to take this picture.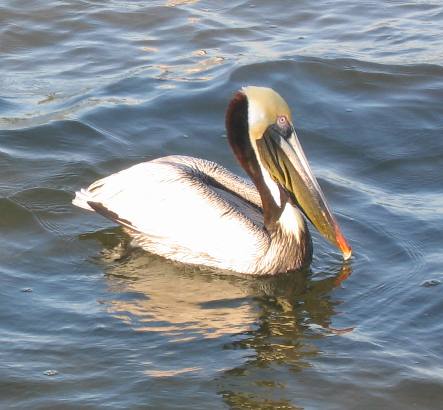 These pelicans hang around the dock at Ho Hum hoping for one of the fishermen to toss them a fish.
They are in breeding plumage this time of year and are showing some brilliant colors.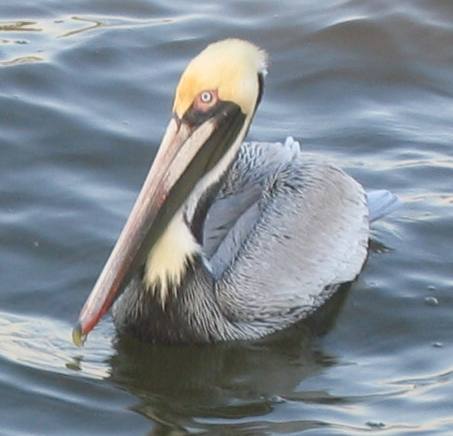 Laughing gull in winter plumage.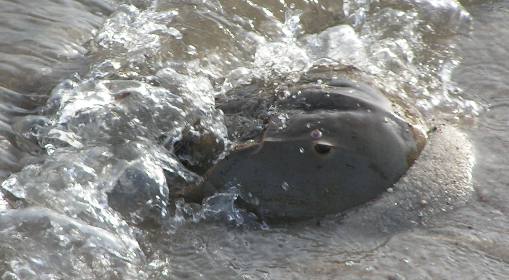 Det took these pictures of horseshoe crabs in the surf during their annual spawning ritual. Note how they deposit their eggs in the surf during this annual event and how the females are larger than the males. Despite their intimidating appearance, horseshoe crabs are not dangerous. The tail is used to turn themselves over when the surf flips them on their back.
At the beginning of spawning season (early spring in this area) each female will be carrying about 80,000 eggs. She will return to the beach on successive tides laying 4 to 5 clutches of eggs with each tide. These clusters will represent about 4,000-eggs so each female will keep visiting the beach until she has deposited about 20-egg clusters.
Notice how barnacles have attached to the shells of some horseshoe crabs. Horseshoe crabs can live 25-years so the ones with large clusters of barnacles are older crabs. Generally, females will have more than one male fertilizing her eggs.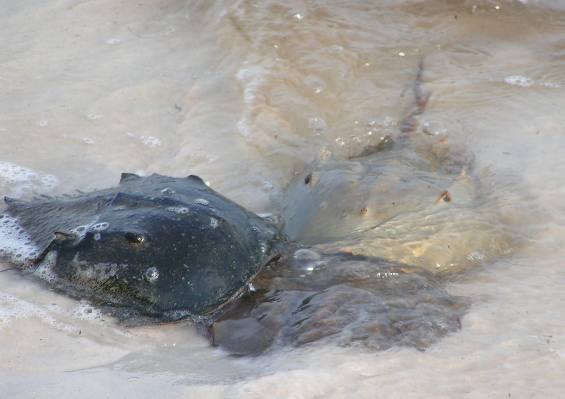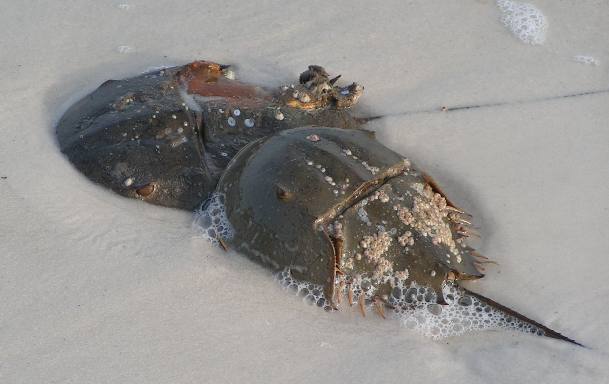 Notice how the female horseshoe crab on the right is missing part of her shell. She will regrow that shell.
Horseshoe crabs are an astonishingly adaptable. They are an ancient species as in over 25-million years, predating flying insects, dinosaurs and man.

RV's parked on the Gulf at Ho Hum RV-Park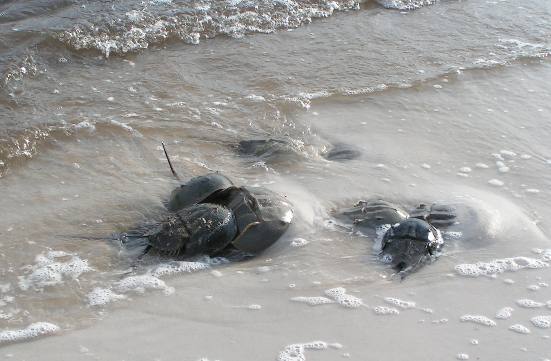 These pictures were taken on the beach directly in front of the row of RV's pictured above. Don't think that you are just going to arrive and see this. It is much more likely that you will never see a live horseshoe crab during your stay.
Friday found us in Det & Judy's automobile exploring St Marks National Wildlife Refuge and some of the coastal communities east of Carrabelle.
Our first stop was to check out a City Park / campground in the small town of Sopchoppy. It wasn't easy but we found it. It was a nice enough campground with water & 30-amps (central dump station) for $15. We stopped and walked along a boardwalk leading across a swampy area to the bank of the Sopchoppy River where we took pictures of these wild azaleas. Aren't they beautiful?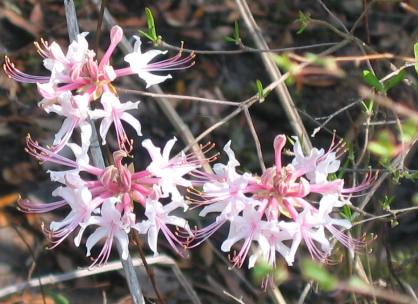 This is the confluence of the Saint Marks and Waculla Rivers in the small coastal town of Saint Marks, Florida south of Tallahassee.

This is the Saint Marks River looking east from the town of Saint Marks. That is part of the Saint Marks Wildlife Refuge on the eastern side of the River.
From US-98 east of the Saint Marks River we turned south on Lighthouse Road through Saint Marks National Refuge to this lighthouse.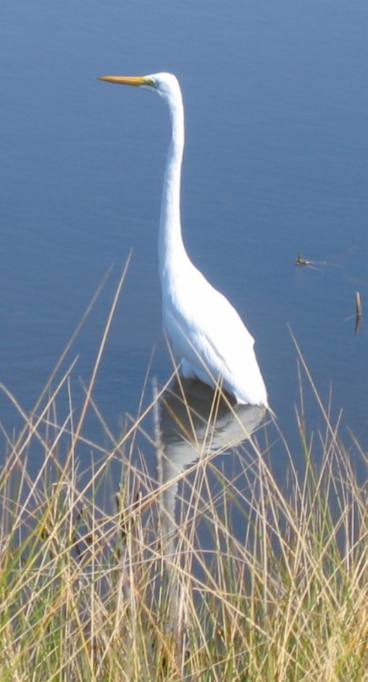 This great egret was patrolling the shallow estuary near that lighthouse.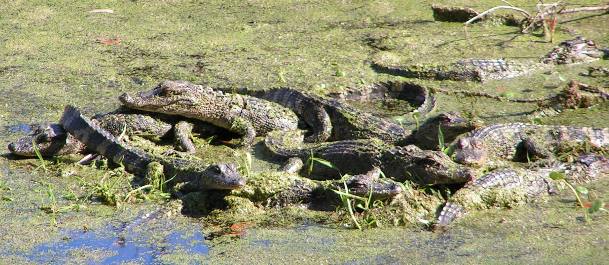 We spotted this clutch of baby alligators, no more than a few weeks old, in a ditch not far from the lighthouse.
Baby alligators weren't the only denizens of Saint Marks National Wildlife Refuge, as can be seen from this fine specimen.
Det & Judy visited Wakulla Springs State Park recently and shared the following pictures from that visit. Wakulla Springs State Park preserves the spring that is the life blood of the Wakulla River. Myriad varieties of birds winter in the warm waters welling from deep within the Florida aquifer. Wakulla Springs is one of the world's largest & deepest fresh water springs. The spring has been measured at 14,325 gallons per-second or 1.2 billion gallons per-day.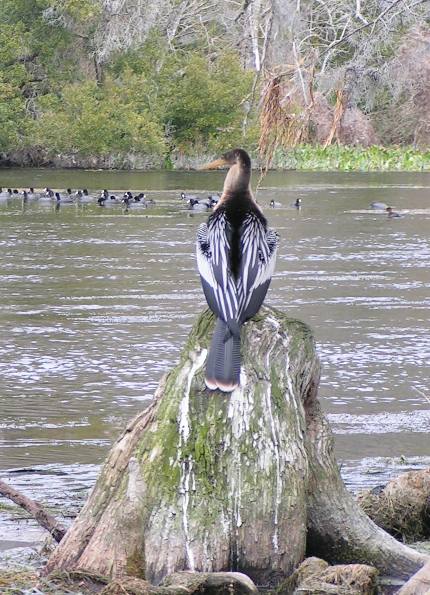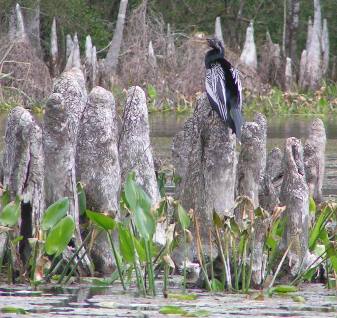 Anhinga are just one of the fish eating birds that winter here. While anhinga are birds they are more suited to the water than the air. Their feathers get waterlogged when they are in the water so they spend time drying off in preparation for flight.
These anhinga are sunning on cypress knees along the banks of the spring run.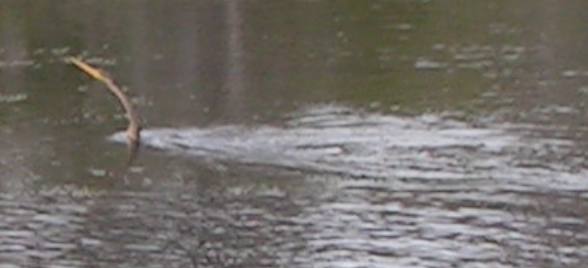 Anhingas are called snake birds because they look ------------- like snakes when in the water. Notice how only their neck and head are exposed when they are in the water unlike ducks that float like corks. The long sharp bill is used to spear fish.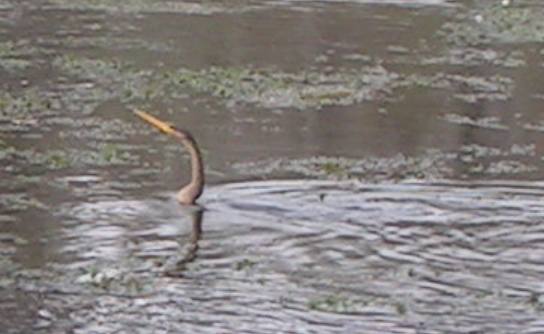 At a distance this anhinga looks like a snake in the water. Notice how low in the water this bird is when it swims. The entire body is under water.
This great blue heron is well camoflauged among the cattails bordering the spring run.
Little blue herons are pretty birds.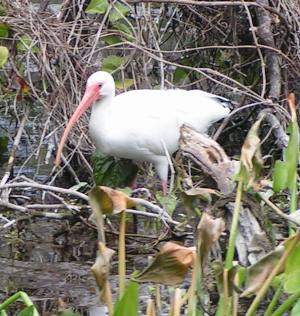 This white ibis is a colorful bird that is common around fresh water areas in Florida.

Det and Judy were touring the spring on a boat like this when they took these pictures. The boat has a glass window (glass bottom) where they can see fish and other things in the spring.
That is an osprey or "fish-hawk".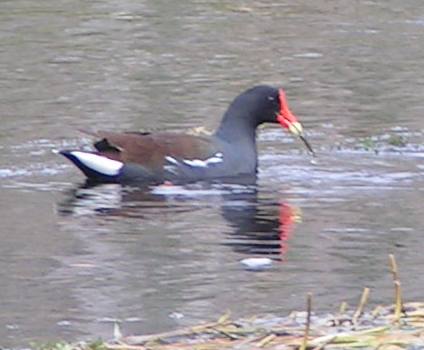 And this is a on the right. They are a brightly colore bird.
This snowy egret is easily recognized by the black legs, yellow feet and black bill.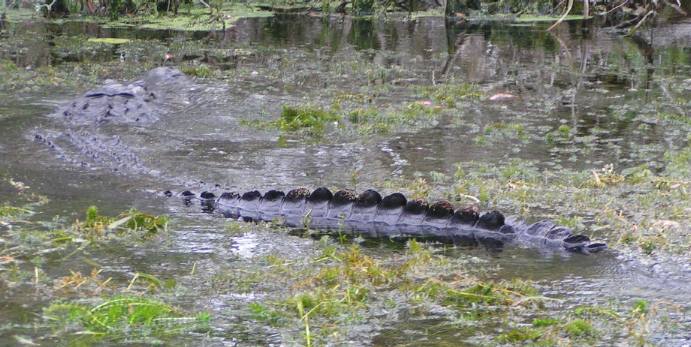 Sometimes tourist will say they saw a big gator. Well this is a REAL gator as in a full grown bull-gator probably 10' to 12' in length and 800 to 1,000 pounds.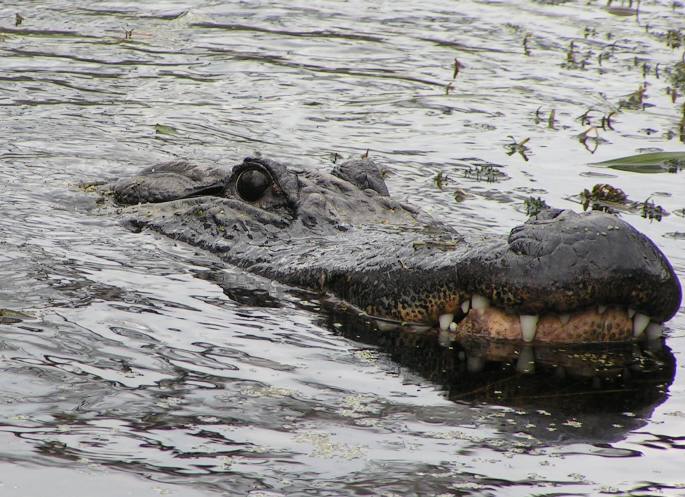 Needless to say, this is a close-up of a very large alligator. Good shot Det.
This is an ancient cypress tree with a massive base that has about rotted away. No matter it is impressive.
This large alligator decided to move when the tour boat passed by.
And finally, the tour boat returns to the Lodge at Wakulla Springs where you can dine in the restaurant or spend a night in the Lodge.
Det and Judy were in the glass bottom boat floating over the springs when they took this picture. While floating over the spring you can look down over 100' into the crystal clear water. One of the neat things about looking down into the depths is the fossilized mastodon bones laying on a limestone shelf.
For more information about Wakulla Springs State Park you can check this site:
http://www.funandsun.com/parks/Wakulla/wakulla.html
Until next time remember how good life is.

Mike & Joyce Hendrix