Kootenay Lake
Joyce and I discussed what this part of the drive reminded us of and several places came to mind. First of all it reminded us of an Alaskan cruise up the inland passage. The water and mountains remind us of that cruise.
The scenery especially on the side of the lake where we are driving reminds us of driving the California coast south of Monterey. There are a lot of up and downs and many twists and turns just like the drive south of Monterey.
Kootenay Landing on Kootenay Lake
Kootenay Landing served as the western terminus of the Canadian Pacific Railway's Crowsnest Pass route between 1898 and 1931. An extensive trestle system, large steamer docks, and rail car transfer slip joined land to water transportation. A fleet of sternwheelers and tugs met the trains here, transporting ore, coal, lumber, mail and passengers to the West Arm of Kootenay Lake where the rail line continued westward.
Kuskanook Harbor in Kootenay Lake
We stopped at Kuskanook Harbor where these fish were milling about in the harbor. There were thousands of these fish all about 8 inches long. Does anyone know what these fish are?
Kuskanook Harbor on Kootenay Lake about 20-miles north of Creston
Kuskanook Harbor is a nice harbor complete with boat ramp about 20-miles north of Creston.
Kuskanook Harbor
Kootenay Lake as viewed from PH 3A
The views from PH 3A are totally awesome as we continue our journey up the east side of Kootenay Lake.
Kootenay Lake
Someone from the area told us this drive from Creston to Kootenay Bay along the eastern shore of Kootenay Lake was the number one motorcycle drive in Canada. I don't know if that is true but we did see a lot of motorcycles on our drive today.
These flowers were in a roadside ditch in the community of Crawford Bay which is noted for the artisans that have shops there.
While in Crawford Bay we watched a modern day blacksmith making a variety of parts, a glass blower creating expensive colorful glass works of art, a weaver plying his trade. We skipped a pottery shop and a shop where they were manufacturing brooms.
The broom manufacturing would have been interesting, I am sorry that we missed that.
View from the free ferry across Kootenay Lake
The landing for the free ferry across Kootenay Lake is located only a few miles north of Crawford Bay. There is one peak of this snow covered mountain just before arriving at the ferry landing.
Free Kootenay Lake Ferry Landing
This is the descent to the ferry landing and that is the ferry visible in the picture on the right.
Staging area for the Free ferry across Kootenay Lake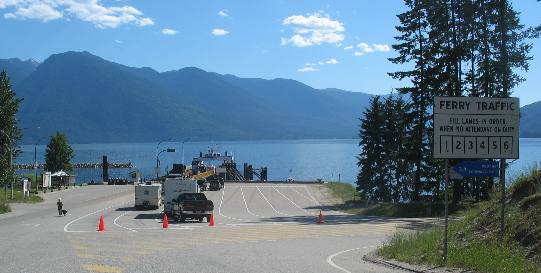 Free Kootenay Lake Ferry
You can see several motorhomes in the process of boarding the ferry for the 45 minute ride across the lake.
Kootenay Lake
From one end of Kootenay Lake to the other views like this are standard.
Kootenay Lake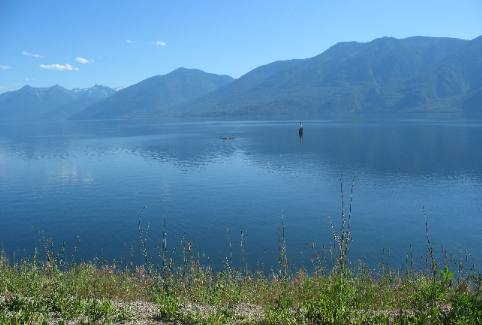 A good, full service, RV-Park is available in Crawford Bay.
Glass House north of Creston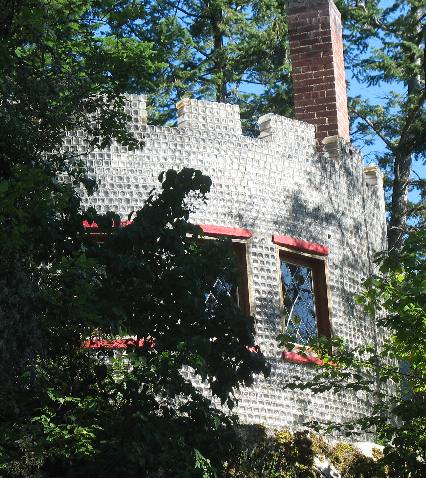 This is the "glass house" located about 25-miles north of Creston. It was constructed in 1959 out of 500,000 embalming fluid bottles.
We took this picture from the road. For some reason seeing a house constructed out of embalming fluid bottles did not interest either of us.
Glass house north of Creston
And one last look at the famous glass house.
Kootenay Lake
The beauty is truly stunning around every turn in the highway.