Beyel Brothers Oversize Load Bluff, Utah
May 19, 2007.
Several private RV-Parks were available in Bluff, where we spent the night. We chose Cottonwood Campground. The others were just as nice. Also one mile west of town is Sand Island Dept. of the Interior Campground with no utilites. It was OK as well.
Beyel Brothers Heavy Hauling with an extreme "oversize load" outside Bluff, Utah
About 2-miles west of Bluff, Utah US-191 meets US-163 it was at this junction that we came across this HUGE "Oversize Load" negotiating the right angle turn. Talk about big, this thing was big. It not only had a big diesel semi in front there was one in back pushing as well.
Steering oversize loads around corners
In this picture you can see both the pulling truck as well as the pushing truck. Note that the man is still at the rear steering wheel after negotiating that turn.
Oversize Load stopping for the night
They were stopping in the pull out at this intersection for the weekend. It is Saturday and road construction in Arizona is prohibiting them from continuing into Arizona until sometime Monday.
Beyel Brothers Oversize Load inspection team
This load is 1/2 of the barrel for a rock crusher destined for a copper mine in Arizona. The men said this 1/2 of the barrel weighed 175,000 pounds. The total weight of the rig was 350,000 pounds.
Beyel Brothers Oversize load breaking system
This is how the truck in back is connected. The driver of this truck helps push up hills and helps with breaking as well.
Closeup view of Beyel Brothers oversize load near Bluff, Utah
This picture might give you a better understanding of the size of this monster rig Beyel Brothers Crane & Rigging put together to transport these cylinders. This is a true oversize load.
Weight distribution on Beyel Brothers oversize load
Folks that truck is a long way from where this barrel starts. Additionally, that is a lot of rubber on the road.
If by chance you need any heavy hauling done you might contact Beyel Brothers Crane & Rigging, if they can trasport this huge cylinder they can move anything.
Front half of Beyel Brothers heavy hauling rig for oversize loads
Just this part appears to be longer than a normal 18-wheel truck & trailer rig.
Another oversize load near Bluff, Utah
It just so happened that another "oversize-load" was having to wait in Bluff, Utah for the Arizona road construction as well.
Oversize Load waiting in Bluff, Utah Transporting huge machinery
This piece of specialized machinery appears to be a ditch digging machine used to lay those huge pipes that transport oil and natural gas across the country.
See how they transport those huge wind generator towers here: Transporting Wind Generator Towers
Until next time remember how good life is.
Mike & Joyce Hendrix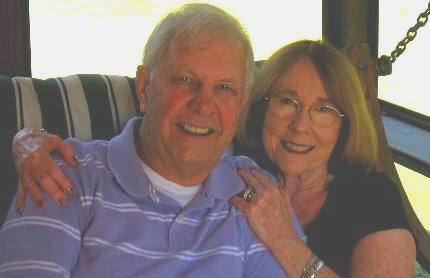 Mike & Joyce Hendrix who we are
We hope you liked this page. If you do you might be interested in some of our other Travel Adventures:
Mike & Joyce Hendrix's home page
Travel Adventures by Year ** Travel Adventures by State ** Plants ** Marine-Boats ** Geology ** Exciting Drives ** Cute Signs ** RV Subjects ** Miscellaneous Subjects
We would love to hear from you......just put "info" in the place of "FAKE" in this address: FAKE@travellogs.us
Until next time remember how good life is.