Register Cliff State Historic Site
July 7 2006:
Let me situate you concerning where we are and what we are doing. Earlier on this trip we had visited Scott's Bluff, Nebraska a prominent place on the Overland Trail. From Scott's Bluff we followed the North Platt River west on US-26 into eastern Wyoming. We made stops at several historic places as we made our way to Casper, Wyoming where we stopped for the night. We stopped at Fort Laramie, then again at the Register Cliffs State Historic Site near Guernsey, Wyoming which is where we are now. Then we continued a few miles down US-26 to the Oregon Trail Ruts State Historic Site which is also in Guernesy. From The Oregon Trail Ruts State Historic Site we continued our journey to Casper, Wyoming before stopping for the night.
Joyce and I spent the night in Casper East RV-Park Casper, Wyoming. Casper East RV-Park is a mom and pop operation without a mom & pop! N42° 51.357' W106° 17.338' $24 for water & 30-amps central sewage. They feature gravel interior roads & pads: This is NOT a campground we would relish staying in again. We will look for a PPA Campground the next time we are in Casper or we will stay at the Fort Casper RV-Park.
For emigrants who reached this portion of the Oregon, California, Mormon Pioneer, Pony Express trails between 1846 & 1868, the landscape was changing and new challenges lay ahead. Rested and resupplied with provisions from Fort Laramie, emigrants bound for destinations in Utah, California and Oregon now encountered increasingly difficult travel conditions as they made their trek westward. It would be 368 miles to the next major supply point Fort Bridger, or even further if other cut-offs were taken.

The importance of the Oregon, Mormon Pioneer, California and Pony Express Trail dwindled for emigrants with completion of the transcontinental railroad in 1869. However, the trail was still utilized by a few travelers and the military, especially after Fort Laramie became a hub of activity during the Indian Wars period.

It is estimated that 500,000 people ventured westward over the trails to settle and develop the vast resources of the American West. Soon, however these trails began to wain in importance. With the completion of the transcontinental railroad in 1869 the 2,000 mile journey that once took up to 6-months by wagon or on foot could be accomplished by rail in a mere two weeks.
Register Cliff State Historic Site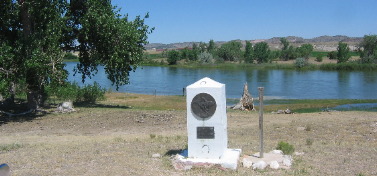 A Pony Express Marker along the North Platte River at Register Cliff State Historic Site near Gernsey, Wyoming.
Multiple routes to the western frontier passed through this spot on the North Platte River including the Pony Express and the Mormon Handcart Trail.
Register Cliff State Historic Site
This is the official sign indicating we have arrived at Register Cliff State Historic Site in Guernsey, Wyoming. Register Cliff is a prominent cliff that runs along the southern flank of the North Platte River. The relatively soft sandstone lent itself to "leaving your mark" much as a dog does with a fire hydrant. The wayfarer's penchant for inscribing names and dates on trees and cliffs gives us a view into their small window of history.
Register Cliff State Historic Site
Along this famed transcontinental route of the 1800's pertinent dates from the 1820's through the 1860's can be found. Register Cliff invited emigrants because of its broad river bottoms and lush pasture. Travelers eagerly sought this rest stop where they could recoup during lay-overs. Here rest offered the opportunity to "register" with name and date.

Emigrants were not the only ones to "register". Early inscriptions were by Mountain Men inured to wilderness life - many were descendants of two centuries of French fur trade. One such inscription reads "1829 This July 14" He may have been noting Bastille Day! Who knows?
Register Cliff State Historic Site

We noted a cave in Register Cliff and wondered about it. Then we found a kiosk that explained that one of the 20'th century property owners blasted this cave for the storage of potatoes. The cool dark recesses of the cave offered ideal conditions.
Register Cliff State Historic Site
Cliff swallows were also using the protection of Register Cliff as a home as can be seen by this picture. This many cliff swallows in one colony can create an enormous amount of activity. It was this activity that caught our attention.
This has been an awsome stop for us. I don't know how it could have been any better.
Until next time remember how good life is.
Until next time remember how good life is.
Mike & Joyce Hendrix who we are
We hope you liked this page. If you do you might be interested in some of our other Travel Adventures:
Mike & Joyce Hendrix's home page
Travel Adventures by Year ** Travel Adventures by State ** Plants ** Marine-Boats ** Geology ** Exciting Drives ** Cute Signs ** RV Subjects ** Miscellaneous Subjects
We would love to hear from you......just put "info" in the place of "FAKE" in this address: FAKE@travellogs.us
Until next time remember how good life is.