Places Visited:
Wyoming: I-80 across southern Wyoming including Rawlins, Laramie & Cheyenne
Nebraska: I-80 from the Wyoming border through Sidney to the Junction with I-76
Colorado: US-385 from the Nebraska border south through Burlington, Cheyenne Wells, and Lamar
August 14, RV-World Campground 307-328-1891 Rawlins, Wyoming: N41° 46.980' W107° 16.345' $12.96 Full hookups with gravel interior roads and pads. Nice, clean park with a good laundry and free wireless-----.
August 15, Cabela's RV-Park 308-254-7177 Sidney, Nebraska: N41° 6.951' W102° 57.494' $24.08 Full hookups with gravel interior roads and pads. Nice, clean park with a good laundry located next door to Cabela's home office and main store.
August 16, Country Acres RV-Park 308-254-7177 Lamar, Colorado: N38° 3.674' W102° 37.122' $21.00 Full hookups with gravel interior roads and pads. Located next door to small motel--the only RV-Park in area.
We have the motorhome on the move again continuing our journey east and south.
Between Pinedale and Rock Springs on US-191 we came across the spot where the Lander Cut off on the old Emigrant Trail crossed the highway and wandered off to the horizon.
The Lander Cutoff also known as the northern fork of the Oregon Trail followed a route of the fur traders. It was suggested as an Emigrant Road by Mountain Man John Hockaday in order to avoid the alkali plains of the desert, shorten the trip to the Pacific by five days, and provide more water, grass and wood. In 1857 it was improved as a wagon road by the government under the supervision of F.W. Lander and termed the Fort Kerney South Pass-Honey Lake Road. As many as 300-wagons and thousands of cattle, horses and mules passed here each day. An expanding nation moved with hope and high courage. The trail-cut deep into the dirt off the plains and mountains and remains as a reminder of a great epoch.
Once we reach Rock Springs and I-80 we begin to see the ubiquitous trains that accompany I-80. West of Cheyenne trains comprised of containers fresh off Container Ships unloaded at Pacific Coast ports is headed to the heartland.
East of Rock Springs near Table Rock we traverse the Continental Divide and fall into the Great Divide Basin.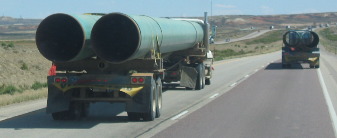 Trucks hauling large steel pipes pass us on I-80 hurrying to some unknown job site.
Then we spot that green pipe laying beside a job site that stretches to the horizon.

Miles down the road we spotted these welding rigs each with a crane to position the large pieces of pipe. While this picture only shows four of these rigs there were many more stretched along the big gash that the welded pipe was being lowered into. I suspect this is either a natural gas, petroleum or crude oil transport line.
This is typical terrain in the Great Divide Basin.
As we neared Rawlins we came out of the Great Divide Basin and over the Continental Divide for the second time today.
East of Laramie we spotted these wind generators on a rise that appeared to stretch across I-80. That wasn't the case. I-80 actually fell into a depression and abruptly turned right to go around the bluff these wind generators were situated on.
This wind generating field was actually 4 to 5 generators deep as can be seen from this view from a different angle.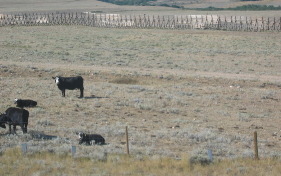 Eastern Wyoming transitions from dry sage brush to a blush of green grass by the time we reach the Nebraska border.
Nebraska keeps trying to be greener still. By the time we get to Kimball, Nebraska even more green grass is evident as are Kimballs' wind generating field.
Kimball also has a few oil wells.
We stopped for the night in Stanley, Nebraska home of Cabela's the famous outdoor store. In fact we stayed in Cabela's RV-Park located adjacent to the Cabela's Store and home office. Joyce and I wandered over to the Cabela's store mainly to view their famous mounts and we weren't disappointed.
While we saw diesel fuel for $3.99 in a small Wyoming town south of Jackson and one large station in Jackson, Wyoming was advertising diesel for $3.69 the most we have paid for diesel on this trip was $3.24 (advertised as $3.18 cash price). However, we are about to turn south on US-385 through eastern Colorado where there is a dearth of interstates and large to medium size cities thus a lack of truck stops. We want to have a full tank of diesel before heading out so we swallowed hard and topped off our tank with $3.42 diesel from a Shell station in Stanley.
Eastern Colorado is wide open spaces and large farms. Windmills seem to be a holdover from a bygone era.
Windmills turn an ordinary farm setting into a bucolic scene.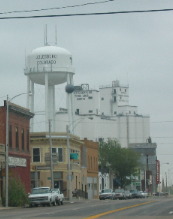 Julesburg, Colorado is typical of eastern Colorado farm towns complete with huge grain elevators along railroad tracks.
Corn is the predominant crop we see in northeastern Colorado.
Holyoke is one of the typical eastern Colorado towns scattered along US-385.
Grain elevators are the common thread of all eastern Colorado towns.
This place has hay even though we did not see much hay today.
Feed lots such as this one are common, in eastern Colorado.
There were even several dairy operations such as this one.
As we drove south sunflower fields replaced corn as the predominant crop.
At times sunflower fields would stretch from horizon to horizon.

The door where 18-wheelers drive through to deliver loads of grain seems so small in comparison to the size of these grain elevators.
This farmer had a serious operation. How many acres of grain would it take to fill these bins?
The smell emanating from feed lots such as these permeates the air for miles. I know that those who depend on these operations for their income say it smells like money--------. That isn't what is smells like to me.
Again, feed lots are a common sight in eastern Colorado.

Sunflowers from horizon to horizon.
The brilliance of these sunflower heads is simply stunning.
Tractors and oil wells seem to compliment each other in eastern Colorado.
Huge tractors are preparing ground for another crop presumably winter wheat. We are fascinated with the rows upon rows of sunflowers all facing east.
Why are the sunflowers facing east when the sun is falling in the west? As we neared Lamar, Colorado we watched a thunder storm race across the plain.
Until next time remember how good life is.
Mike & Joyce Hendrix