Places Visited: Wyoming: Casper, Douglas, Ayers Natural Bridge State Park, Fort Fedderman, Glenrock
July 17, 2006: Casper East RV-Park Casper, Wyoming. Casper East RV-Park is a mom and pop operation without a mom & pop! N42° 51.357' W106° 17.338' $28 for full hookup $4 cheaper for water & 30-amps central sewage. They feature gravel interior roads & pads: This is NOT a destination campground by any means however, it certainly looks much better than the Fort Casper RV-Park which is nothing but a crowded dusty dirt parking lot.
Several landmarks in Casper have been neglected by my earlier travelogues and that would be the huge oil drilling rig and the perpetual fire burning off poisionous gas at the local refinery.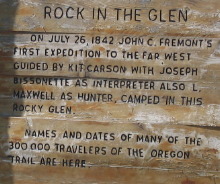 In Glenrock we stopped at a site named "Rock in the Glen" that contained the names and dates of many of the 300,000 travelers to pass this way on the emigrant trail. It was also the site where John Fremont's first expedition with Kit Carson as his scout camped.
In the town of Glenrock we stopped by the local school where Deer Creek Station once stood. Deer Creek Station was near the confluence of Deer Creek and the North Platte River and was a familiar landmark along the Emigrant Trail between 1857 and 1866.
The station began with Joseph Bissonette's trading post, also known as Dakota City. The mountain man's store, post office, blacksmith ship, corrals, and hotel-saloon served the needs of a variety of visitors. From 1857 to 1861, the post was the trading center for the nearby Upper Platte Indian Agency, located about 3 and 1/2 miles upstream along Deer Creek.
Beginning in April of 1860, Pony Express riders exchanged mounts here at Deer Creek Station. The Pony Express only lasted until October of 1861 when the completion of the transcontinental telegraph made it obsolete.
Indian-white hostilities escalated after the Civil War began, prompting troops from Fort Laramie to erect a military installation across the road from the trading post in 1862. From Deer Creek, troops sought to protect the telegraph line and travelers along the trail. Intensifying conflicts between soldiers and Indians ultimately forced Bissonette to abandon his establishment in the fall of 1864. Indians burned Deer Creek Station in August of 1866 closing an important chapter in Wyoming's early history.
We turned south off I-25 at exit 151 on County Road-13 heading to Ayers Natural Bridge State Park. On CR-13 a variety of typical Wyoming scenes presented themselves with a herd of buffalo on one side of the road and a small marsh area with cattails on the other.
While the Emigrant Trail crossed the creek about one mile downstream from Natural Bridge it was only rarely visited by emigrants of the covered wagon era. From time to time, however, a few ambitious travelers made their way through the heavy brush and down the steep walls of the canyon to see this remarkable work of nature.
While Native Americans were probably well aware of Natural Bridge, the earliest to record their visits were New Oreleans newspaperman Matthew Field and steadman Thighman, a young doctor from Baltimere. Both were traveling companions of Scottish nobleman William Drummond Stewart. An early day tourist, Stewart had organized several hunting and exploring expeditions into the Rocky Mountains and traveled strictly for pleasure. In 1843 he was making his final trip west.
On July 12, Field wrote: Rode off in advance of the camp with Sir Wm., to visit a remarkable mountain gorge - a "narural bridge" of solid rock, over a rapid torrent, the arch being regular as tho' shaped by art -30 feet from base to ceiling, and 50 to the top of the bridge - wild cliffs, 300 feet perpendicular bottled us, and the noisy current swept along among huge fragments of rock at our feet. We had a dangerous descent, and forced our way through an almost impervious thicket, being compelled to take the bed of the stream in gaining a position below. We called the water "Bridge Creek!"
Dr. Tilghman: "The Natural Bridge is perhaps one of the greatest curiosities we saw in the whole of our interesting expedition. It is at the extremity of a valley formed of an immense chasm, whth rocky sides -- and a perpendicular height of 300 feet - through which flows a beautiful chrystal stream."
In 1864, James Reed of the ill-fated Donner Party was aware of the bridge. In his diary he wrote: "We made 18-miles this day and camped on Beaver Creek there is a natural bridge 1/2-mile above the camp."
On June 26, 1850, Isaac Starr wrote: "Up near the high cliffs there is an arch of solid stone over this river, 40 or 50 feet wide and 15 feet high. I passed up the river, rode tghrough beneath the arch, and viewed with delight the grand works of nature."
Thankfully, these people have written descriptions of this Natural Bridge so that I do not have to. As they each indicated Natural Bridge is a grand work of nature.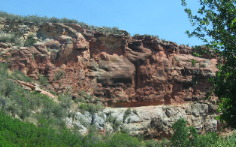 We were able to get to Natural Bridge via a paved road so we did not have to work as hard to see this natural wonder as those who visited in the mid-1800's. On our way in I was noticing the layers of volcanic ash in the red sandstone that made up the walls of the cliffs around Natural Bridge.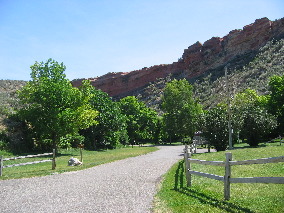 The picture on the left gives a good view of the rock cliffs surrounding the area and Natural Bridge State Park.
This is the Natural Bridge.
On the left is one leg of the bridge. While o the right is the river as it flows past the red walled cliff.
The red sandstone that makes up the walls of the amplitheatre.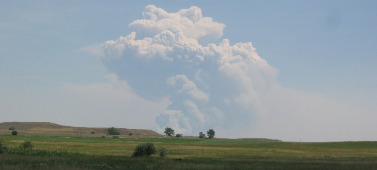 Between Natural Rock State Park and Douglas we could see this massive plume of smoke on the horizon. It was coming from a wild fire that had been raging for three days and had over 100 fire fighters occupied. We talked with one of the fire fighters who told us that this fire was in wild country that was not accessible by motorized vehicles. It was in an area of deep ravines. The fire fighters were waiting for it to emerge in an area where they can fight it.
We were leaving the mall around 9PM when Joyce made me stop so she could take this sun set shot complete with Target sign in the middle.
Until next them remember how good life is.
Mike & Joyce Hendrix