Places Visited: Texas: Fredericksburg in the Hill Country.

August 18, 19, & 20; Lady Bird Johnson City Park Fredericksburg, TX: N30° 14.523' W98° 54.756' $20.00 Full hookups with Paved interior roads and pads
It is HOT here in Fredericksburg as in over 100 each day with humidity to go with it.
There is so much to do in and around Fredericksburg even if daytime temperatures are over 100-degrees. We spent one afternoon at Luckenbach listening to several guitar pickers. One thing we like about Luckenbach is the eclectic group of individuals that gather there or rather pass through on their way to other venues.
Hondo's in downtown Fredericksburg featured good entertainment Friday and Saturday nights.
Luckenbach is a place for everyone. Some come to see what it is all about and get their picture taken. Motorcycle groups have it on every poker run in the book. Many of the motorcycle groups passing through just stop long enough for the rest room and to pick up another beer. Others spend time under the shade trees reminiscing.
Still others come to enjoy the music. Guitar pickers frequent the place. You never know who will be under one of the giant oak trees crooning away. Sometimes there are 5 or 6 different performers staked out at various spots around the main "beer-building". Some of the entertainers enjoy performing with other artist. It isn't anything formal mind you everything is spur of the moment. When the performers pair up one will play a song while the other sips his brew then the other will perform. They switch out after each song. Many if not most of them have CD's they are peddling and manage to sell a good number of them to people in the crowd that enjoy their music.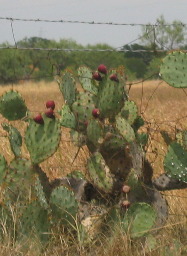 They raise a lot of meat goats in the Hill Country. More goat meat is sold world wide than beef and Texans understand how to make money. Especially on land that is suited for goats.
Prickly pear cactus has bloomed and gone to fruit as can be seen in the lavender fruits on these cactus plants.
We see jelly made out of prickly pear fruit and I think that there is either a beer or wine made from these fruit.
We enjoy eating cactus pads. The ones we purchase in appear to be young pads that have not grown tough. I remember the first time we ate cactus we were eating in a Mexican restaurant in Beaumont, Texas that had been recommended to us by the campground owner we were staying with. It turned out to be a buffet restaurant and no one in the entire restaurant spoke English. Undaunted we plunged in. We both dipped a large spoon full of what looked to us like string beans. They were good. I was on my second helping when we learned that it was cactus cut into thin strips. By then it was too late to influence our taste buds since we had already decided we like it. That was the restaurant that introduced us to watermelon drink. They cut open a water melon and ran the red contents through a blender and added some sugar. Talk about out of this world! It was great. They also introduced us to tamarind tea made from the bean of a tropical Old World leguminous tree. It was delicious also but purported to be a mild laxative.
Until next time remember how good life is