Places Visited: Nebraska; Gering, Scotts Bluff, Chimney Rock, Scotts Bluff National Monument, Robidoux Pass, Wildcat Hills State park
July 5 & 6 2006: Gering & Scotts Bluff, Nebraska. We are in Robidoux RV-Park operated by the city of Gering N41° 48.757' W103° 40.644' phone: 308-436-2046. They have paved interior roads with concrete pull-thru pads featuring green grass overlooking Scotts Bluff the bluffs so often mentioned by travelers on the Overland Trail: 50-amps, water and sewer, $15.
We headed north out of Greeley on the 5th of July heading to Scotts Bluff, Nebraska where we plan to meet up with the old Overland Trail (Oregon Trail, Mormon Trail, California Trail). While the Overland Trail started in Independence, Missouri we are going to start following it west from Scotts Bluff, Nebraska.


As we head north out of Greeley we are overwhelmed by the sight of so much agriculture. Fields of onions, beans, alfalfa and corn fill open spaces while silos and grain elevators make up the small towns.
Irrigation makes this all possible, including this dairy operation just east of Ault.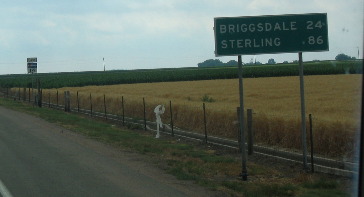 Eastern Colorado is in the rain-shadow of the Rocky Mountains and traditionally only gets around 12 to 15 inches of rain each year. Land that is not irrigated is still short grass prairie. In the small town of Ault on US-85 10-miles north of Greeley we turn east for around 50-miles on SR-14 where we quickly run out of irrigated land. Not long after the irrigated land disappears we enter Pawnee National Grasslands where the traditional short-grass prairie is being maintained as it was in the 1800's. Land not part of the Pawnee National Grasslands system is being used as open range land or cultivated for grain. Throughout our journey today we see huge fields of grain probably some type of wheat.
Wind mills and solitairy oil wells were spotted from time to time as we made our way across the open expanses of this prairie. Private lands were being used to grow grain or graze cattle.
In Stoneham we turn north on SR-71 that took us into Gering. Nebraska. On SR-71 we stayed in the Pawnee National Grasslands for the next 50 miles.
At the Colorado Nebraska border we finally emerge from Pawnee National Grasslands. The occasional oil well is easily spotted.

Just north of the Colorado Nebraska border we cross I-80 and enter the small town of Kimball, Nebraska a town on the cusp of energy independence. North West of town we spot a group of large wind generators perched on a hill overlooking town. Later we read where that wind farm generated power for 4,000 residences.
Around Kimball we also started seeing evidence of irrigation. This field of irrigated alfalfa hay is just one example of irrigation around Kimball.
Not far out of Kimball the area turned to dry farming with grain fields filling the landscape.
Nearing Gering we started seeing the bluffs this area is known for.
While the bluffs supply an interesting backdrop fields of alfalfa and corn fill the valley floor.

Let it be said that irrigation will turn the desert green. That is Scotts Bluff in the background of the picture on the left.
The Gering, Scotts Bluff valley area along the North Platt River turns out to be extremely scenic, bucolic if you will. What was a bone dry short grass prairie just a few miles south is now a vibrant bright green farming valley with corn, sugar beets, several varieties of dried beans and alfalfa hay are occupying what appears to be the entire landscape of the broad valley.

Joyce had a full day planned and we only had a half day to pack it in. As soon as we set up we headed out to the North Platte Valley Museum in Gering. This was a wonderful museum that got us up to speed on the history of the area especially the Overland Trail that flowed through here from the mid-to-late 1800's. In fact one of the popular routes went right by the museum.
After the museum we traveled east to Chimney Rock a spire of solitary grandeur, visible for miles to pioneer travelers approaching from the flat prairie to the east. Of all the curious rock formations along the trail, none drew more comment from passing pioneers than Chimney Rock.

In the early days Chimney Rock was a guide for "mountain men" the rocky Mountain trappers and traders on their seasonal travels between the Rockies and Missouri River trading posts. The first white men to see Chimney Rock may have been Robert Stuart and a small group of traders on their way back from Astoria on the Oregon Coast in 1813. It would be 14-years later, in 1827, before the first recorded use of the name occurred in Joshua Pilcher's report on his journey up the Platte Valley to the Salt Lake rendezvous of the fur trappers. After these early mentions of Chimney Rock thousands of pioneers followed each with their own recollection of the strange rock spire.
The ride along the North Platte River to and from Chimney Rock we were filled with awe at the beautiful crops that seemingly stretched forever.
Back in Gering we headed to Scotts Bluff National Monument where we were able to drive to the top of the bluff and overlook the towns of Scotts Bluff and Gering.
While there we also walked part of the Overland Trail that went through Mitchell Pass.
That is Mitchell Pass in the picture to the left. The trail we walked is only a short distance to the right of the highway.
Pioneers used a variety of routes to negotiate Scotts Bluff. Over the years different routes were used. Mitchell Pass was the shortest route thus the preferred even though it was a tough climb and very narrow. We walked the narrow part where all wagons were forced to form a single line. The gouge in the soft sandstone in the pass was around 6-feet deep even though the wagon ruts were not visible. Time and erosion of the soft sandstone over the past 130-plus years has erased the ruts and all that remains is the deep gouge across Mitchell pass.
To the left is a freight wagon that would hold up to 5,000 pounds and was pulled by a team of up to 10 oxen.
To the right is a normal pioneer wagon that would hold up to 1,500 pounds and be pulled by two oxen.
Western Sugar in Scotts Bluff was the refinery processing sugar beets in the region. We saw fields of sugar beets, and farmers working the fields but none were harvesting the beets. We might get to see that another time.

We could see the sun setting over Mitchell Pass from our RV. Joyce was outside to record the event.

During the night we decided that we had not seen everything we wanted to see in the area and we needed to stay in the area for another day.
The next day we took Joyce's list of things to see and do and headed out.
Driving out Robidoux Road to Robidoux Pass was first on the list. Robidoux conducted a trading business with Indian tribes in the 1820's.
He and his Indian wife built a trading post where he traded first with local Indians then with pioneers as they made their way west. Robidoux operated a foundry where he repaired wagon parts among other endeavors.


Viewing Robidoux Pass was as eventful as experiencing Mitchell Pass. Traveling in a car where pioneers walked with their wagons was a humbling experience. Viewing their grave sites was also humbling.
It was a 15-mile drive out a dirt road to get to Robidoux Trading Post an the far end of that drive was getting into desolate country where this bull gave us the evil eye like we might be intruding on his herum of cows. Incidentally, this far out is open-range country meaning no fences. We were eyeball to eyeball with that bull.
To the right is that "Charmin-weed" do you remember the weed that had leaves soft enough to be used as toilet paper?
Closer to civilization and paved roads we were able to see these modern agricultural sights. The tractor on the right is tending to sugar beets.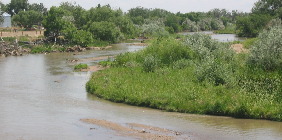 The North Platte River is what makes all this agriculture possible.

On the way back from Robidoux Pass Joyce navigated us to a wildlife viewing area where over 40-big horned sheep live in the bluffs. We looked but did not see them.
Wildcat Hills State Park and big game reserve was next on our list. Views from the bluff in the state park were spectacular but we did not see any of the elk or buffalo in the park. We did see one big mule deer that scampered off when we approached.
This lone rattle snake was the only picture to come from Wildcat Hills State Park.

Our last night in Robidoux RV-Park in Gering offered this magnificent sunset over Scotts Bluff on the Overland Trail.
The sunset mixed in with the strange forms of those bluffs really made for an exciting event.
The two days we spent in Gering and Scotts Bluff couldn't have been any better.
Until next time remember how good life is.
Mike & Joyce Hendrix