Places Visited: Idaho:US-89 from Montpelier to Geneva then SR-34 from Freedom, Wyoming to Wyan, Henry, Blackfoot Reservoir and Soda Springs then US-30 from Soda Springs back toMontpelier
Wyoming: US-89 from Montpelier, Idaho through Geneva, Idaho, then Smoot, Afton, Grover and Freedom, Wyoming.
July 22, 23 & 24 2006: Rendezvous RV-Park Montpelier, ID. N42° 19.698' W111° 17.999 $19.20 Full hookups with 50-amps. Gravel interior roads and pads. Nothing fancy, in fact the owner said that new owners had purchased the property with the intent of converting it to a lumber yard. They were just getting a bit of income until the lumber yard was up and running.
We decided to take a scenic drive today that would take us back into Wyoming for a brief drive through Wyoming's Star Valley. To get to the Star Valley we traveled east out of Montpelier on US-89 toward Geneva, Idaho on the Wyoming border.
Just after we leave Montpelier proper Joyce spotted a sign pointing to a reservoir a short distance down a side road. Our Saturn instinctively turned down that road toward what turned out to be Montpelier Dam and Reservoir.
That is the dam in the picture to the left with the spillway on the far end.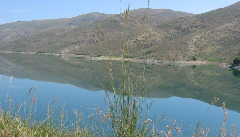 Montpelier Reservoir is an impressive reservoir providing irrigation water for a large area and probably to the town of Montpelier itself.
As we continued east on US-89 we stopped to view the "Lander Cut-Off". The Lander Cut-Off on the Oregon Trail was different than the other "alternate" routes and shortcuts the Lander Cut-Off was laid out and paid for by the US Government.
Beginning in 1843, emigrants traveled across the continent along what became known as the Oregon Trail. Increased traffic during the 1850's resulted in the first government road construction project in the west. The 345 mile "Lander Cut-Off" exited the Oregon Trail at Burnt Ranch on the Sweetwater River near South Pass, Wyoming, and rejoined the Oregon Trail at City of Rocks, Idaho, a geologic formation northeast of Pocatello, Idaho near Ross Fork Creek.
Superintendent Frederick W. Lander of Salem, Massachusetts, supervised construction for the U.S. Pass to Fort Hall, Idaho, now known as the Lander Cut-Off. The Cut-Off traversed this Salt River Valley for 21 miles and parallels US-89 through this area. This route afforded water, wood, and forage for emigrants and their stock. Between 1858 and 1912, it provided travelers with a new, shorter route to Oregon and California, saving wagon trains seven days. Lander, with a crew of 15 engineers, surveyed the route in the summer if 1857. The following summer, 115 men, many recruited from Salt Lake City's Mormon emigrants, constructed the road in less than 90 days at a cost of $67,873. Tens of thousands of emigrants passed over the trail during its use. With the transcontinental railroad being completed in 1869, emigrant travel over the trail rapidly declined. The last wagons over the trail were observed at fort Piney, Wyoming between 1910 and 1912.
The Lander Cut-Off and Oregon Trail was not restricted to westward travel. Between 1875 and 1890, drovers herded vast numbers of cattle, horses and sheep eastward from Oregon to Wyoming. The animals were moved along the Lander Cut-Off and into the Green River and Big Horn Basins and the Wind River drainage. There they were used as initial range stock for the large ranches of cattle and sheep barons.
Between Geneva, Idaho and Smoot, Wyoming we pass over 7,630' Salt River Pass and down into this beautiful Valley.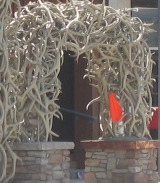 Afton, Wyoming lays claim to the world's largest elkhorn arch. The Arch, in downtown Afton spans US-89 with an impressive display of elk horns gathered over the years from the elk winter rang near Afton.
We stopped by Star Valley Cheese but we must have visited during an off time. They were not serving their "advertised" free samples of cheese. Possibly next time.
We are leaving the Star Valley we just passed through on US-89 in Wyoming and are now on Idaho SR-34 a few miles into Idaho. We stopped at a BLM campground along Tincup Creek just a few feet off SR-34 to check out the campsights. It was a lovely campground that we might try sometime. Joyce snapped this picture of choke cherries. Our tree book says the berries have an astringents taste but you can make jelly out of them. We will just admire the multicolored berries, and leave the jelly making to someone else.
Only a few miles on SR-34 and we run across John Grey Valley or at least the valley that John Grey discovered in 1818 or 1819 while hunting beaver for Mackenzie's Northwest Company Trappers.
John was an Iroquois's leader--also known as Ignace Hatchoraquasha--he also explored Grey's River nearby in Wyoming. Aside from his trapping skills, he was noted for his unusual aptitude in fighting grizzly bears (and that is something I thought you did only once per-lifetime). After trapping in this area for 20 years he retired with his Iroquois band in 1836 to help found Kansas City, Missouri.
Not far past the John Grey Valley we came upon Cariboo Mountain rising to an elevation of more than 9,800', Cariboo mountain visible to the north contained two of Idaho's highest gold camps.
Jesse "Cariboo Jack" Fairchild discovered gold high on Cariboo Mountain in August 1870 and a mining rush from Utah followed in September. Production continued for two decades before the gold ran out. Millions of dollars worth of gold were taken from the gravels during that long period of successful mining.

Idaho-34 is comprised of one spectacular vista after another.
Around one turn is a beautiful valley then the road swings another way and you are face to face with an ancient lava flow.
Then we happened upon Blackfoot Reservoir.
While driving along the shoreline of Blackfoot Reservoir we spotted a large flock of whiteface Ibis. They looked almost identical to the glossy ibis we see in south Louisiana and south Florida.
How about that ancient volcano at the end of one of the coves on Blackfoot Reservoir.
We saw white pelicans and beaver lodges
The vistas are ever changing. Wheat fields ready to harvest while other wheat fields are bright green juxtaposed against the barren mountains and that beautiful reservoir.
Wheat and ancient lava flows.
More wheat and silos.
A potassium mine on one side of the highway with a wheat field on the other.
Actually there is also a wheat field bordering the potassium mine.
In Soda Springs we saw a huge Monsanto plant that was processing the potassium mineral and extracting potassium for a variety of uses.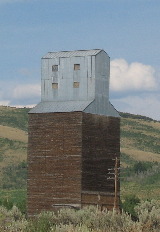 Just outside Soda Springs, Idaho Joyce spotted this old silo. The bottom part is made of wood.
Until next time remember how good life is.
Mike & Joyce Hendrix