Places Visited: Idaho: Pocatello and Fort Hall and the drive from Montpelier to Pocatello on US-30 and I-15.
July 25 & 26, 2006: Cowboy RV-Park in Pocatello, ID 208-232-4587 N42° 50.965' W112° 25.146 $26.25 Full hookups with 50-amps. Paved interior roads and pads. Very nice and clean park with an air conditioned laundry.
Today was a day of variety. In the morning we moved the motorhome from Montpelier to Pocatello Idaho on US-30 and I-15. We were interested in the topography, geography, agriculture and history of the area we were traveling through.
Chesterfield was a Mormon community located on the Oregon Trail. Farm houses and pioneer buildings of an old Mormon community have been preserved there.
Located in 1879 by a Mormon bishop, Chesterfield offered a good opportunity to farmers from Utah, which then was becoming overcrowded. Within tow years, a group of settlers helped construct a nearby railroad that made their town grow to more than 400 people. Chesterfield thrived for more than a generation before new trends in farming and transportation led to its decline.
Chesterfield was located 16-miles north of our route so we chose to not visit the site. Possibly on another trip through this area.
A few miles west of Soda Springs we crossed the spot where Hudspeth's Cutoff (shortcut off the Oregon Trail) used to cross over the valley we were in. Historically, this was an important place in the summer of 1849 when the California gold rush was in full gear. The 49'ers, as those emigrants were called, were in search of a quicker route to the mines. Remember these 49'ers were traveling lighter than those on the Oregon Trail. Most 49'ers were single men traveling without a wagon and were looking for any shortcut that could get them to California quicker. These stampeding 49'ers would try anything to save miles and time in their rush for California gold: the regular Oregon and California trail looped north of here to Fort Hall. On July 19th 1849 Benoni Hudspeth led a party west from Soda Springs through rough country hoping for a more direct route through a gap 1.4 miles south of where we are on US-30. This immediately became the main road, though it saved far less than Hudspeth thought.
I will discuss the Hudspeth Cutoff and other shortcuts later.
Potatoes and grain with scattered alfalfa are the predominant crops. The dark green in the picture to the right is potatoes while the lighter color is grain, probably white wheat.
In addition to the striking colors we are encountering some serious grades as we climb one set of mountains and drop down the other side. This is what the emigrants were trying to avoid.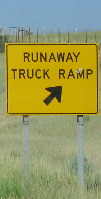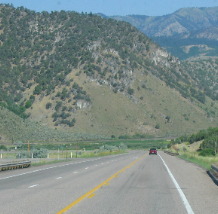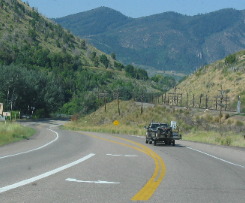 Finally the valley is in sight. Hopefully, the road will follow the valley when we get there and not indiscriminately decide to tackle one of these mountains.
This was an impressive wall of lava.

Note that the highway cut through the end of this particular lava flow.
Idaho's first railroad with wood burning locomotives of the narrow-gauge Utah and Northern Railway puffed their way through this canyon US-30 is following into Pocatello Construction of this railroad was undertaken by a Mormon Co-op. It came northward from a junction with the transcontinental line, but stopped in 1874 at Franklin on the Utah-Idaho border just south of Preston. Jay Gould, famous financier of the Union Pacific, took over in 1877. Trains were passing through this valley the next summer and the rails reach Montana in 1880. New life for east Idaho followed the shrieking whistles of these little Utah and Northern trains.

Once we had the motorhome hooked up in an RV-Park in Pocatello we headed to the Bannock County Historical Museum and the adjacent replica of old Fort Hall that was so important to travel on the emigrant trail and indeed the settling of the west.
It seems that the site for Fort Hall is located on Indian land 15-miles north of Pocatello and the Indians aren't keen on opening it for tourist purposes.
Bannock County has put together a wonderful Historical Museum of the area, the emigrant trail in general, and pertinent geology. We spent several hours absorbing all that they had to offer.
In the museum I read with interest some of the rules for riding stage coaches:
"If the stage teams run away or are pursued by Indians, stay inside the coach and take your chances, Don't jump out or you will be either injured or scalped."
"Don't swear, snore or lop over on neighbors when sleeping. Let others share the buffalo robes provided."
"Don't shoot firearms for pleasure while enroute, as it scares the horses."
"While at the stations don't lag at the wash basins or privies. Don't grease hair with bear grease or buffalo tallow as travel is very dusty."
"Don't discuss politics or religion. Don't point our sites where robberies or Indian attacks have taken place."
"Don't smoke a strong cigar or pipe, especially when women or children are present. If chewing tobacco, spit to the leeward side."
Gee, and I thought leeward was a nautical term! VBG
"Don't imagine you are going on a picnic, for stage travel is inconvenient."
I though I would throw these rules in for those times when you get fatigued traveling in your SUV. These rules should bring you back to reality. You are welcome. VBG
Did you know that the stage driver was often called the "Jehu"? The reference being to an Old Testament verse from 2 Kings 9:20, "and the driving is like the driving of Jehu, the son of Namshi: for he driveth furiously."
I know you didn't ask but now you know! Some of you drive like Jehu's. How long do you think it will be before that will become part of our lexicon?
One of the more spectacular events to take place in this part of Idaho was the Lake Bonneville flood that took place about 14,500 years ago. At that time Lake Bonneville occupied much of the presently settled part of Utah. It overflowed through a dam at Red Rock Pass in Idaho and produced the catastrophic Lake Bonneville Flood which scoured and cleaned loose rocks from the canyon west of Inkom, Idaho. Today this place is called the Portneuf Narrows. It is estimated that the floodwaters were 300 feet deep and moved at 60 miles per-hour. The flood removed the basalt of Portneuf Valley from the Portneuf Narrows area as the water flow slowed down near Pocatello it deposited boulders up to 12 feet in diameter in the downtown Pocatello area. You can still see and find these boulders today where residents use them as yard decorations.
One of the most important geological events in southeastern Idaho was the lava flow event nearly 600,000 years ago when two lava flows formed the basalt of Portneuf Valley, overflowed from the Gem Valley volcanic field, near Bancroft Idaho, dammed up and turned the Bear River south, and flowed down the canyon of the ancestral Bear River, through Lava Hot Springs, McCammon, Inkom, to Ross Park here in the southern part of the city of Pocatello where we are standing.
The Emigrant Trail through southern Idaho was a rough place to travel. Mountains, lava flows rivers and myriad rough country made the going extremely difficult. It was in this area that alternate routes were often taken.
While the main trail if that is what it can be called since sometimes there was multiple trails one following the south side of a river while another followed the north side. Then there were shortcuts like the Lander Trail that opened in 1858. This trail was authorized by congress and was a government built road that began at a point just west of South Pass back in Wyoming and headed north before turning west to junction with the main Oregon Trail a few miles east of Fort Hall near present day Pocatello, Idaho where we are now.
Fort Hall was owned by the Hudson's Bay Company. It was a point near the Oregon Trail where travelers could stop for supplies. Built in 1834 it was abandoned in 1856. You will note that it was built long before emigrants started traveling on the Oregon Trail. At that time it was servicing traders and trappers.
Then there is the Hudspeth Cutoff that I have mentioned several times. The gold rush in 1849 was the impetus for this "shortcut". Hudspeth Cutoff departed from the main Oregon-California Trail by heading straight West at a point near Soda Springs. At the time it was thought to save over 100-miles, in actuality it was a much harder route and saved only about 25-miles instead of 100.
Goodale's Cutoff was a difficult route that headed north across the Snake River Plain and along the south side of the mountains of Central Idaho to a junction with the main Oregon Trail near present day Mountain Home.
Soda Springs were a well-known landmark on the Oregon Trail which passed along the Bear River and turned northwest as Soda Point also known as Sheep Rock. This is also where Hudspeth Cutoff left the main Trail.
The best way to get a feel for old Fort Hall located on the Oregon Trail 15-miles north of Pocatello is through the writings of some of the people who traveled this way and blessed us with diaries:
On August 3rd 1836 Narcissa Whitman an Oregon Missionary wrote "Came to Fort Hall this morning distance eight miles. A cool breeze made our ride very pleasant. Husband& myself were alone entirely behind the dust and camp & enjoyed a sweet repast in conversation about home & deer friends. Particularity Mother Loomis in her new situation. Thought a sight of her in her diary would be particularly pleasant. Was much cheered with a view of the fort at a considerable distance. Any thing that looks like a house makes us glad. Called an were hospitable entertained by Capt. Thing who keeps the Fort. It was built by Capt. Wyeth a gentleman from Boston, whom we saw at Rendezvous, on his way east. Our dinner consisted of dry buffalo meat, turnips, and fried bread, which was a luxury. Mountain bread is simply coarse flower and water mixed in Buffalo grease. To one who has had nothing but meat for a long time, this relishes well. For tea we had the same with the addition of some stewed service berries."
Between 10 December 1839 and 10 March 1840 Osborne Russell a trapper writes: "...4 of us however (who were the only Americans in the party) returned to Fort Hall on the 10th of Decr. We encamped near the Fort and turned our horses among the springs and timber to hunt their living during the winter whilst ourselves were snugly arranged in our skin lodge which was pitched among the large cotton wood trees and in ti provisions to serve us till the month of April. There were 4 of us in the mess. One was from Missoure one from Mass one from Vermont and myself Maine. We -------- agreeable winter. We had nothing to do except to eat attend to the horses and procure fire wood. We had some few books to read such as Byrons Shakespeare and Scotts works the Bible and Clarks Commentary on it and other small works on Geology Chemistry and Philosophy--the winter was very mild and the ground was bare in the valley until the 15 of Jany when the snow fell about 8 inches deep but disappeared again in a few days. This was the deepest snow and of the longest duration of any we had during the winter. On the 10th of March I started again with my old companion Elbridge."
On August 1847 Abner Blackburn, Mormon Battalion wrote: "Our Captain Brown was ordered to California on business for the government. He selected five soldiers and I was one of them. Brannan and two others went with us. We started the 9th of August 1846, and went by way of Fort Hall on the Snake River in the British possession. We laid in our supplies for the trip. Captain Grant commanded the Fort and was very obliging. Britain furnished everything necessary, and also a guide, a French-Canadian, a very interesting companion for the trip. He had a beautiful Indian squaw for a wife. She was one of the best looking women in the mountains.
When we started she came out and shook hands with her husband and bid him good-bye. She saluted all of us. There were a great many Indians at this place trading.
We started down the Snake or Lewis River and Camped at the Great Falls. The canyon below had an echo that is very strange. Our guide had an Indian legend to relate to these falls. A few miles further we came to the fork of the road; the right leading to Oregon; the left to California. We took the left. In a few miles further the City of Rocks."
In August 1860 Emelino Trimble a survivor of Utter Massacre wrote: "We were left more lonely than before. We had felt the security of traveling with such a large number...but how soon it all changed when we parted with our friends of the California train, and traveled westward knowing that we were every day nearing the dangerous part of our journey. While with the California train when we were camped at night we would prepare the ground by cutting down the brush, leveling and sprinkling the ground and have a good old fashioned dance.
It was not much work to make our toilets, for most of us wore for convenience a costume called bloomers and did not have many changes. We would sing our songs, tell stories, and amuse ourselves with all the sports of our school days, feeling pretty safe and secure, for in union was our strength, but how soon all changed when we parted with our friends of the California train, and traveled westward knowing that we were every day nearing the dangerous part of our journey. But still we kept on over hills, through forests, across mountains and rivers, until we came to Ft. hall, where the soldiers were stationed. As we deemed it unsafe to go further alone we called for the troops to go with us. There had one company already gone with a train but a few days ahead of us, and we had to wait for the soldiers to make preparations.
While waiting, Col. Howe in command of Ft. Hall sent in a request to have the women and girls of the train come into their tents and have a dance which we refused to do. Which very much displeased the Col. and at first he refused to send one of his men with us but upon considering the matter over he dared not refuse so sent out a small force with instructions not to go more than half as far with us as those he sent with the train ahead."
Joseph Williams, Missionary and Traveler wrote on June 16-27th, 1842: "We arrived at Fort Hall. Here we saw the Snake Indians holding a dance around a scalp which they had taken from Black Feet Indians. They had set the scalp upon the top of a pole. Here we learned from the Indians, that the Black Feet and Crows and Sioux were determined to kill all the white people they could. This did not disturb me much, for I trusted in the Lord, that he would be with me. On Sunday I tried to preach to these people, who seemed to be hard-hearted and wicked. Mr. Grant was drunk, and made some disturbance. Here I was told that the Sapnach Indians would sell their wives for horses; and in case of hunger. Mr. Eubanks, who lived at Fort Hall, showed me a woman whom he had lived with and for whom he had given two hundred dollars."
John A. Straughton and Oregon Emigrant writes on July 1843: "When we arrived at Fort Hall we found it in charge of the Hudson Bay Company. Mr. Grant was the president of the company.
When we were about one hundred miles from Fort Hall Doctor Whitman told us that the danger of Indians was over and to make the trailing easier we broke up into little bands, which covered a radius of several miles.
On arriving at Fort Hall, Mr. Grant tried to discourage us in every possible way, saying that we could not get over the Rocky Mountains and that we had better stop there. Failing to influence us, he next proposed we trade our cattle and wagons for pack horses -- and his under men almost insisting that we trade them. Just then Doctor Whitman, who had come in a little late arrived and told us not to pay an attention to Mr. Grant to rely on him and he would pilot us through in safety. Having great confidence in the man who had been the cause of our starting on the journey we did his bidding and moved on for a couple of miles and camped for two or three days in order let all catch up and to rest our tired animals."
Stories of the brave men and women on the Emigrant Trail are just too interesting not to be told. One such story involves Nathaniel J. Wyeth. Early in 1832, with interest in northwest exploration steadily rising, a young New England merchant, Nathaniel J. Wyeth, signed on with a party going to the Oregon Territory. He dreamed of establishing a post at the mouth of the Columbia River, where many Boston sea merchants stopped to collect salmon and furs. When this expedition failed to materialize, he formed his own company, and departed from Boston with twenty-one men, sending a supply ship ahead around Cape Horn.
Bearing hardship en route, and discovering upon arrival at Fort Vancouver that his ship had been wrecked, Wyeth and two remaining men returned east. On their way, at the Big Horn in 1833, Wyeth contracted with Milton Sublette and Thomas Fitzpatrick to deliver $3,000 worth of supplies to the Rocky Mountain Fur Company at the Green River rendezvous the following year.
Wyeth organized the Columbia River Fishing and Trading Company in Boston and started west again with seventy men from St. Louis, April 3, 1834. At Green River, he found that William Sublette had arrived ahead of him and had already supplied the reorganized RMFC.
Wyeth is reported to have said, "Gentlemen, I will yet roll a stone into your garden that you will never be able to get out." His party continued west, by July 15 reaching the large plain on the left bank of the Snake River about four miles above the mouth of the Portneuf River.
Wyeth was aware from his previous trip that this area was a vast drainage system, excellent for hunting, fishing and trapping. A buffalo was shot to mark the spot where the entrepreneur would establish his own post for the supplies he had failed to sell.
Construction of the fort began July 16, 1834. On August 5 a homemade United States flag was raised to a gun salute, symbolic of the American claim in neutral territory. Wyeth gave the post the name Fort Hall in honor of Henry Hall, the eldest member of the Boston firm that financed his expedition. The fort's walls were 80 by 80 feet, made from nearby cottonwood trees standing on end, sunk two-and-a-half feet in the ground and standing fifteen feet high.
In 1816 the Canadian North West Company instituted the Snake River Brigade under Alexander McKenzie, and their annual trapping expeditions were the first to extend into what is now southern Idaho. In 1821 the Hudson's Bay Company took over the NWC. The "Brigade" was renamed the "Expedition," with Peter Skene Ogden in charge.
American trappers from St. Louis occasionally came into the Snake River Country, but the object of the "Expedition" was to overtrap the region and keep Americans out. With the founding of Fort Hall, tension between the British and Americans increased.
During the three-and-one-half years Wyeth owned the fort, it was an important fur trading post. Several hundred Bannock Indians camping nearby in October of the year the fort was built seemed a good omen. Beads, guns and other items were exchanged with the Indians for furs and meat. Most trading however, took place with American "free" trappers.
For several years after Wyeth's sale of Fort Hall, the post remained one of the HBC's most lucrative, even though sources of beaver were being depleted and beaver hats began to fall our of fashion. The fur trade came to a close after 1840.
Trappers were an interesting breed. The outfit of a trapper consisted of a rifle, a pound of powder, four pounds of lead with a bullet mold, about seven traps, an ax, a hatchet, a knife, and awl, a camp kettle, tow blankets and two or three horses.
The traps were six inches square at the jaw, well-tempered, steel-spring, costing $12 to $16 apiece in St. Louis and weighing five pounds. An eight-pound chain was attached to the trap; it was five feet long with a swivel and ring at the other end, fitted around a six-foot dry stick called a "float."
In setting a trap, the mountain man would wade into the stream and with his knife cut a bed for the steel jaws in the bank five or six inches underwater, being careful to wash away any trace of his scent. He drove the float into the mud in the middle of the stream so that the beaver would not swim away with a trap that held it. The bait was a pleasantly scented secretion from the male beaver's castor glands, placed on a twig or leaf suspended just above the trap. As the beaver stood on its hind legs to sniff the scent, it would step into the trap. When it tried to swim downward, the ring caught in a notch at the base of the float, preventing it from rising again. It would usually drown before it could succeed in gnawing off the caught leg.
The "Rendezvous' was an event associated with the Mountain Man era. The eagerly awaited summer rendezvous at Green River, in what is now Wyoming, was initiated by William Ashley in 1825 and continued until 1840. Here for a week to ten days trappers, along with Indians involved in the trade, secured more supplies and, delighted by human company, engaged in great tale-telling and merrymaking.
The beaver and the part it played in opening the west. The beaver was the main factor in opening the empire of the Great Northwest. Even before the time of Lewis and Clark, trappers pushed up the Missouri in search of furs, primarily beaver. During the 1820's and 1830's, with the beaver hat in vogue as far away as the Mandarin courts of China, the demand was at a peak. Without the beaver and the market for its pelts, Wyeth and other American traders, trappers and explorers, as well as British concerns, would not have penetrated the interior of this territory as they did, both from the East and from the West coast, paving the way for thousands of settlers to follow.
Trappers in the Rocky Mountains were often enlisted from the East, eager despite the dangers and strenuous conditions they new they faced. Those who worked for American companies usually lived by themselves or in small groups, and trapped not only in the spring and fall, but also in the winter when pelts are best.
It often proved necessary for the trapper to cache furs for a time while moving to a new area. Bundles of ten to twenty skins, folded with the fur inside, tightly pressed and corded, were ready for delivery in one-hundred pound bales.
A year's catch of furs was taken to a trading post like Fort Hall, or to an annual rendezvous like the ones at Green River. There they were purchased by a company, such as the Rock Mountain or American Fur Company, and shipped to St. Louis. The price was from $4 to $6 per-pound for prime and adult male furs.
In 1846 the Oregon country south of the 49th parallel became part of the United States. With the decline in the fur trade and constant pressure from American settlers, who ignored British claims in the territory, the HBC was bound to discontinue operations in the Northwest.
In 1855 Fort Hall was abandoned, most supplies being withdrawn to the HBC's Flathead post in what is now Montana. Sale to the government of the United States was finalized the following year.
Fort Hall that once was an 80' by 80' fort changed sometime between 1836 when Narcissa Whitman described it and 1847 when measurements were taken and the fort was 80' by 100'. Additional buildings were constructed and the fort was adobied In 1838 another diary tells us that the fort was built of adobe bricks six inches thick by two feet long. Immigrants on the Oregon Trail wrote about seeing the whitewashed walls of the stockade glisten like a beacon in the distance.
Narcissa Whitman wrote of the peas, onions, turnips and corn growing at the fort as early as 1836. It was the Hudson's Bay Company's policy that their posts be self-sufficient. By 1841 there were attempts to grow not only vegetables but also grain at Fort Hall, and thus Euro-American agriculture was introduced into southeast Idaho.
In 1845 we know the post's twenty men had five acres under cultivation and also herded 95 cattle and 171 horses.
No more rendezvous were held after 1840, the Rocky Mountain fur trade having come to an end. But at the same time Fort Hall became important in another sense--as the "Gateway to the Northwest." Between 1842 and 1852 an estimated 200,000 persons passed through southeast Idaho on their way to Oregon and California. Thus the fort aided directly in acquiring both of these sections for the United States.
Mountain men who had become trappers now became guides for migrant parties. Missionaries, who were the first to enter the territory with wives, also set the precedent for migrants to follow.
Before its demise, Fort Hall saw movement to and fro, as letters were carried to the East, and mail waited to be claimed at the fort by members of wagon trains. Roads for stagecoach and freighting soon developed to the north, east, west, and south from Fort Hall.
Christopher (Kit) Carson (1809 - 1868) was one of those "Mountain Men" Trappers who turned to being a guide when the beaver industry folded. At the age of sixteen, Kit Carson ran away from his home in Franklin, Missouri to be a a mule skinner on the Santa Fe Trail. When he was twenty, he met Jim Bridger and others and arranged an expedition to trap Wyoming and Idaho streams with them.
On a trip to St. Louis in 1842, he met John C. Fremont, who hired him as a guide, and together they stopped at Fort hall in 1843. Leading Fremont farther west on a second trip, Carson alone made the dangerous trek between Salt Lake and Fort Hall for additional supplies. The entire company met as the fort later and from there journeyed to Oregon.
Although Fort Hall was never really attacked by Indians, Carson tells of an incident in 1836 in which all of the horses for his party were stolen from the fort's corral during the night by Blackfeet. As a result, the trappers had to remain for a month, until Thomas McKay arrived with extra animals, which they purchased.
Carson gained nationwide fame for the hardships he braved and the risks taken with his life while carrying dispatches across the country.
A day on the Oregon Trail began at dawn, when everyone arose; breakfast was eaten, cattle were gathered and the wagons queued up. Travel commenced at 7 am. The trains usually halted at midday, "nooning" for a couple hours, resting and letting the cattle graze. Afternoon travel was hot and tiresome. Children napped in the wagons or played alongside. Men herded the cattle. Scouts would ride ahead and make a circle for the evening encampment. The wagons were circled, and the women and children gathered buffalo chips for campfires. After supper, there was talking and occasional singing. Just at dark, some in wagons and some on the ground, the weary travelers would stretch out to sleep.
The first wagon tracks of the Oregon Trail were made in 1830 when the Smith-Jackson-Sublette trapping team left St. Louis loaded with supplies for a summer rendezvous on the Big Wind River in western Wyoming. In 1832 Captain Bonneville took wagons through South Pass across the Rocky Mountains to Green River. Wyeth's trek to Oregon that same year established to a great extent the route that wagons later used. 1836 saw the Whitman's famous cart go as far as Fort Boise.
Only a few hundred wagons set out each year prior to the 1843 Great Emigration led by Marcus Whitman, which brought the first large number of Euro-Americans into the West and the first wagons to go all the way. In 1844 there were an estimated 500 to 700 wagons on the trail; in 1845, over 2,500 persons and 460 wagons reached Oregon, while California attracted five companies. In 1847 at least 3,000 Mormons arrived in the Salt Lake Valley.
Another era began in 1849 with the discovery of gold Eight thousand to 10,000 wagons with as many as ten oxen apiece passed over the trail that year, and traffic peaked in 1852 with 60,000 persons going to California, 10,000 to Oregon. Meanwhile, trade with the Indians slackened, and their hostility increased along with the number of immigrants, who brought disease and increased encroachment on their land.
Fort Hall was the point at which a decision was often made whether to proceed to California or to Oregon. Prior to 1843 Hudson's Bay Company factors at the fort convinced many immigrants to take the California Trail from Raft River, thus ensuring Great Britain's interest in the Northwest Territory.
Early parties which insisted on following the trail to Oregon were persuaded to exchange their wagons for pack trains because of the difficult passage over the Blue Mountains. Wagons and household goods littered and area of several acres around the fort.
Fort Hall saw the first wagon pass on the Oregon Train as well as the first two white women to cross the Rockies when in 1836 Whitman and his bride Narcissa and Eliza Spalding wife of Reverend Henry Spalding passed this way.
Nathaniel Wyeth left the newly built Fort Hall in 1834 to continue toward Vancouver leaving someone else in charge. Within its first two years, Wyeth's Fort Hall had established a tailor shop. Shirts were fashioned of cloth for Indian Chiefs, and capotes were made from blankets, Indian women, wives of the men who lived at the fort, made moccasins and clothing of buckskin for trappers. The fort even provided a circulating library. Trappers talk of books they took along when they went trapping.
A chronology of events should help put things into perspective:
1805 Meriweather Lewis and William Clark expedition across the Continental Divide, the first Euro-Americans in "Idaho".
1810 Andrew Henry of the Missouri Fur Company builds a winter camp on the upper Snake River in Idaho.
1811 John Jacob Astor form Pacific Fur Company. He sends a land expedition, led by Wilson Price Hunt, to follow the Sanke River across what is now southern Idaho.
1816 North West Company institutes "Snake River Brigade," first expedition to trap southern Idaho.
1821 The British Hudson's Bay Company absorbs the North West Company.
1824-25 The HBC builds Fort Vancouver, which becomes headquarters of the Columbia River Department.
1824 Andrew Henry, William Ashley, and Jedediah Smith of the St. Louis-based Rocky Mountain Fur Company began trapping in southern Idaho.
1824 The HBC reorganizes the Snake River Brigade, names it the Snake River Expedition, and places Peter Skene Ogden as its head. The scorched earth policy is designed to trap out the Snake River Plains and discourage Americans from entering Oregon country.
1832 Boston entrepreneur Nathaniel J. Wyeth forms the pacific Trading Company and starts for the west coast.
1832 Wyeth and a few men make it to Fort Vancouver and become guests of Dr. John McLoughlin at Fort Vancouver. Wyeth examines Oregon Country for possible fur-trapping and salmon-fishing empire.
1833 Wyeth and two companions return to United States. At the Big Horn they contract with the Rocky Mountain Fur Company to supply goods at the next year's rendezvous.
1834 In Boston, Wyeth forms the Columbia River Company and returns to Oregon Country. The Company's goods are refused by the rendezvous, and Wyeth is forced to establish his own trading post. He builds Fort Hall. Methodist missionary Jason Lee gives first religious service at the fort.
1835 Thomas McKay sells Fort Boise, which he constructed the previous October, to the HBC.
1836 Marcus and Narcissa Whitman, along with Henry Harmon and Eliza Spalding, visit Fort Hall on their way to develop missions at Waiilatpu and Lapwai "Oregon". They take their cart as far as Fort Boise.
1836-37 Nathaniel Wyeth sells Fort Hall to the HBC.
1838-42 Francis Ermatinger is the second HBC chief trader at Fort Hall. During his years the fort is enlarged to 80 by 100 feet and covered with adobe.
1841 First immigrant train on Oregon Trail reaches Fort Hall.
1843 Great Emigration. Between 700 and 1,00 immigrants travel the Oregon Trail and pass Fort hall on their way to the Willamette Valley, taking their wagons.
1846 The United States and Great Britain sign the Oregon Treaty dividing the northwest at the 49th parallel, the present boundary between the U.S. British Columbia.
1849 The United States Army develops Cantonment Loring near Fort Hall.
1855-56 The Hudson's Bay Company abandons Fort Hall.
1859 The Lander Road is built to facilitate travel o the Oregon Trail. Ferries across the Sanke River above the fort begin to take immigrants to the interior of Idaho.
1864 J. N. Ireland removes most timbers and adobe from Fort hall to build Holiday Stage Line station on Spring Creek.
1868 The Fort Hall Indian Reservation is created for Shoshone-Bannocks, and includes the old fort site.
1916 Ezra Meeker and Dr. Minnie Howard, led by Joe Rainey, rediscover and popularize the original Fort Hall site.
After the Hudson's Bay Company sold Fort hall in 1856, the structure fell into disrepair. It was, however, used by independent fur gatherers.
Refugees and government troops occasionally occupied the old post. In 1865 U.S. Troops were sent to Oregon and Idaho, but when Lt. C. H. Walker arrived at Fort Hall to occupy it for winter quarters, he found only ruins.
An interesting syncretism of cultures occurred during this transition period, as trappers and mountain men wore buckskin and adopted many Indian ways. Meanwhile native Americans increasingly reflected Euro-American culture, from use of the horse and metal technology in tomahawks and arrowpoints to cloth in place of skins for their dress.
The ultimate violation of the Indian's former life, however, came with their being forced onto reservations by the Bridger Treaty of 1868. Never again would the Indian's life be the same.
The discovery of gold established a great freighting business between the East and mountain mining camps and government military forts. Most of the gold bullion from Montana mines was brought through the Snake country to Salt Lake. In Idaho the freighting season opened in April and lasted till November. The old Fort Hall bottoms were a favorite wintering resort.
Prior to 1863 there was no regular line of communication through the Snake country, mails being carried by horseback. In that year Oliver and Conover financed a road from Virginia City, Montana, to Salt Lake City.
Both freight wagons and passenger stages went over the roads, the former being cumbrous outfits, often consisting of several linked wagons bearing 9,000 pounds, making only about 12-miles a day; the latter, a hundred miles in 24-hours. Most stages were drawn by from four to six horses, changed every 12 to 15-miles. The stage bodies rested on leather straps instead of springs, which gave them an easy swinging motion. They were fitted with three seats and carried nine passengers. A few post stages, accommodating 26 passengers, were run over this road, but traffic was not heavy enough to bring them into general use. At that time there was little white settlement in Idaho and hardly any travel other than the tri-weekly stage.
With continuing development of the West, much of the actual Oregon Trail lay forgotten. One immigrant who had made the overland journey in 1852 determined to keep the memories alive. In 1906 elderly Ezra Meeker trekked along the trail in a covered wagon drawn by oxen. He failed to locate the old Fort Hall site, being directed instead to the Adobies. On a later attempt, in 1916, with the help of a group of local historians, the original site was identified.
Meeker said that Fort hall was the most historic point on the Oregon Trail. In 1934 the Idaho Historical Society called it 'the most interesting spot from the standpoint of American history in Idaho."
This old chopping block was on display at the replica of old Fort Hall.
This is an "ox chain". The ox chain, log chain, wagon chain, tow chain, whatever the name, the chain was one of the most versatile pieces of equipment possessed by early travelers and settlers. It was highly effective in clearing the land of brush and hauling logs and rocks, as well as pulling wagons that were stuck, along with oxen or teams, it was like a man's right hand in erecting buildings and preparing the land for settlement.
The blacksmith had to be a man of all trades. Using iron rods, strap iron, and scraps, he manufactured his own tools as necessary. He heated the iron to make it malleable and forged it into different shapes. It is remarkable what could be produced at the forge, using only heat and pieces of iron.
The blacksmith shop was a way-station to the traveler across the great west--an oasis in the desert, where horses were shod and wagons repaired, rehabilitated, or even rebuilt, in many cases. Continuing on expeditions would not have been possible without the facilities provided by Fort Hall's blacksmith shop, the depth of gratitude felt by pioneers is understandable.
The frontier blacksmith was an all-round craftsman. He remade and made do with available materials. Those he used most were iron rods, strap iron, sheet iron, brass, copper, and lead-- any scraps that came his way, any and all metals that were malleable. The Blacksmith was a one-man production line, creating or fixing any item there was a need for.
This wagon was on display inside the replica of Old Fort Hall.
The original Fort Hall was located 14-miles north of this recreated Fort Hall we are visiting today. It was originally constructed by Nathaniel J. Wyeth in 1834. Fort Hall served as a Trapper Indian "rendezvous" and an Oregon Trailway station. During its brief life it was visited by such notables as Bridger, Bonneville, Whitman's, Spaldings, DeSmet, Fremont, Carson & Meeker.
Interesting syncretism, or blending, of Native American and Euro-American cultures occurred during this time. The lifestyle of the Indian was changed not only by the horse and gun, but also by the use of metal technology in points, tools, and cooking pots, and cloth goods in place of leather. Meanwhile, the frontiersman adopted many Indian ways, wearing moccasins, and buckskin, and learning much from those who were close to nature.
Fur trade interaction, however, was largely replaced by immigrant activity during the time of the fort. Several branches of the Oregon Trail traversed Shoshone-Bannock territory. Yet, because most immigrants passed through Southern Idaho in the late summer, at at time when the majority of Indians were east of the Rockies in buffalo country, the Euro-American movement westward continued for over a decade without intervention.
Beaver, like horses, were standards of value in bartering. The Shoshone-Bannock traded pelts for cloth shirts and capotes made from Hudson's Bay blankets in the fort's tailor shop. Meanwhile, many Euro-American trappers and traders took Shoshone-Bannock women for wives. The fort is described by immigrants to have been bustling with the activity of these families, as the women made moccasins and other goods of leather in exchange for trade items. The children of white fathers and Indian mothers played significant parts in the Euro-American settlement of the West after the days of the fort were over.
As we left the Bannock County Museum and the Old Fort Hall replica we took these parting shots of the lava wall that flowed down the valley where Pocatello is located. The community has made a magnificent park along the eastern side of this ancient lava flow as can be seen from the picture on the right. The Museum and replica of Old Fort Hall is located on top of the lava flow.
We thoroughly enjoyed the museum and the replica of Old Fort Hall today. They have preserved so much of the history of the area not only from the 1800's when Mountain Men/Trappers roamed the area but also the geology.
Until next time remember how good life is.
Mike & Joyce Hendrix