Places Visited: Idaho: Driving from Kemmerer, WY to Montpelier, ID on US-30 through Sage, WY and Cookville, WY; Dingle, Idaho.
July 22, 23 & 24 2006: Rendezvous RV-Park Montpelier, ID. N42° 19.698' W111° 17.999 $19.20 Full hookups with 50-amps. Gravel interior roads and pads. Nothing fancy, in fact the owner said that new owners had purchased the property with the intent of converting it to a lumber yard. They were just getting a bit of income until the lumber yard was up and running.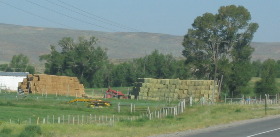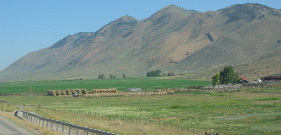 Today we said good bye to Wyoming and hello to Idaho. Wyoming is a land of contrast. Valleys are well watered and green while the hillsides are dry desert. The difference between irrigation and no irrigation is stark.
Ranchers/farmers are making hay while the sun shines and the water lasts. To make a living on these farms ranchers must also be farmers. Livestock is their bread and butter.
Life in these parts has a rhythm. That rhythm revolves around seasons and livestock. Land owners in these parts are all bound by this rhythm. Land owners can have as many cattle as they can feed during the long cold winter. Cows give birth in February/March. In May the adult cattle and calves are driven to Forest Service lands where they graze until the weather turns cold. At that time many of the cows wander back to the land owners place for the winter. The remainder are rounded up and driven back along the same trails that they were escorted over in the spring. During the summer while on the Forest Service land these cattle are essentially wild cattle. The calves grow to 600 pounds while on the Forest Service land.
While the land owners cattle were on the Forest Service land the farmer/rancher is working feverishly to put away hay for the long hard winter. Everywhere you look is a stockpile of hay awaiting winter when the cows come home.
As you might suspect when the cows come home the steers (boys) are hauled to market where they are sold. The ranchers are selling them so they will not have to feed them during the winter. The females are kept to have calves next February that will continue the cycle.
Crossing into SE Idaho on US-30 was uneventful with only this sign to welcome us. Less than a mile into Idaho we are in a historic valley that was written about in the diaries of Oregon Trail emigrants.
A bad ford of the Thomas Fork of the Bear River gave trouble to wagon trains crossing this stream on the trail to California and Oregon in 1849.
In that year, gold-seeking 49'ers developed a short cut (practically US-30) near here which crossed this stream. By the early 1850's two bridges had been built and their enterprising owner was charging $1 a wagon toll--which not everyone could afford. Penniless emigrants struggling in the water cursed while richer companions comfortably clattered across the bridges.
As soon as we pass over that river we face the "Big Hill" one of the most notable obstacles facing emigrants on the trail. You can get an idea what the emigrants were facing in this area by looking at this roadcut on US-30 not far from Big Hill.
The area is a desert where irrigation doesn't exist. Mormon farms are located in the valley and are bathed in wonderful life giving water. You can see the stark difference in the green valley and barren hillside where there is no irrigation.
The Big Hill on the Oregon & California Trail was a BIG DEAL. On their way west to Oregon and California, Emigrant wagons often crossed high ridges in order to avoid gullies and canyons.
When he came here in 1843, Theodore Talbot noted that he "had to cross a very high hill, which is said to be the greatest impediment on the whole route from the United States (over 200 miles east of here at the Continental Divide--South Pass) to Fort Hall (over 120 miles farther west). The ascent is very long and tedious, but the descent is still more abrupt and difficult. "Many wagons had to be let down by ropes tied to trees that have disappeared long ago.
Coming west with Ezra Meeker in 1852, Thomas McAuley decided to build a road to let Emigrants bypass Big Hill.
Worst of all Oregon Trail descents, Big Hill needed replacement. Eliza McAuley reported that her brother Tom "fished awhile, then took a ramble....and discovered a pass by which the mountain can be avoided by doing a little road building." With an emigrant crew, he opened a wagon tool road that followed current highway 30 that we are traveling on. After 1852 no one maintained the new route and it fell into disuse.
On April 7, 1852, seventeen-year-old Eliza Ann McAuley, with her older brother Thomas and sister Margaret, left Mount Pleasant, Iowa, to travel overland to California. For a time they were accompanied by the "Eddyville Company," led by William Buck and Ezra Meeker.
Eliza Ann left a notable diary account of the journey west and here on July 15 she wrote:
Traveled ten miles today and camped on Bear River. Just before coming to the river we had the hardest mountain to cross on the whole route. It was very steep and difficult to climb, and we had to double teams going up and at the summit we had to unhitch the teams and let the wagons down over a steep, smooth sliding rock by ropes wound around trees by the side of the road. Some trees are nearly cut through by ropes. The boys fished awhile then took a ramble around the country and discovered a pass, by which the mountain can be avoided by doing a little road building.
On July 17 the Meekers went on toward Oregon, but William Buck remained behind with the McAuleys. Here they stayed for fourteen days building a road around Big Hill. On July 24 Eliza wrote: "We have 8 or 9 hands today to work on the road. The boys want to get it finished to save people from having to cross that dreadful mountain."
One hired hand, William H. Hampton of Galesbourg, Illinois, wrote on July 24: "Still laying over and working we get $2 per day. Hot and sultry working at the foot of the mountain."
The road was completed by July 29 and the McAuleys continued west leaving Thomas McAuley and William Buck to "remain on the road a week or two to collect Toll and pay the expenses of making it."
On present-day maps the cutoff begins on private ranch land on Sheep Creek. From that spot highway 30 follows the approximate route of the McAuley Cutoff around the south base of Big Hill.
On August 7, 1852, John McAllister took the cutoff: "by going it you avoid a long ascent, a long steep & rough & dangerous descent."
No references can be found of use of the cutoff in subsequent years. Rising waters of the Bear River may have washed the road away or perhaps nature, unchecked, took control again with a new growth of thickets and brush.
The McAuley or "Eliza Ann" Cutoff will never rank among the great shortcuts of the Oregon-California Trail, but it does reflect the initiative and thought of a group of young Americans in the year 1852.
The McAuleys reached California on September 18. Two years later Eliza Ann married Robert Seeley Egbert. She died in Berkeley, California, in 1919 at the age of eighty-three.
We are seeing grain fields but do not what kind of grain it is. We are told that they grow both barley and oats in the valleys around here. I have no idea if this is barley or hay--------or possibly some other grain, it is grain isn't it?
In 1848 Pegleg Smith established a trading post on the Oregon Trail at Big Timber near here on the river. Some travelers called it "Fort Smith", though it was only four log cabins and some Indian Lodges. Packing a plow and tools from Salt Lake City Smith (a mountain man who had to amputate his own leg 20-years before) tried unsuccessfully to raise crops. But he did a big business when the California gold rush of 1849 brought thousands past his place here. 49'ers reported that he had many horses and cattle, and was making $100 a day.
Once in Montpelier we dropped the motorhome at the RV-Park and headed to the National Oregon/California Trail Center less than 3-blocks from the RV-Park. When we got to the door there was a sign saying that the Trail Center had closed for a few hours to participate in the Butch Cassidy Bank Robbery commemorative event being held in downtown Montpelier.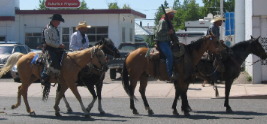 What! These people are having an event to celebrate a bank robbery and bank robber? It doesn't make sense but ----- we decide to head downtown to see what was going on. When we get to downtown (it is only 2-blocks long) we can easily see where the crowd was gathered.
The people on these horses are Butch Cassidy and his "Wild Bunch" as they ride into town to reenact a famous bank robbery.
Once in town locals explain what is going on.
Some places are infatuated with bank robbers. Montpelier, Idaho is one of those places. One day in August 1896, Butch Cassidy and his infamous wild bunch of gunmen invaded Montpelier's Bank and scooped up more than $16,500 in gold, silver and currency.
Leaving a surprised cashier and his terrified customers, they calmly rode away. A deputy sheriff who borrowed a bicycle to pursue them up Montpelier canyon was quickly outdistanced. Cassidy never was caught but one of the "gang" was caught and faced trial where he was found guilty for helping in Montpelier's great bank robbery. This individual Bob Meeks held the horses while the "robbers" went inside the bank. He was recognized and identified by someone in Montpelier.
This is the bank that was robbed. While this wagon drove up and down the street.
It was fun to see the reenacted bank robbery and watching the robbers run out of town on their horses with a lone deputy sheriff chasing them on a bicycle just as happened on that day in 1896.
After that big event downtown we headed out of town to see Bear Lake and the small town of Paris, Idaho not far south of Montpelier. Both Paris and Bear Lake are places were history lives.
Paris is a small pioneer Idaho town founded in 1863 when a wagon train brought more than 30-families of Mormon Colonizers to the area. More pioneers soon followed, some living in huts of quaking aspen and others building log cabins for the mild first winter. Next spring 700 more people arrived in the valley. The second winter was terrible, but the settlers persevered. They thought they were in Utah until an 1872 boundary survey showed this was part of Idaho.
There is a magnificent Tabernacle in Paris that jumps out at you when you drive through the town. The Tabernacle was designed by one of Brigham Young's sons. This imposing Romanesque Tabernacle was built between 1884 and 1889 by skilled local craftsmen.
Swiss stone masons cut and carved red sandstone that horse and ox teams hauled from a canyon 18 miles away. In winter, sled loads of rock were pulled over ice across Bear Lake. Shingles and other lumber came from nearby forests. After a century of use this unaltered monument remains as a reminder of pioneer achievement.
We stopped to watch this Bear Lake farmer mowing deep hay. To the left is mowed hay that is drying in the sun before being bailed.
Early Bear Lake settlers came from Britain. One was the first woman convert to the LDS Church in Europe. Born in Preston, England, Ann Elizabeth Walmsley Palmer was baptized in 1837. An invalid, she was carried into the water, but walked out unaided. After coming to Nauvoo, Illinois, in 1842, she drove an ox team to Utah in 1849 and settled here in 1863. She died in Bear Lake in 1890. Through faith she gained the strength to overcome trials and to achieve triumphs.
Bear Lake straddles the Utah, Idaho border. It is a recreational bonanza. While we are in Idaho the vast majority of these people are from Utah. They descend on Bear Lake with RV's and water craft. There are no utilities for the RV's but that doesn't stop them.

Bear Lake has many looks depending on where you are along the shoreline.
The northeast corner is where the most action is concentrated. It seems that the shoreline is completely covered with people enjoying a variety of watercraft.
Until next time remember how good life is.
Mike & Joyce Hendrix