Places Visited: Idaho: Idaho Falls & a scenic drive from Idaho Falls through the Swan Valley, Victor, Driggs, Tetonia and Sugar City. Including a stop by the site where the Teton Dam burst in 1976 creating a devastating flood downstream.
July 27, 2006: Sunnyside Acres RV-Park in Idaho Falls, ID 208-523-8403 N43° 28.087' W112° 2.986 $27.00 Full hookups with 50-amps. Paved interior roads and pads. Nice, clean park.
We moved the motorhome from Pocatello to Idaho Falls this morning then went for a ride through some scenic countryside to the east and north. If you want to follow on a map we headed east out of Idaho Falls to Swan Valley then turned north to Victor, Driggs and Tetonia before tuning west toward Sugar City then south back to Idaho Falls.
There is no doubt we are in potato country. Potato storage buildings can be seen on nearly every farm. These aren't small farms and the potato storage buildings aren't small buildings.
Most of the potato storage buildings we see have sod roofs like these and earth is sloped up on the sides and even around the front and back of the buildings for insulation against the bitter cold.

The one on the right doesn't have a sod roof but the sides are well insulated with earth.

Around here if it isn't potatoes it is wheat and there is a lot of wheat. We learned yesterday at the Potato Expo in Blackfoot that potato crops must be rotated and do best if they are planted in potatoes every third year with grain being the preferred crop to precede planting of potatoes.


We were heading east on US-26 approaching Swan Valley when we pulled into a rest area overlooking the Snake River. The Snake River has cut a deep canyon through deep lava flow material on both sides of the rest area overlook.
Not far east of the overlook we dropped into Swan Valley, Idaho. The valley is beautiful and boast the largest elk herd in the world as well as the largest big horn sheep herd. Later in the Tetons they claimed to have the largest elk herd. Who knows? Whatever, both are home to a lot of elk that gather in the valleys during the winter when snow is too deep in the mountains for them to find food.
In Swan Valley we turned north on SR-31 and headed to Victor and Driggs. After crossing a mountain range in the Targhee National Forest between Swan Valley and Victor we drop into the Teton Valley (it is in Idaho not Wyoming). The valley follows the Teton River that trends north parallel to the Teton mountains.
The Teton Valley was known originally as Pierre's Hole. Rich in beaver, it was a favorite site for British and American fur traders and trappers between 1819 and 1840. Surprisingly Jackson Hole on the other side of the Teton Mountains retained its original name while the "Teton" valley on the west side did not.
"Old Pierre" Tevanitagon, an Iroquois Indian fur trapper for the Hudson Bay Company, gave his name to this beaver-rich valley. Pierre's Hole was the scene of the annual rendezvous of mountain men and suppliers- "The Great Rocky Mountain Fair" - in 1832. That wild party ended in a free-for-all battle with the Gros Ventre Indians, which the trappers and their Indian friends won.
The valley was permanently settled in 1882.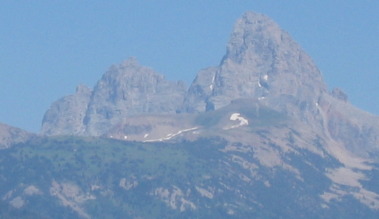 North of Driggs, Idaho the Teton River, Teton Valley and SR-33 pass right by the west side of the Grand Tetons. This it Grand Teton from the Idaho (west) side looking east. You are most familiar with how "Grand Teton" looks from the Wyoming (east) side looking west, but trust me it is just as spectacular when viewing it from the Idaho side.
Flanked by rock formations more than 2.5 billion years old, the 3-granite peaks of the Grand Tetons rose up in less than 9-million years. Very new as mountains go they are still rising. Just imagine-------it only took 9-million years! I am trying hard to put that into perspective.
Hinged at the base of the ridge a block of rock 40-miles long broke along a fault line, where the rock tipped up to become the top of the ridge (the Tetons). During the past 250,000 years, extensive glacial ice sculptured these spectacular peaks from the hard, resistant granite. I read kiosk in Grand Teton National Park that indicated the glaciers that did the carving were over 3,000 feet deep. It is so hard for me to visualize multiple giant glaciers 3,000 feet deep carving the valleys around here.
Switching back to the Teton Valley we are traveling through John Colter of Lewis & Clark fame discovered this valley in 1808 while exploring the Yellowstone and upper Snake Country in search of beaver. John Colter was a man's man, amen. He was with Lewis and Clark when they made their journey across the continent in 1803 and 1804. He was the only man "released" from his military duty when on the return trip the expedition, almost back to civilization, met a group of trappers headed west, up the Missouri River in search of beaver. They asked if John would like to join them. John asked the commanders (Lewis & Clark) who agreed to release him under the condition that no one else would be released until they completed the journey. It is almost incomprehensible that John Colter went from that epic expedition with Lewis and Clark then embarked on another journey into the unknown without ever returning to civilization.
Setting our all by himself with his gun and a 30-pound pack, he tried to get the Indians to join in his trapping business. On his way here from a Yellowstone post 240-miles to the northeast, he came upon Colter's Hell -- some hot springs near Cody, Wyoming. On his way back, he explored Yellowstone Park. In the spring of 1810, after several perilous escapes from the Blackfeet, he returned to Missouri, lucky to get back alive. He is buried in a big municipal cemetery in Independence, Missouri.
If you like to read find a book about John Colter and his life. It is guaranteed to be a good read.
In Tetonia we turned west and shortly climbed over a bluff and up on a plateau. We took this picture from that bluff overlooking the Teton Valley, Teton River and the Grand Teton Mountains. The Teton Valley, in my opinion, is prettier and more picturesque than Teton National Park on the east site of the Teton Range.
Once on the plateau west of Teton Valley the region immediately returns to the production of potatoes.
The building on the right is a new version of the potato storage buildings we have been seeing. It must have impressive insulation built in since it does not have the massive mound of earth stacked against the sides.
This large farm has several of those modern potato storage buildings.
This farm sports one new and one old type potato storage building sitting side by side.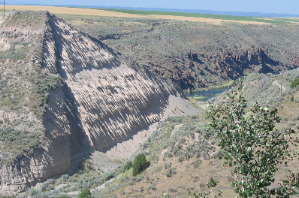 Then we came upon the Teton Flood site. When the Teton Dam suddenly was washed away, June 5, 1976, a large reservoir 280' deep was dumped on farms and towns below.
Houses floated away and crop land was ruined as water surged into the Snake River and American Falls Reservoir, which finally controlled that flood.
Church, government, and disaster relief agencies responded effectively, but 14-lives were lost and hundreds of millions of dollars in damages resulted from that unforgettable calamity. All that remains of Teton Dam is the gaping hole you see in the picture.
Potatoes dominate the landscape as far as the eye can see on both sides of the highway.
As we approached the small towns of Teton and Sugar City we are reminded about Fort Henry. In 1810, Andrew Henry and a party of trappers from Saint Louis established a winter outpost about 6-miles west. Driven from their upper Missouri beaver camp by hostile Balckfeet, they expanded their operation from United States territory into Oregon--a land with only a few British posts at that time. They built cabins and wintered here in deep snow. Game was scarce, and they had little to eat except horses. So they abandoned this area, and Henry took only 40-packs of beaver pelts--a thin catch--back to Saint Louis after a season's work.
It is so hard for me to comprehend these men wandering around out here so far from civilization only a few short years after Lewis and Clark's epic journey. John Colter discovered the Teton Valley about 25-miles east of here in 1808 just two years prior this group wintering at this spot. While game was scarce in this spot just 25 to 30 miles east of here game was plentiful in the Teton Valley.
In the small town of Sugar City we stopped to read a historic marker. In August 1903, Mark Austin negotiated the purchase of a section of land here, the south half to be used as this town site (Sugar City) and the north half, about 1/2 mile northeast, to be used for a sugar beet factory for the Fremont County Sugar Company. The company processed 35,000 tons of beets in the fall of 1904. The Church of Jesus Christ of Latter-day Saints sent 3 chemists from Germany to teach the people how to make sugar. Growing beets required very hard labor. Planting, cultivating, and digging were done with horses, but the difficult thinning, weeding, irrigating, topping, and loading were done by hand by the farmer and his family. In 1906 the company paid laborers and growers $750,000 dollars. The town grew and 20-businesses flourished.
At a (beet) slicer plant in Parker, beet juice was extracted and pumped almost 6-miles through a pipeline to the factory in Sugar City. The Parker plant was closed in 1913 because of difficulties incident to the extremely cold weather. Juice would freeze in the pipeline, and the water and beets would freeze in the flume.
The factory operated until it was dismantled in 1947. Potatoes and wheat are grown around Sugar City now.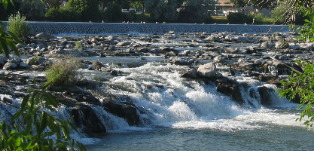 These are the "Falls" that put the "Falls" in Idaho, Falls.
In Idaho Falls we learned about a prisoner of war camp located near here in WW II.
After German Field Marshall Erwin Rommel's North African Army surrendered on May 13, 1943, the allies had approximately 275,000 prisoners-of-war in their possession. During 1945, 15,000 of the prisoners lived and worked in Idaho. Rupert, Idaho served as the base camp with over twenty branch agricultural camps established throughout the state. The first prisoners were Italians who came by train to Rupert in May 1944. Four months later, 500 German prisoners arrived.
A camp of 250 pioneers was placed on one property while 500 additional prisoners were housed in a large log exhibit building.
The prisoners provided support to the local economy by preventing crop loss, increasing production and reducing the labor shortage. The prisoners were bused to the field in the morning and returned to camps when the day's work was done. The prisoners-of-war in the Idaho Falls camps cut and harvested potatoes, thinned and harvested sugar beets, and hauled dirt to fill holes and cover lava along the west side of the present greenbelt surrounding the "Falls" in Idaho Falls.
The farmers contracted for laborers through the U.S. Army, paying the prevailing wages in the locality for similar work. The prisoners-of-war were paid 80 cents a day, with the balance going directly into the U.S. Treasury.
The prisoners spent up to two years in these camps. In late fall of 1946, the pioneers were moved back to the main camp at Rupert, transported by train to New York and returned to their native countries. Some of the prisoners found American sponsors, thus allowing the to return to Idaho Falls and become U.S. citizens.
On June 20, 1863, Bill Hickman started a ferry 9-miles up Snake River for the thousands of "Gold-Hunters" headed for mines that are now in Montana. These people needed a way to get across the river.
Eagle Rock Ferry as it was called was named for an eagle that had a nest on a rock there. The Eagle Rock Ferry flourished until James Madison Taylor made it obsolete two years later with a bridge across a narrow lava gorge in what is now Idaho Falls. The town of Idaho Falls eventually grew up around Taylor's bridge.
We stood at the site of Taylor's Bridge near what is now a greenbelt that has been created on both sides of the "falls" in Idaho Falls. Taylor's Bridge was Idaho's earliest toll bridge being completed in 1865. The bridge put the Eagle Rock Ferry, located 9-miles upstream, out of business. James Madison Taylor was a relative of Presidents Madison and Taylor and a founder of Denver, Colorado. He settled at the site of his bridge in 1864 to develop an improved route for his freight line from Salt Lake to Montana's new gold mines. After his bridge was built, telegraph service reached the area. The area became a regional transportation center. A railroad bridge was built adjacent to Taylor's bridge in 1879.
While these falls are so picturesque now others have not viewed them with so much delight. The Wilson Price Hunt Expedition was one such group. The "Overland Astorian's" expedition led by Wilson Hunt of New Jersey, passed through the present site of Idaho Falls in October 1811. This was one of two expeditions sent out west to establish a trading post at the mouth of the Columbia river for John Jacob Actor's American Fur Company. The second expedition traveled by sea around Cape Horn.
Hunt's party left St. Louis April 1811, entered present day Idaho at Pierre's Hole in early October. Believing the Snake River navigable and a tributary of the Columbia River, they camped at Fort Henry (25-miles north of Idaho Falls) and built canoes of cottonwood, willow and aspen to continue their journey.
Their first difficulty came at the cataract of the falls here in present day Idaho Falls. Two canoes were swamped in white water causing valuable provisions to be lost. Confronting the twisting churning falls, Hunt described the Sanke River as "confined" between two perpendicular mountains, which, throughout nearly half a mile, allow in, in some places, only 60' of width and sometimes less." Despite the canoes being guided the next day through the narrows by lines from shore, another canoe capsized, losing more supplies. Enduring many hardships, this ill-fated group did not reach their destination of Astoria, Oregon until February 12, 1812.
In the 1860's freighters, packers, and miners traveling between Salt Lake and Montana needed a crossing on the Snake River. James Madison Taylor, a freighter to the gold fields an employee of Ben Holiday's Overland Stage Line, incorporated the Oneida Road, Bridge & Ferry Company on June 1, 1864. His partners were two men from Fort Benton, Montana--William F. Bartlett and Edgar M. Morgan. The corporation had exclusive bridge and ferry rights for the Snake River between Black Rock Canyon and Cedar Island.
In December 1864 and January 1865, when the ice was thick enough to bear a heavy weight, stringers were erected fro a bridge, and in six days the frame of the new bridge was carrying its own weight without support. The bridge, completed in 1865, was an 83-foot-long modified queen's truss. The twelve 45-foot timbers fro the bridge were cut in Beaver Canyon north of Dubois on the Montana side of the Teton Mountain range. And hauled 80-miles to Black Rock Canyon (Idaho Falls). W. F. Bartlett, an engineer, procured the necessary long bolts from a wrecked steamboat near Fort Benton, and Iron from discarded freight wagons at old Fort Hall. The construction cost for the bridge was $13,000.
The legislature set the tolls, which were the same for ferry or bridge, as follows: (1) man and horse, 50 cents, (2) horse & carriage, three dollars, (3) wagon and two horses or two oxen, $4, (4) each additional pair of horses or cattle, one dollar, (5) animal with pack, 50-cents, (6) loose animals other than sheep or hogs, 25-cents, and (7) sheep and hogs, 15-cents each.
Nineteen million pounds of freight crossed over the bridge in 1867. In June of that year, the bridge was ruined by three feet of high water over the bridge, but the timbers were saved, having been spiked to anchoring cables. Using the frozen ice as a platform, the men rebuilt the bridge that winter.
Petitions were circulated in April 1885 for Bingham County to purchase the toll bridge and open it free to the public. In April 1889 the bridge was declared a public highway. By August 1889 the old wooden bridge was declared unsafe and replaced with an iron span.
Starting in 1989, the East Idaho Rotary Club and the Idaho Falls Rotary Club 380 undertook the task of raising funds to build a replica of Taylor's Toll Bridge. The purpose of their project was education and support for the greenbelt system. An Idaho Falls firm, G&S Structural Engineers, was responsible for the structural engineering design of the new bridge. The new spans were constructed of structural steel, and weigh a total of about 104,000 pounds. The two spans total 164 feet in length. Total cost of the two spans, including reinforcing the existing bridge abutments and constructing new ones, was $354,460. The Taylor's Bridge replica stands as a monument to this historical site and as a remembrance of the early pioneers that stayed and developed the village of Eagle Rock (now Idaho Falls).
A mile or so south of Idaho Falls on US-91 the city operates "South Tourist Park" on the east side of the Teton River and below the falls the city if named for. In addition to being a beautiful park the city allows RV'ers one free night to camp in the park. It was too hot for us but a lot of other RV'ers were taking advantage of that one free overnight experience.
The RV-park we were staying in was only a half miles south of South Tourist Park. If the weather is cooler the next time we are through here we will probably spend one night in the free park.
As we were leaving leaving Idaho Falls Joyce snapped this picture of a prominent sign. Who sponsors this sign and what point are they trying to make. Is it a local joke or is it something deeper? Inquisitive minds want to know?
And one inquisitive reader from the area decided to find the origin of this sign that had been there as long as she could remember. Here is her explaination:
"Ok, Mike, here you go. My dad sent this explanation to me. I figured if anyone would know, he'd be the one. He's lived in this area almost forver! Renae
Back when Don Pieper was building his business of the Stinker Stations he had many of them all over southern Idaho. One of his trade marks was
putting the those signs up all along the highways, much like the old Burma Shave signs. One of the old Burma Shave signs read, "When driving through
our town, drive slow, for this is where our little shavers grow". Well, there used to be Stinker Station signs all along the highways, such as: "Sage brush is free, stuff some in your car", one rocky area between Glenn's Ferry and Boise had this sign, " petrified watermelons, take one home to your mother in law", another one said, " sheepherders headed to town have the right of way", One in a dry area in the middle of nowwhere said, " no swimming in this area" , the one here said, " don't laugh at the natives" Most of those signs were there over fifty years ago. When the interstates were put in it bypassed those areas. Originally the Stinker Stations were called, Fearless Ferriss Stinker Stations. I don't know whether Don Pieper was partners with Ferriss or not, or whether he bought him out but eventually they came to be Stinker Stations with the skunk as an icon."
So there it is folks, thanks to Renae who grew up in Idaho Falls and remembers seeing that sign. Thanks again, Renae.
Irrigation systems come in all shapes and sized and are an essential ingredient in this farming region.
Potato fields stretch to the horizon in places---at least they stretch to the limits of irrigation.
In this picture of two wheat fields it looks to us like one field is red wheat while the other is white wheat. However, we never were able to distinguish wheat from barley.
We continued on our journey until we reached Jackson, Wyoming which was just a short ride over the mountains and into Wyoming. Joyce will have her dancing shoes on tonight and the Million Dollar Cowboy Bar in Jackson will never be the same. VBG
Until next time remember how good life is.

Mike & Joyce Hendrix