Places Visited: Panama City Beach, St Andrews State Park
Panama City Beach is one of the best resort towns in the US. It is home to the world's most beautiful beach. When we visit Panama City Beach we like to stay in St Andrews State Park.
These pictures of the campground area in St Andrews State Park were taken from the bay side pier in the park.
Boating, camping, fishing and kayaking are just a few of the activities in the park.
That is a scuba diver about to enjoy a dive exploring nooks and crannies in those rocks protecting the pass into St Andrews Bay.
Cast netting for mullet from the parks piers is another activity enjoyed by fishing enthusiast.
Beautiful homes are visible across Grand Lagoon from the St Andrews State Park campground.
Boats and condominiums are visible from the campground in the State Park.
This boat basin is another facility that makes St Andrews State Park so popular.
In addition to beautiful white gulf front beaches walks along the lagoon beckon as well.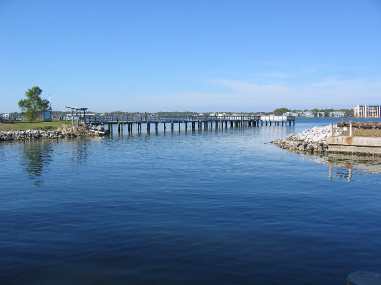 This is the fishing pier extending into the lagoon near the campground.
The boat ramp and boat basin with the fishin pier to the far left.
Condo visible across Grand Lagoon from the campground in St Andrews State Park.
A charter fishing boat heading back to the dock after a day in the Gulf. Joyce took this pictue from the State Park looking east across the pass leading from St Andrews Bay to the Gulf of Mexico.
Thursday afternoon ended in a beautiful sunset. This gulf shrimper was fishing just off the beach at the state park.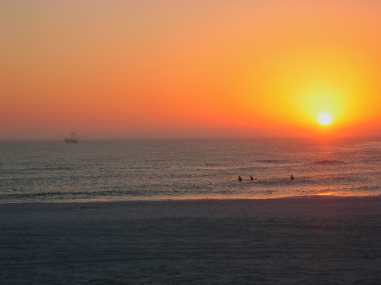 Joyce managed to get the gulf shrimper and three surfers in this sunset picture.
Three surfers were also enjoying this sunset.
As the sun was setting a fog bank as enveloping Panama City Beach a mile or so west of the state park. You can see the condos just outside the state park being enveloped in the fog. There wasn't enough light to showcase the sugar white beach sand.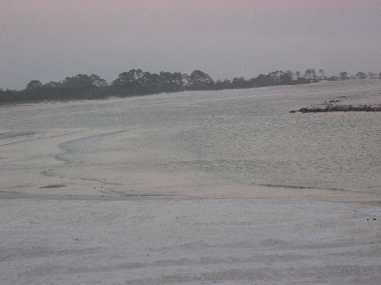 Dwindling light makes it difficult to see were the beach ends and water begins in the kiddie swimming area at St Andrews State Park.
Until next week just remember how good life is.
Mike & Joyce Hendrix