Places Visited: Sarasota, Myakka River State Park, Siesta Key
Monday, January 9 through Saturday January 14: Oscar Scherer State Park & Campground near Sarasota, FL $24.20 30-amps & water----central dump station, paved interior roads with compacted dirt sites N27° 10.386 W82° 28.135'
With our move to Oscar Scherer State Park in the small town of Osprey (south Sarasota) we are close to the barrier islands and the towns of Nokomis and Venice where we plan to make some day trips.
Other than moving the motorhome to another state park we just took a day off. Well, we took it easy until time for karaoke at Sun N Fun where we met friends for a simply wonderful evening. Karaoke at Sun N Fun is always awesome but tonight was over the top. The regulars showed up along with a new group. With so many talented performers in the house essentially everyone was performing their number one songs. With such an awesome assembly of talent the music was as good as any concert-------with no breaks.
While it was cold over the weekend the temperatures soared into the 70's today and life returned to T shirts and shorts-----or normal for south Florida. Everyone is happy again.
The week was spent with trips to the beach at Casey Key where Joyce strolled the beach in search of shells that she is incorporating into shell wreaths. There are a lot of people fishing on the jetty at the south end of Casey Key but I haven't seen anyone catch anything. This area has so much to do if you like nature, water and the beach.
One afternoon we drove in to Sarasota and joined a group from Sun N Fun for a sunset cruise on Sarasota Bay. The cruise was great fun. I guess the best part was the excellent entertainment that played a good medley of 60's songs that we all danced to. In addition there was a great sunset.
Oh, I forgot to mention that we made trips back to Sun N Fun on Monday and Friday nights for the karaoke.
Before leaving Myakka River State Park I had to walk down to the boat basin one last time. Unfortunately, Fred was no where to be seen.
We stopped on the south end of Casey Key to walk on the beach and collect a few shells. Determining which shell to keep and which to leave is too much like work for me. VBG
It was easy to get closeups of a variety of wading birds at the jetty on the south end of Caey Key.
We took these pics at a County Park south of Venice on Harbor Drive. We were a short way away from the shoreline where the habitat rapidly changes to a more "desert" environment on the sandy dunes. An agave is blooming while we spot this gopher tortoise at the mouth of his burrow or den.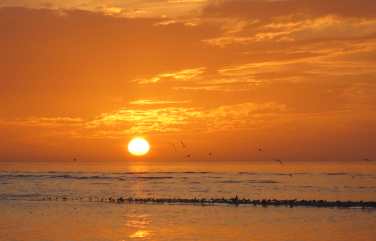 We spent Wednesday enjoying each other and Casey Key then we met a group from Sun N Fun for a sunset cruise on Sarasota Bay. The cruise boat was a converted barge with plenty of room upstairs and down. Our party occupied the top deck where there was live music and dancing to compliment the slow cruise around the bay. The first part of the cruise took us past some plush estates on Bird Key and Siesta Key before venturing to the pass into the Gulf of Mexico at the north end of Siesta Key. The sunset was to die for as you can tell from these pictures.
Thursday found us on a good shelling beach at the south end of Casey Key. We waited until late in the day so we could also take in the sunset. The sunset never happened because a fog bank rolled in.
This little sandpiper had abandoned his normal haunt along the shoreline and moved up into the soft sand in his relentless search for dinner.
Joyce took these pictures at Lake Manatee State Park east of Bradenton where we are spending the week. The pink clouds and reflection are facing east while the orange was facing west. Isn't it interesting how those colors can be seen at the same time?
Some days on the beach are not conducive to swimming. A cold front had moved through the area hours before Joyce took this picture on Casey Key. She caught this gull is hanging in the gail force winds hoping to pluck a morsel from someones picnic table.
Until next week just remember how good life is.
Mike & Joyce Hendrix