Places Visited:
Florida: Sarasota, Myakka River State Park, Siesta Key
Monday, January 5 through Sunday January 8: Myakka River State Park & Campground near Sarasota, FL $25.8950-amps & water----central dump station, hard dirt interior roads & sites N27° 15.752 W82° 17.243'
Joyce had a day on Siesta Key planned for today. But before we jumped in the Saturn for our ride to Siesta Key I ventured down to the boat basin and over to the weir to take pictures of the canoes threading their way between the alligators. I had mentioned this on one of the online RV-forums and someone from the Pacific North West was having problems visualizing this. I am from Florida and I have trouble watching it just as he does but it must be safe because they do it all day. One of the docents told us that alligators feed at night. Well that may be the norm but FRED ate my mud fish the other day and it was in broad daylight. The docent needs to inform Fred!
The couple in this canoe are just one of hundreds that glide past these large gators every day in Myakka River State Park.
Note the alligator in the pic to the left is only a few feet from the canoe.
This lush grass flat in Myakka River State Park was known as "The Big Flat" by early cattlemen who brought their cattle here to graze during the winter dry season. During the summer this flat will be covered by several feet of water.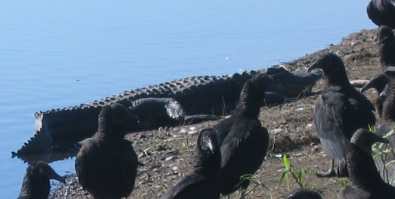 I took this picture showing a large gator sunning himself on the bank with these wintering black vultures seeminly oblivious to the danger present. I was afraid that if I got any closer the gator would disappear into the water. You can tell I am not very far away.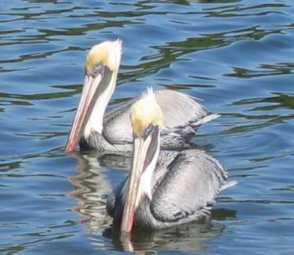 When near the gulf or Sarasota Bay the ubiquitous pelican is not far. That is a snowy egret on the right. They are equally at home in salt or fresh water environments.
Great Blue Herons, like the one on the left, can be seen around water throughout the United States.
Some Snowy Egrets, like this one, hang around boat ramps to beg for a free meal.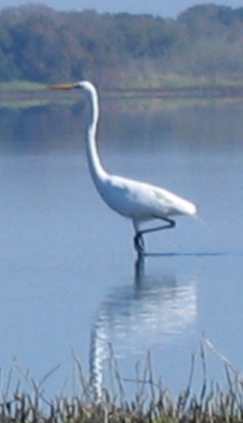 These great egrets are wading through the alligator infested lake in Myakka River State Park with no apparant concern for the gators.
Joyce scheduled a day for us to visit and enjoy Siesta Key. Siesta Key is a barrier island protecting mainland Sarasota from the angry Gulf of Mexico. It has been inhabited by local fishermen and crackers for several generations. However, the cracker influence is quickly disappearing. Snowbirds with mega bucks are transforming the island into an upscale enclave of the rich and famous. Fancy condominiums and lavish estates are crowding out the native crackers. It is an eclectic mix to say the least. We spent some time at the county park on the south end of the island where Midnight Pass Road dead ends into a private gated complex. Anyway the county has a nice park with a boat ramp and several hundred yards of beach on the Gulf of Mexico.
We also ate at Turtle Beach Pub a celebrated, award winning establishment also on the south end of the island. It was a good opportunity to dine outside in beautiful weather but the food was nothing to brag about and certainly nothing that should have won any award.

These pics were taken from Turtle Beach at the south end of Siesta Key one of the barrier islands that protect Sarasota from the Gulf of Mexico.
The next several days we spent enjoying Myakka River State Park. There is so much to see and do in the park for people interested in nature. We have enjoyed watching a bald eagle patrol the sky over Lake Myakka. He makes his living stealing the fish that osprey catch. When the eagle flies overhead ducks and most shore birds take flight since staying still on the water makes them an inviting target. When we arrive at the lake early enough in the morning we can watch the flock of white pelicans take off. They roost on a mud flat on the far side of Lake Myakka at night and wait for the sun to warm up the lake and surrounding area forming a thermal that they can ride to their brackish water feeding grounds closer to the coast. Around 9AM the thermals are operating and these huge white pelicans take off circling around and around as the thermal takes them higher and higher then as if some magical signal sounds they peel off in a single line and glide to the coast.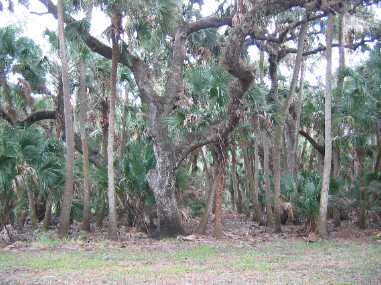 This osprey is enjoyig a largemouth bass for breakfast. He not only gave the crowd around the turning basin, waiting to board the air boat, a lesson in bass fishing he perched on one of the air boats mooring pilings to devour his meal.
The tropical foliage in the pic to the right is behind our campsite. Once out of the campground a lush tropical forest emerges.
The further south you go the more epiphytes or "air plants" you see. This live oak tree in Myakka River State Park is covered with Spanish moss and another epiphyte that has a pinkish tint that we found interesting. Epiphytes are plants that obtains its moisture and nutrients from the air and rain and usually grows on another plant. Unlike normal plants they do not sink roots into the soil. An epiphyte uses photosynthesis for energy and obtains moisture from the air or from dampness (rain or cloud moisture) on the surface of its host. Ephiphytes are not parasitic on their host, growing independently and only driving physical support. However, they can grow so thickly that they damage the host plant.
We have been seeing turkey in Myakka River State Park but they are very hard to get good pictures of because they are always in subdued light. These came walking through the campground late one afternoon. Even though the pics are blurry you can get an idea of the wonderful wildlife that can be viewed in this park.
Turkeys aren't the only thing out as the sun goes down. We snapped these sunset shots at the weir as the wildlife readies for a long night.
Around noon on Sunday afternoon in Myakka River State Park this large group of motorcyclist gathered for a poker run. It was a good turnout, I would guess that there were 200 plus motorcycles.
Early morning light cast the reflection of this great egret on the still water in Myakka River State Park.
On Sunday afternoon we joined a large group from Sun N Fun at Snook Haven for their afternoon entertainment under the trees. Snook Haven is a hard place to describe but rustic will start. It is fish camp, restaurant, tour boat dock and hangout about a mile down a hard packed dirt road ending in the Myakka River. A lean-to is used to house a band that performs on Sunday afternoons. An eclectic group of individuals show up every Sunday afternoon to enjoy the music and dance------well some, like me, just enjoying watching the cast of characters parade through the event. Toby Keith's song "I just love this old bar" pretty much sums up the cast of characters. It is even possible Toby was setting here when he wrote that song. VBG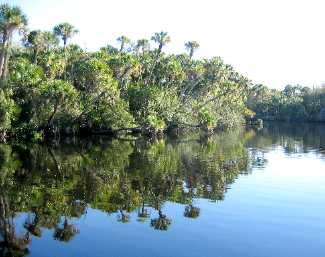 This is the Myakka River at Snook Harbor near Venice. The scenery surrounding Snook Harbor is simply awsome.
Every Sunday afternoon at Snook Harbor they have a country band performing in an outdoor venue. The entertainment draws an eclectic crowd that not only enjoyes the music but enjoy dancing as well. Snook Harbor reminds us of Luckenbach, Texas.
Last week I mentioned purchasing some nopals (prickly pear pads) at a local farmer's market. We fixed them several times last week just like green beans and that is what they tasted like. They are actually easy to prepare. All you do is take a small knife and remove the thorns. That leaves a sticky pad. Nopals tend to secrete a slimy substance that can be washed off if using as a salad item or as green beans. This week I have some more nopals and plan to French fry them. We ate French fried cactus pads several years ago at the Cowboy restaurant in Sedona, Arizona. I can just hope that the ones we fix will be that good. A good friend has passed us several recipes for nopal salad that we intend to try before leaving the area but first I have to try them fried.
Another thing we saw at the farmers market was a fruit called quince. We saw something that said it was a bitter fruit that was usually used to make jelly. Inside the farmer's market we spotted a display of home made jellies made by the local Amish community. One of the unique flavors was quince so I got some and it is great. Does anyone have any first hand knowledge about quince and or quince jelly? Where is it grown?

Until next week just remember how good life is.
Mike & Joyce Hendrix