Places Visited: La Belle, Granny's Grove RV-Park in La Belle, Pine Island, Lover's Key State Park
We traveled to Lover's Key State Recreation Area to visit with friends Joe & Lee Belanger, RV'ing friends from Vermont/Connecicut who spend the winter as State Park volunteers. We walked on the beach late in the afternoon collecting shells but did not stay for the sunset. From the look of the cloud formation the sunset would have been a good one to photograph. The osprey setting on this nest was at the south end of the beach walk.
We kept seeing this tree when we were near the coast that had leaves that looked like normal sea grapes that adorn barrier islands and coastals of south Florida. What made these different was the blooms. We had never noticed blooms on sea grapes. Upon inspection we realized that these unusual plants had blooms with three different colors. Some were yellow, some were apricot while still others were bright red. We took these pictures but could not find the flowers in any of our tropical tree books. Finally, we determined that it was a mahoe tree a member of the hibiscus family.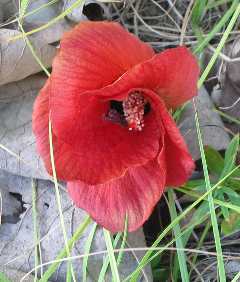 There it was in the books where they say the flowers only last one day and that they are bright yellow in the morning, and, as the day progresses, change to apricot, then to red at the day's end. That explained why we were seeing all three colors of blooms on the same tree. I would never have suspected it to be a hibiscus which we know as a bush with a distinctive leaf. The mahoe is a real tree growing 20' or more high with a leaf that looks more like a sea grape than a hibscus. Much to our shagrin the apricot colored flower's picture did not come out good enough to include.
While visiting Pine Island, near Ft Myers, and Captiva Island we couldn't help but admire these osprey. The one on the left was hapily dining on a nice size speckled trout while the two on the right were busy putting together a nest on this platform specially built for them.
Royal palms in a palm nursery on Pine Island. Pine Island should be called Palm Island for all of the palm nurseries. Hundreds and hundreds of acres of palm trees destined to dress up south Florida landscapes can be viewed from the road that bisects Pine Island.
On Monday we headed to Lake Okeechobee and the farming community of Belle Glade. Hurricane Wilma the late season hurricane that came out of the Gulf of Mexico and slammed into south Florida in September really hammered Belle Glade. Many if not most large trees were downed and broken however, palm trees did remarkably well as evidenced by this manila palm (could be a small royal palm) which has put forth this beautiful display of fruit since being nearly destroyed in September. To the right a large tractor is disking a fertile plot of land near Belle Glade. The soil is remarkably black and rich looking.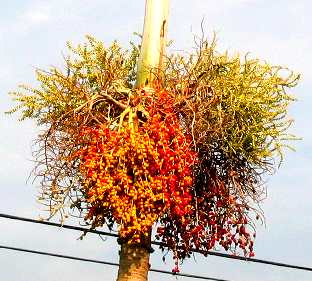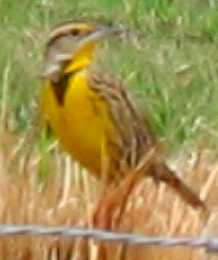 To the left is more of that dark rich soil being prepaired for another crop of winter vegetables.
To the right is a meadowlark enjoying his winter in a south Florida pasture.
Below are pictures taken in what was the county RV-Park/Campground in Belle Glade where around 350 wonderful RV-sites were destroyed by hurricane Wilma 4-months ago in September. The picture on the left is what used to be around 20 of those sites while the picture to the right is what is left of a chain link fence. Needless to say there has been a lot of cleanup in the campground.
The destroyed structure in the picture on the left is what remains of one of the buildings in the campground while the picture on the right is what remains of a concrete block restroom/shower in the campground.

Some people in the campground did not move their RV's and secure their boats as can be seen in the pictures below. We couldn't tell if that was a travel trailer or 5th wheel but most likely it is travel trailer. That looks like a motorhome in the picture to the right but it may be a travel trailer, it looks like a small class A to me. We could not determine how the RV was washed across the canal from the campground without sinking. I would have expected it to sink, obviously it didn't.
Until next week just remember how good life is.
Mike & Joyce Hendrix