Places Visited:
Florida: Sarasota, Sun N Fun RV-Resort, Myakka River State Park

Friday night at Sun N Fun was a karaoke night as usual. Tonight was a great night since many of the really good performers arrived this week. It was also a good night since many of our friends from previous years have arrived.
Saturday night the park had a wonderful New Years Eve party complete with prime rib and good entertainment. We danced until the "midnight-hour" when the New Year arrived.
A big group from Sun N Fun got together Sunday afternoon and drove 20-miles south to Snook Haven in Venice where they have a good band each Sunday afternoon. This was our first experience at Snook Haven but it won't be our last. The band played from 1PM until 5PM in an outdoor venue that reminded us of Luckenbach, Texas. While Snook Haven is on the Myakka River several miles outside Venice, Florida and Luckenbach, is many miles out of Fredericksburg, Texas they both attract large audiences on Sunday afternoons. Both places feature entertainment under large live oak trees. Both attract large biker crowds out for their weekend rides. While we are Pepsi drinkers the vast majority were drinking copious volumes of brew. Like Luckenbach young families with small children in tow enjoy the entertainment.
Snook Haven has been around since 1948 and has a small degree of history. At least 2 movies have been filmed there and a 3rd which was a French-American joint venture called Seven Sunday's had a segment filmed there. The first, called prestige (filmed in the 30's) starred Ann Harding, and was probably done before many of you were born. The second movie, a Tarzan movie, starring Johnnie Weissmuller, called Revenge of the Killer Turtles is where the legend of the Snook Haven Killer Turtles comes from. They have not had many sightings of those killer turtles since the movie, but occasionally they do see monkeys across the river, descendents of those that escapade during filming.
Some of you may have seen the 1994 French movie "Seven Sundays"? It was filmed in the Sarasota area and the Spaghetti eating contest episode was filmed at Snook Haven!
In addition to the entertainment and restaurant they rent canoes and pontoon boats and have a sight seeing boat that takes passengers up and down the Myakka River. To get there take exit 191 (West River Road) on I-75 west to the first place to turn south. That will be E. Venice Avenue. Follow the signs ½ mile south to the end of the road and Snook Haven on the bank the Myakka River. We hope you enjoy the place as much as we did.
Monday, January 2 through Sunday January 8: Myakka River State Park & Campground near Sarasota, FL $25.8950-amps & water----central dump station, hard dirt interior roads & sites N27° 15.752 W82° 17.243'
Monday morning was the day we moved from Sun & Fun RV-Resort to Myakka River State Park about 10-miles south of Sun & Fun. Abundant wildlife and exotic foliage is the attraction at Myakka River State Park. The lake and river are full of big alligators. Sandhill cranes nest in the park as do eagles and herons and egrets. On the way in this morning I heard two barred owls hooting at each other but I could not find them. Talk about hard to find. Feral pigs disrupt the natural balance in the park and removal programs are always in progress. The removal programs seem to not be working, perhaps hunters could thin the critters better than the trapping program.
While fishing this afternoon I caught a good size mudfish 18" long and between 2 and 3 pounds. It rolled on the surface and fought pretty good on the 4 lb test line I was using. During the excitement a 10' plus alligator decided he wanted that mudfish more than I did. Immediately upon seeing the mudfish threshing on the surface that gator make his way toward us. Keeping an eye on the gator while dragging the mudfish on the bank. I attempted to grab the mudfish and make my get away up the bank but thought better of it. The 4 lb test line broke and that gator came out on the bank and grabbed the mudfish. This all happened in front of the concession stand in Myakka River State Park with 20 to 30 people looking on. Some of them were hollering for me not to let the gator have the fish, ----- talk about blood thirsty! Everyone that has visited Myakka River State Park has seen that 10' gator that has been in the turning basin where they dock the airboats.
I didn't have my camera with me today but I will get Joyce to stay further up on the bank with the camera ready tomorrow.
This is Fred the 11 to 13 foot long bull gator that makes his home in the turning basin. I say 11 to 13 feet because one docent says 13 while the other said 11. It was "Fred" that dined on my mudfish. I think I made a good decision to offer my megar mudfish for "Fred's" lunch.
Later in the day and on several occasions throughout the week I caught other fish and that gator "Fred" never bothered to move. I guess he likes mud fish.
This was Monday night and that means karaoke at Sun N Fun. This is the 4th day/night in a row that we have enjoyed live music. It is time for a break!
We stayed in Myakka State Park Tuesday and enjoyed the wildlife. We saw sandhill cranes, a large flock of turkeys, a bald eagle scattering a flock of ducks, black necked stilts, a barred owl, a flock of white pelicans, an osprey in addition to numerous others that are just too common to mention. The best of them all was the barred owl that perched on a post no more than 10-feet from us. Alligators are everywhere. They look dangerous to me but people in kayaks and canoes paddle right past them. Just watching them paddle by those large gators gives me the heebie-jeebies.
Joyce took these pictures of bull gators while taking the airboat ride in Myakka River State Park. It is a one hour excursion that takes you to the far side of upper Myakka Lake where you see hundreds of alligators and wading birds. Kayakes and canoes glide past these monstors in a steady procession all day long.
People using worms for bait are catching tilapia. Tilapia is an introduced pan fish that feeds mostly on vegetation. In Florida they are used to control pond vegetation. In some places in South Florida they are commercially fished. In commercial fishing operations fishermen use cast nets. Have any of you purchased tilapia off a menu or perhaps purchased some in a super market?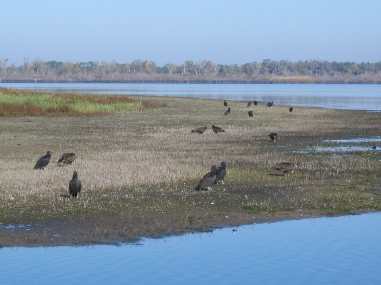 A large congregation of black vultures roost in the park. Docents say there are more than 1,500 of them during the winter. Aproximately, half of them migrate north in the summer and do not return until October or November each year. During the day they line the receding banks of the lake foraging on heaven knows what. When I walk the banks all I see are freshwater clam shells. That may be what they are feeding on.
Wednesday was our day to take advantage of the tours offered here in Myakka River State Park. We enjoyed the one-hour air boat tour that took us to the far side of the lake where we were able to see plenty of large alligators and numerous wading birds. The air boat ride is one of the unique things about Myakka River State Park. This air boat takes passengers for a ride on the shallow alligator infested lake. This 70-passenger air boat is the largest air boat in the world and you can enjoy it for around $10. On a warm sunny day you will see literally hundreds of large alligators along the banks sunning themselves. This air boat does not go fast like smaller ones. It is using air power because the water is so shallow in the lake that propellers would be continuously bumping the bottom. Besides, the air boat concept is unique. The engine driving the aircraft propeller looked to be a small block V8 automobile engine. It even had a regular automobile radiator for cooling.
Myakka River State Park has plenty of wild coffee growing along the roadside and hiking trails. The leaf looks just like the type used to make coffee but I do not know how the berries on these wild coffee plants would taste.
This is a cooter that we suspect has just laid her eggs in the warm sand. They are native to fresh water in Florida but you most often see them sunning on a log as those on the right are doing. We spotted this one while on a walk. Shortly after taking this picture the cooter made her way to the water and disappeared.
This is the Myakka River during the dry season. It is very shallow now and does not have much flow. The Myakka River is fed by rainfall within it's watershed, there are no springs feeding it. At this time of year, during the dry season, there is not much flow in the river. During the summer, the rainy season, the river will flow much faster and be about 3' deeper.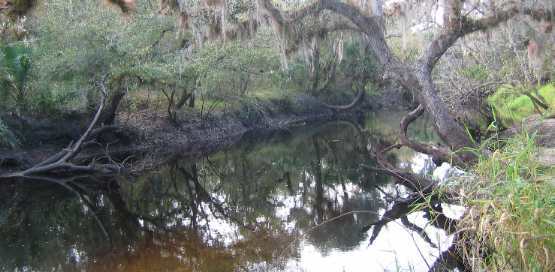 Live oak and palm trees grace both sides of this tranquil river.
In some places there is from several hundred yards to almost a mile of these lush grass prairies before you get to the palm hammocks like the one in the distance. During the wet season this grass will be under a foot or so of water. In the mid to late 1800's and into the early 1900's cattlemen brought their herds here to graze when the waters receeded each year during the dry season.
Palm hammocks such as these dot Myakka River State Park. Don't expect to see any coconuts on these palms because they are native Florida sable or cabbage palms. They produce small berries that are consumed by wildlife.
This is a baby alligator barely 18" long. At that size they make lunch for the camouflaged blue heron hiding in the bushes. While adult alligators are at the top of the food chain 97% of the babies don't make it.
Today we watched a group of feral pigs doing what pigs do. They were shaded by the thick canopy most of the time thus most pictures did not come out. That is also why we do not have pictures of the turkeys we have seen here in Myakka River State Park. Seeing them and getting pictures of them when they are in the shade of this tropical forest are two different things.
We also took the tram tour that focuses on upland aspects the state park and this part of Florida. We saw an eagle's nest and numerous osprey nests while the docent explained the various flora and fauna and how it changes throughout the park. Much of the park is underwater during the summer months. Now tall grass grows where ponds were flourishing just a few months ago.
The white and pink spots on this tree are lichen.
The plants to the right are palmetto bushes. Palmetto bushes can be seen throughout Florida. The fronds look very much like the sable or cabbage palm.
Spanish moss on these live oak trees help set these pictures of the real Florida before wall to wall condominiums. If it weren't for state parks much of this would be lost forever.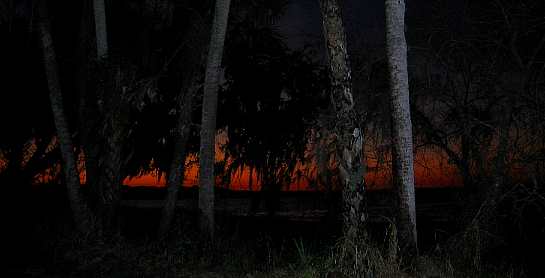 Sunset pictures across Lake Myakka framed by live oaks and palm trees evoke memories of the old Florida we read about in history books.
Joyce took this sunset picture not far from our campground at Myakka River State Park.
Until next week just remember how good life is.
Mike & Joyce Hendrix