Places Visited: Ft Pierce and Savannas County Park, South Hutchinson Island
February 14 through February 16: Savannahs County Park Ft Pierce, Florida. $20 FHU 30-amps, shell interior roads with grass sites N27° 23.231 W80° 18.575'
Temperatures fell to 29° for our last night in La Belle. News reports were chattering about that temperature like something on the order of a hurricane was imminent. That is the coldest temperature the area has experienced in 5-years. Citrus did not appear to be adversely impacted but vegetable crops and tropical nurseries were devastated.
We transitioned the motorhome from La Belle to Ft Pierce on Tuesday. The drive was uneventful as we transited the various agricultural/commercial zones. La Belle is citrus country that transitions to sand mines in Ortona. Then it is cattle ranches until we get to the banks of Lake Okeechobee not far from Moore Haven where fishing and campgrounds rule. Lakeport appears to be nothing more than a mass of RV-Resorts and campgrounds overflowing with snowbirds. Then we passed through Okeechobee that can't decide if they are going to be cattle capital, fishing capital, or RV-Park capital of Florida. Okeechobee does it all. Actually, they have a concentration of cattle ranches and dairy operations in the area. It is only around 30-miles from Okeechobee to Ft Pierce. About mid-way to Ft Pierce cattle ranches give way to citrus groves. We pass by the Tropicana orange juice plant on the way to our RV-Park.
We stop by Ft Pierce to visit with long time military friends. In the distant past we were stationed together at the Naval Air Station in Brunswick, Georgia and have kept contact all these years. We visited and ate with our friends over a two day period. One day we drove to Stuart where we enjoyed a leisurely day shopping and dining.
Sunsets at Savannahs Campground were awesome and Joyce captured them on our digital camera. Savannahs Park is also a good place to view a wide variety of water birds.
When we stay in the Savannah County Park one of our "must-do" things is to visit the marina and Manatee Center on the water in down town Ft Pierce. That is a baby manatee coming up for air. Mike is watching this mother and baby. The manatee are gathered in the warm water discharge of the Ft Pierce power plant.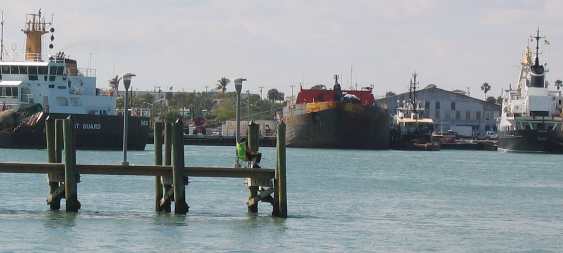 From Hutchinson Island Joyce took this picture of the Ft Pierce commercial waterfront. To the left is a coast guard buoy tender, in the center is an ocean going barge while the ship on the extreme right is a small container ship that probably makes runs between here and the Bahamas or other Caribbean destinations.
Joyce snapped this picture one afternoon while walking in Savannah County Park where we had the RV for our three days in Ft Pierce. One day I also caught dinner out of this canal.
We spotted this anhinga with a nice fish that appears to either be a large mouth bass or catfish. The anhinga was fishing in the same canal pictured above. Normally an anhinga likes to come out of the water to flip the fish and swallow it. However, this anhinga couldn't come out of the water because a great blue Heron kept trying to steal the anhinga's fish. The anhinga would dive underwater with the fish and head for one of the banks. The blue heron would fly to where he thought the anhinga would surface with his catch. This cat & mouse game went on for some time before the anhinga flipped the fish in the air and swallowed it head first. Then promptly crawled out of the water to sun and digest his dinner.
While this sea grape bush appears to be in bloom look closely and you will see that the showy red things are new leaves. Blooms or not they add a splash of color, don't you agree?
I took this picture from a beach parking lot on Huchinson Island near Ft Pierce In the foreground is a blooming century plant while the plants in the background are mangrove trees. The mangroves must live with their roots in the water as these are. The century plant is a desert plant that lives in arid regions. How can these two survive within feet of each other? Simple, the century plant is thriving on a sand dune approximately 6' above the water table. The 6' of beach sand does not hold moisture thus creating the arid desert environment necessary for the century plant. While the century plant juxtaposed with mangrove trees showcases an extreme change in environment within a relatively short distance similar environmental zones can be seen in landscapes all across Florida. If you are watching you will spot cypress domes in the middle of pastures. Cypress trees thrive in shallow water. In that same pasture you may also see an acre or so of cabbage palms (Florida State Tree) creating a palm hammock or an area of live oaks creating a hardwood hammock. Palm trees will not grow in water but they thrive in swamps that periodically flood. Oak trees want higher ground and pines even higher. In south Florida all of these conditions can be met with just a few inches change in elevation. Early settlers in south Florida utilized this knowledge to locate homes on the highest ground around. Don't laugh, the subtle change in elevation is not readily ascertained with the naked eye as it might be in a hilly area.
Flamevines offer one of the most brilliant displays of color in south Florida this time of year. These vines are most often spotted on fences or sometimes on a trellis. However, at times they can be spotted climbing in large trees. In addition to the brilliant orange flowers they have shiny bright green foliage. When this vine has climbed and covered a large tree the entire tree turns brilliant orange during February.
To the left is a close-up of a single bloom. To the right is a cluster of buds that have yet to open. It is amazing how much color these unopened flower clusters add.
In these pictures you can see the unopened buds the "trumpet-like" flower and the white stamens that remain after the brilliant orange flowers have withered and fallen off.
The sunsets in savannahs county park in Ft Pierce were absolutely beautiful.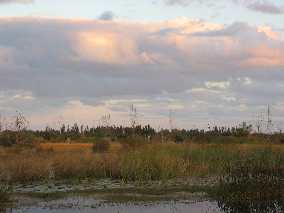 While sunsets were brilliant the setting sun also created beautiful views across the savannah this park was named for.
Reflections on the canal sets off a variety of water plants on the edge of the savannah.
Reflections of cattails in the campgrounds canal.
A moorhen heading home for the evening
Joyce took this picture looking south from Gilbert's House of Refuge Museum located on the south end of Hutchinson Island near the mainland town of Stuart. A ledge of limestone is exposed along the coast. This limestone forms the peninsular of Florida.
Until next week just remember how good life is
Mike & Joyce Hendrix