Places Visited:
Florida: Sarasota
Thursday, December 29 through Sunday January 1: Sun N Fun RV-Resort in Sarasota, Florida $35.30 FHU with 50-amps, paved interior roads N27° 20.66' W82° 24.96'
Horseshoe crab shells washed into a mangrove thicket at South Lido Key County Park in Sarasota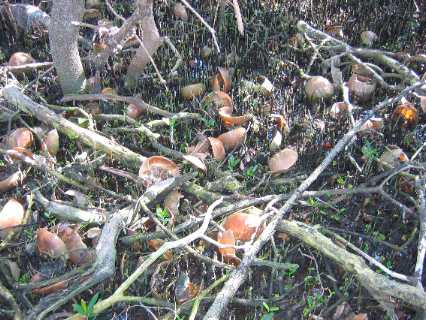 Joyce captured this picture of horseshoe crab shells washed into a mangrove thicket. To us it looked like a horseshoe crab graveyard. Two different kinds of mangrove are represented here. The hard to see black pencil like roots of the black mangrove are what seem to be entrapping these horseshoe crab shells. The gray roots belong to red mangrove trees.
Looking to the mainland from Longboat Key near Sarasota
This is looking to the east from one of the keys off Sarasota with several mangrove islands between us and the mainland in the distance. Is this a beautiful day or what?
Sarasota Bay
These are pictures of Sarasota Bay. The temperature was around 78 degrees without a cloud in the sky. Does it get any better?
Juvinile night heron hiding on a Sarasota area beach
To the left is a juvenile night heron that is sure that we can't see him.
Horseshoe crab shell on a Sarasota area beach
To the right is a horseshoe crab shell that washed up on a deserted beach.
Small shore bird feeding on a dead crab on a Sarasota area beach
The small shore bird in these pictures is availing himself of a meal of opportunity. They normally feed on small crustacean in the surf but obviously will pick the meat out of a dead crab.
Cockle shell on a Sarasota area beach
This cockle clam shell was on one of the Sarasota area beaches.
Sausage tree bloom at the John & Mable Ringling Museum Complex
The sausage tree is a unique tree that we see from time to time in south Florida. That is the bloom on the left and the "sausage" aka fruit on the right. The blooms and the fruit hang from long "ropes" dropping from branches high above.
The beautiful deep purple blossoms are fascinating as well. In their native African habitat the flowers are pollinated by bats thus they bloom at night. The blossom cluster resembles a chandelier in that it hangs from long "ropes" that have "arms" containing the blossoms that resemble the lights. The sausage tree evolved by dropping flowers down away from the leaves so that the pollinating bats sonar location sensor would not confuse the blooms with thick leaves. In South Florida blossoms are pollinated by insects.
South Lido Key County Park in Sarasota
On Friday we headed for the barrier islands near Sarasota. Joyce had planned a day of visiting and walking through several nature parks on the keys.
This is a mangrove estuary on one of the barrier islands (keys) near Sarasota.
Until next time remember how good life is.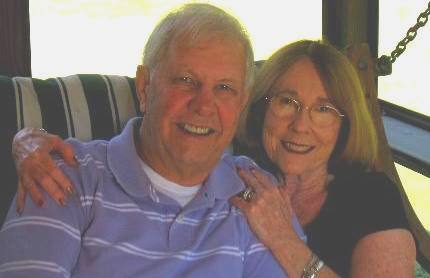 Mike & Joyce Hendrix who we are
We hope you liked this page. If you do you might be interested in some of our other Travel Adventures:
Mike & Joyce Hendrix's home page
Travel Adventures by Year ** Travel Adventures by State ** Plants ** Marine-Boats ** Geology ** Exciting Drives ** Cute Signs ** RV Subjects ** Miscellaneous Subjects
We would love to hear from you......just put "info" in the place of "FAKE" in this address: FAKE@travellogs.us
Until next time remember how good life is.