Places Visited:
California: Mojave
Tomorrow we are heading north following the 49'er trail of gold.
If you recall that is the way I ended our last travelogue.
Thursday, June 9: Desert Truck Service Inc Mojave, California: Free boondocking in gravel parking lot. N35° 2.728' W118° 9.729'
My number one computer crashed again last night and one of the tiny metal wires that support the nose pads on my glasses has broken. No one near here silver solders glasses. I am aggravated. It appears that the hard drive in my number one computer is about gone. My BIL advises not to turn the computer on again and some of my important documents may be saved. That computer houses my entire web site and all my travelogues in addition to my travelogue mailing list and e-mail addresses. In short it contains virtually everything that is important to me in the way of data and information. My trusted BIL says it is time for a new computer. The computer is barely two years old but has been a constant source of problems from day one. If it were a car it would be classified as a lemon.
Joyce has been yearning to return to Pensacola and our grandson for weeks and today I had had enough! Around 9:30 this morning we decided to return to Pensacola and call off the remainder of our California adventure. Until 9:30 we were planning to head further north following the 49'er trail along the western slope of the Sierra Nevada Mountains.
Once the decision was made I changed the destination point in our Street Atlas Program to Pensacola, Florida instead of Sonora, California. Just as quick as that we were headed south instead of north.
Our route out of California took us south on CA-99, a concrete road reminiscent of I-10 through Louisiana in the 1990's. California is not spending any money on highway repair and doesn't appear that they have spent any this decade but we won't dwell on that unless some of the California people want to grouse about highways in other parts of the country.
Vinyards and fruit orchards around Bakersfield, California
CA-99 traverses agricultural landscape. While dairies are scattered throughout the prevalent agricultural emphasis is on fruits and vines. This is raisin country and I suspect fresh grapes also since we are able to see numerous workers in the vineyards. Peach and plum trees, scattered citrus and walnut groves plus some hay fields seem to complete the landscape.
Vinyards and fruit orchards around Bakersfield, California
Vineyards and more vineyards with scattered fruit orchards. That is the order of the day. Notice the landscape beyond this vineyard. That is what this area of California looks like naturally, that is to say "not irrigated & tended to".
Near Bakersfield, California
This pic is a good example of the terrain around Bakersfield that is not cultivated or irrigated.
In Bakersfield we turned east on CA-58 and headed over Tehachapi Pass. We chose this route over continuing south on I-5 until it connected with I-10 in the eastern suburbs of LA. We had experienced all of LA and their freeway systems that we cared to experience. In fact if I never travel on I-5 again it will be too soon. If I ever get a yearning for that experience again I will just drive down to the nearest shopping center pull into their parking lot and spend a few hours, --------- crank up and return home satisfied that I have fulfilled that yearning.
Getting over Tehachapi Pass was a hoot. CA-58 is a 4-lane divided highway resembling an interstate. Trucks and other heavy rigs geared down and trudged their way up the grade. It alternates between 4%, 5% and 6% grades the entire 22 miles to the summit. I didn't have enough power to join the automobiles in the fast lane so I found a spot amongst the 18-wheelers. On the 6% grades we dropped down to 30-mph then up to 45 and 50 on the 4% grades only to hit another stretch of 6%. So it was for 22-miles.
Wind turbines on Tehachapi Pass near Mojave, California
Approaching the summit we see wind generators covering the pass.
Once reaching the summit in the small town of Tehachapi we arrived in "high desert" characterized by Joshua trees.
Joshua Tree on Edwards Air Force Base in Mojave, California
Not far east of Tehachapi near the small town of Mojave the serpentine belt on the motorhome parted. I took this pic outside our motorhome while waiting for the Roadside Service truck to arrive and tow us back to Mojave. The scenery is typical "high-desert", note the lone Joshua tree. The picture is of Edwards Air Force Base property. You will recall that the space shuttle lands at Edwards Air Force Base when there is bad weather in Florida.
Anyone familiar with automobile mechanics knows that the serpentine belt is an "all-important" item that delivers power to the alternator, water pump, steering pump, brake boost and cooling fan. Needless to say when it started coming apart I lost power steering and power brakes. I was able to safely pull off the highway and gather my composure after having lost both power steering and power brakes. No fear, we are used to problems such as this. I opened the engine compartment to make sure that my suspicion about the serpentine belt was correct and it was. We then called our trusty Roadside Service. In short order they found a repair shop that would take care of me in Mojave and would find a tow truck to come and get the motorhome for the short trip to Mojave. In short that is why we boondocked in Desert Truck Services huge parking lot.
When the tow truck driver delivered us to the parking lot it was getting dark and the wind was blowing a gale. The tow truck driver made a big circle in the parking lot before stopping with the motorhome facing west. He explained to us that he was doing us a favor because if not facing west the wind would rock the motorhome so violently all night that we would not be able to sleep.
Our Saturn and Motorhome in Desert Truck Services huge parking lot Mojave, California
The tow truck driver pointed to a double wide mobile home 200' in front of us in the parking lot. The half closest to us was beat up pretty bad. He said "guess why that mobile home is so beat up". "No clue" I responded. Then he told me that the wind had blown it over in this parking lot earlier in the week. He and his tow truck had righted the mobile home. He grinned and said that he didn't want to come back in the morning and right us.--------------------- I agreed.
The pics are of our motorhome and saturn on one side of the parking lot and the beat up mobile home on the other side. You have to love it ----------------- excitement by the minute. VBG
The end of the story can be found in Mojave-1.
Until next time remember how good life is.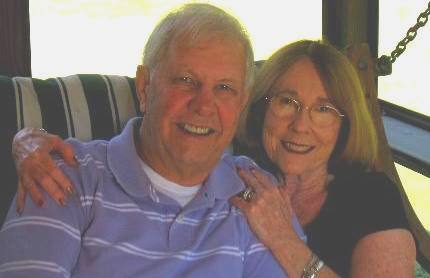 Mike & Joyce Hendrix who we are
We hope you liked this page. If you do you might be interested in some of our other Travel Adventures:
Mike & Joyce Hendrix's home page
Travel Adventures by Year ** Travel Adventures by State ** Plants ** Marine-Boats ** Geology ** Exciting Drives ** Cute Signs ** RV Subjects ** Miscellaneous Subjects
We would love to hear from you......just put "info" in the place of "FAKE" in this address: FAKE@travellogs.us
Until next time remember how good life is.