Mojave-1, California
Places Visited:
California: Mojave
We had engine trouble yesterday as we passed through Mojave, California and had to spend the night in the parking lot of the local mechanic. The tow truck driver told us the wind would be unbelievable and he was right.
Wind generators on hillside leading to Tehachapi Pass near Mojave, California
The tow truck driver was right. The wind howled all night long and shook the motorhome like we were riding in a boat. Sometime around daylight the wind died down and was calm for several hours then by 9AM it was howling again. Seeing all the wind generators on the hillside between us and Tehachapi should have been a clue that we were in a wind tunnel. The wind generators in this pic are the ones we can see from the parking lot we were staying in.
Wind generators on hillside leading to Tehachapi Pass near Mojave, California
This is another cluster of those wind generators clustered in the pass near Mojave. The winds is honking when it comes over that pass and they are taking advantage of that wind energy. Surviving anywhere near those wind generators is going to be a wendy proposition. I guess we will know that in the future if we can see wind turbines we can expect the motorhome to "rock & roll". Camping within sight of these wind generators is something we will probably avoid in the future if possible.
Mojave Desert near Mojave, California
This is the Mojave Desert and it stretches to the east for nearly two hundred miles.
Jet on display at an old Marine Corps Air Station in Mojave, California
Mojave is situated on the northwest corner of Edwards Air Force Base and is a hub for aircraft experimentation. An old Marine Corps Air Station is now home to a plethora of aircraft related industry. I am not sure what Edwards Air Force Base is used for now but I suspect it is an air craft test range.
Several times yesterday afternoon a big jet flew over very low and fast. It was not breaking the sound barrier but was pushing it. Each time when I heard it I jumped up and looked out the window only to see it disappearing over the hill. From the glimpse I got it looked like a B-1 bomber on a low-level run but I couldn't tell for sure.
The old Marine Corps Air Station here in Mojave also seems to function as a "bone-yard" for the commercial aircraft industry. We can see around 50 former commercial jets lined up and sealed in the standard protective coating used to preserve aircraft. Others are obviously being robbed of parts reminding me of the "hanger-queens" that each squadron in the Navy had. I guess they serve to prove that the Navy in not the only organization that suffers from major parts shortages. One large hanger is being utilized to house a commercial aircraft that appears to be undergoing an overhaul.
Friday, June 10: Desert Truck Service Inc Mojave, California: Free - boondocking in gravel parking lot. N35° 2.728' W118° 9.729'
We left the motorhome in the care of the mechanics while we ventured out to see Mojave. We stumbled upon an RV-Park in downtown Mojave just off SR-14/Sierra Highway. It isn't listed in any of our books but is easy to find just turn at the McDonalds and you go in their front gate.
Aircraft industry utilizing buildings at the old Marine Corps Air Station in Mojave, California
The aircraft industry is more involved here than I originally realized. The old Marine Corps Air Station here in Mojave is home to the organization that just made history by winning a big $$$ prize for being the first commercial outfit to successfully put something into orbit then land with it. To win the prize the feat had to be accomplished twice within so many hours or days. Anyway, this Burt Ratan project now has new financing by the British guy that owns Virgin Records & Virgin Airlines and recently completed a balloon trip around the world, something that he has attempted several times before. The mechanic told us that the company is manufacturing six of those space vehicles designed to take three paying individuals into an earth orbit.
I took these pics of a strange looking object near one of the hangers that had "Rotary Rocket" written on the side. I have no idea if this is part of the Burt Ratan project or not.
This is also home to Voyager the aircraft that took off from here circled the world without refueling and returned here. If you recall that aircraft had extremely long wings. It is now in the Smithsonian Museum, and that is why I do not have a picture of it.
Training aircraft used to train cargo loaders at the old Marine Corps Air Station in Mojave, California
Several large aircraft are used to train cargo loaders in a school designed for cargo handlers.
To be such a small town there is a lot going on in the aviation world across the street from where we are.
In addition to being in an area full of aircraft research and development we are in Borax country. In the late 1800's boron was mined near and in Death Valley loaded on wagons hitched to 20-mule teams for the trip from the "mine" to here in Mojave. It was a 20 day round trip for the mule trains. I think most of the older folks remember the 20-mule team borax washing powder. The washing powder was named for the 20-mule teams that pulled those heavy wagons from mines near Death Valley to here in Mojave. And now you know the "rest of the story" as Paul Harvey would say.
Actually, there is more to the story of borax. Following the discovery of borax in Death Valley in 1881 Harmony Borax Works started their operation. Some people referred to borax as "white gold". Mining probably isn't the best description since Chinese laborers simply picked up the soft, fibrous "cotton-balls" of the mineral from the salt flats. These borax balls were dumped into vats of water, mixed with carbonated soda, and heated with a wood fire. Lime and dirt sank to the bottom, while the hot liquid was drawn off into cooling vats. Borax crystallized on rods dipped in the vats. Those crystals were removed and dried before being loaded into those 20-mule team wagons for the trip to Mojave. Borax is still mined in this area but in a different way. Now you know the rest of the story minus how it is currently mined.
The hillside full of wind generators captivates my imagination but Joyce isn't interested. I have to enjoy them from a distance. Joyce saw a postcard that said the wind generators in Mojave provided power for 150,000 homes and that Mojave was home to the world's largest supplier of wind generated energy. I have no idea how old that post card was or which of the wind generator fields it was referring to. There is potential for thousands more of the wind generators in this huge wind tunnel. I wonder what the holdup is. From what we learned about the wind generator farm around Palm Springs they were extremely good investments but did have an extensive permitting process. That seems such a shame when the country is in such dire need for clean energy.
When the mechanic started installing my serpentine belt he realized that the bearing on my tensioner pulley was frozen. That is why the belt came apart. So now in addition to replacing the belt we needed to replace the tensioner assembly. One wasn't available in Mojave but they found one in a town 40-miles away and sent one of the shop helpers for it. After that part arrived inspection determined that it was the wrong part so the parts man went searching again. This time finding one in a town 60-miles away. Several hours later the mechanic is under the motorhome muttering to himself. It seems that the tensioner can be spring loaded to the left or the right. Although this new one looked like the correct assembly it was tensioned for the wrong direction. The mechanic returned to the shop where everyone gathered around finally deciding to just replace the pulley on my old tensioner assembly which the mechanic did. The job was completed around 4:50PM. The shop had done their best, things just had not worked out for what should have been a one hour job. At least we will not have to spend the weekend in this parking lot. I think we about exhausted everything to do in Mojave today.
Since it was so late we decided to spend another night in the parking lot rather than head off at 5PM.
Until next time remember how good life is.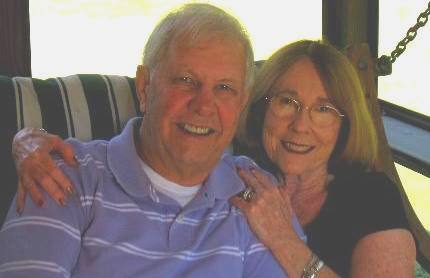 Mike & Joyce Hendrix who we are
We hope you liked this page. If you do you might be interested in some of our other Travel Adventures:
Mike & Joyce Hendrix's home page
Travel Adventures by Year ** Travel Adventures by State ** Plants ** Marine-Boats ** Geology ** Exciting Drives ** Cute Signs ** RV Subjects ** Miscellaneous Subjects
We would love to hear from you......just put "info" in the place of "FAKE" in this address: FAKE@travellogs.us
Until next time remember how good life is.