Blythe, California
Places Visited:
California: Blythe
Saturday, June 11: Destiny RV Resort Blythe, California: $35 50amp-full hookup paved interior roads with grass sites. N33° 36.158' W114° 32.154'
We waited until the sun got high enough in the sky that driving into the sun would not cause me to get irritable before we headed east on CA-58. In Barstow we continued east on I-40 to Needles before turning south on US-95. The entire drive east on CA-58 and I-40 was in high desert.
High desert east of Mojave, California
Not long after getting on I-40 we started seeing evidence of old lava flows.
We drove for 30 to 40 miles through this lava flow material.
High desert & lava east of Mojave, California
At one point we passed what looked to be the source of this ancient lava flow.
High desert nearing Needles, California
As we neared Needles and the Colorado River we started to climb again. Most of the high desert we were traversing was at an elevation of 2,000' give or take several hundred either way. We climbed to 2,720' for Mountain Springs Summit before falling into a depression then climbing to 2,750' for South Pass. Once topping South Pass we glided down to 350' at the intersection of I-40 and US-95 near Needles and the Colorado River.
Then as we headed south on US-95 it veered to the west and we climbed back to the top of the high desert except this time we only reach 2,000' before coasting into Blythe, California on the Colorado River at the Arizona border on I-10.
As long as we were at 2,000' elevation on the high desert the outside temperature was tolerable, probably in the high 80's would be my guess. However as we dropped down to Needles in the Colorado River Valley the temperature spiked forcing us to start the generator and run the house air conditioners in addition to the dash air.
Joyce located Destiny RV-Resort with 50-amp connections and cable TV on the bank of the Colorado River in Blythe. We decided to stop early rather than push the 150-miles to Phoenix. We were also interested in what destruction Tropical Storm Arlene delivered to Pensacola where it was scheduled to come ashore this afternoon. It was almost a joke according to the weather station and our son said the same thing. While being a joke as far as normal hurricane damage goes it did destroy the road to the campground at Ft Pickens National Seashore near Pensacola. That road had been destroyed by hurricane Ivan late last summer and 7-miles of the road were in the process of being rebuilt and almost completed.
Destiny RV-Resort on the Colorado River in Blythe, California
This is Saturday and Destiny RV-Resort has a huge boat ramp with typical summer activity in full gear. After getting the motorhome connected and both air conditioners churning and burning I headed down to the river to watch the action.
Destiny RV-Resort on the Colorado River in Blythe, California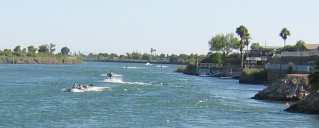 There is a lot of activity with literally hundreds of boats zipping this way and that. The Colorado River is so shallow that every boat I saw was powered by a pump like jet skis.
Destiny RV-Resort on the Colorado River in Blythe, California
The RV-Park was party central. Many if not most of the RV's in the park appear to be "beach-houses" where people spend the weekend. It looked like everyone had either a speed boat or a jet ski while some had party barges.
I don't know where everyone is now but when we arrived and there was too much to do to break out the camera and take pictures the far bank in this picture had a hundred or so people milling around drinking beer and enjoying themselves. In fact they were enjoying themselves so much that 5 law enforcement automobiles roared into the lot and converged on the crowd. I was busy getting my motorhome out of the way so they could get through the entrance. Later I heard that two young men from different groups on the beach had a difference of opinion. Law enforcement dispersed the crowd by the time I returned to take this picture.
Until next time remember how good life is.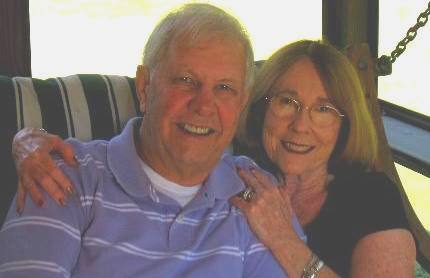 Mike & Joyce Hendrix who we are
We hope you liked this page. If you do you might be interested in some of our other Travel Adventures:
Mike & Joyce Hendrix's home page
Travel Adventures by Year ** Travel Adventures by State ** Plants ** Marine-Boats ** Geology ** Exciting Drives ** Cute Signs ** RV Subjects ** Miscellaneous Subjects
We would love to hear from you......just put "info" in the place of "FAKE" in this address: FAKE@travellogs.us
Until next time remember how good life is.