Pier and Harbor at Port San Luis, California
Places Visited:
California: Pier & harbor at Port San Luis
Monday, May 30: Cypress Bay RV Park Morro Bay, California: $31 FHU-30amp. Paved interior roads & sites. N35° 72.165' W120° 51.044'
Several things are on the agenda for today. We are going to meet Don a virtual friend from the RV-newsgroup. Don lives near here and is driving in to San Luis Obispo to meet us and have lunch.
We met Don in front of Mission San Luis Obispo in downtown San Luis Obispo where Don did a good job of giving us a quick history of San Luis Obispo and Cal Poly the local university.
Don got in our Saturn and we headed out to a small restaurant on Harford Pier at Port San Luis. Port San Luis is an extension of Avila Beach. To reach the pier from Avila Beach is a scenic drive in and of itself. Avila Beach has some of the best sand beaches we have seen and Memorial Day crowds were utilizing them. RV's were parked along Avila Beach Drive for a half mile or so. Then as we neared Port San Luis and Harford Pier there was an RV-Park of sorts. It was the typical California Beach Campground. For $20 you are allowed to park your RV overnight, sans any hookups. These aren't traditional campgrounds with restrooms, bath houses and utility connections. Just a parking space for $20.
Pete's on Harford Pier at Port San Luis, California
Avila Beach Drive ended at Harford Pier where Don directed me to continue on to the fish marked and restaurants at the end. Lucky for us someone pulled out of a parking space just as we arrived at the turn around. If it had not been for that fortunate opportunity we may not have dined on the pier. It was a LONG way back to possible parking on Avila Beach Drive.
Live ling cod and dungeness crabs for sale at the restaurant
The fish market was selling live ling cod, Dungeness crabs and another local crab that looked much like the Dungeness but had a reddish tint instead the Dungeness tan color.
We watched as people picked their crab "lunch" out of the live tank and delivered it to the restaurant to fix. We dined outside where we could watch the harbor activity.
Sea lions resting on a floating dock at Port San Luis, California

Sea lions were resting on a floating dock nearby while boats were anchored out. The area is not a marina but an anchorage. Each boat is moored to a buoy in the harbor area. Owners get to and from their boats via small boats.
Sport fishing boat at Port San Luis, California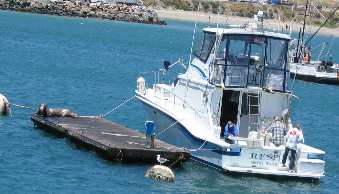 While we were eating a large sport fishing boat pulled up to the floating dock where all the sea lions were. They all squaked before finally dropping in the water, that is all but one -------- that stood his ground.
On the way back to town Don shared some history of the world famous Madonna Inn. When Don was a student at Cal Poly years ago he dated a girl that worked at the Inn and had spent some time there. Of course he said we had to see the men's bathroom. It seems that as outlandish as the Madonna Inn is ----- the men's restroom is the most accessible and most notorious item at the Inn. Click here to read about the Madonna Inn.
Until next time remember how good life is.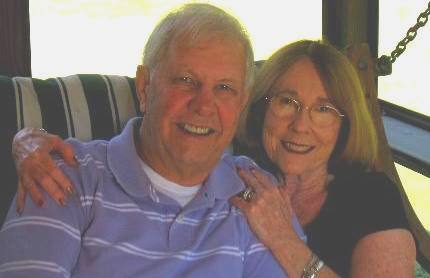 Mike & Joyce Hendrix who we are
We hope you liked this page. If you do you might be interested in some of our other Travel Adventures:
Mike & Joyce Hendrix's home page
Travel Adventures by Year ** Travel Adventures by State ** Plants ** Marine-Boats ** Geology ** Exciting Drives ** Cute Signs ** RV Subjects ** Miscellaneous Subjects
We would love to hear from you......just put "info" in the place of "FAKE" in this address: FAKE@travellogs.us
Until next time remember how good life is.