Madonna Inn San Luis Obispo, California
Places Visited:
California: Madonna Inn San Luis Obispo
Saturday, May 28: Cypress Bay RV Park Morro Bay, California: $31 FHU-30amp. Paved interior roads & sites. N35° 72.165' W120° 51.044'
Sport fishing boat at Port San Luis, California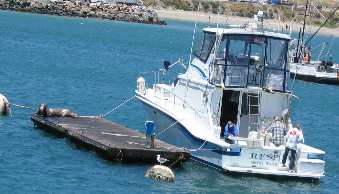 We were dining on a pier in Port San Luis, California with Don a virtual friend who lives in the area.
On the way back to San Luis Obispo, Don shared some history of the world famous Madonna Inn. When Don was a student at Cal Poly years ago he dated a girl that worked at the Inn and had spent some time there. Of course he said we had to see the men's bathroom. It seems that as outlandish as the Madonna Inn is ----- the men's restroom is the most accessible and most notorious item at the Inn.
After dropping Don off we made our way back to the Madonna Inn where we started looking for "the room". We wandered around the hot-pink dining area and ballroom then several other rooms in the dining/bar complex. I finally asked one of the staff where "The Bathroom" was. She laughed and said the one we were looking for was downstairs and pointed to the stairs.
We weren't the only ones making the pilgrimage down those stairs to view the "men's room" one couple after the other was making the obligatory trek. Men and women alike were entering the famous room to observe what all the fuss is about. Now that we have seen the famous room we can honestly say it is "different" but tasteful even elegant as was the entire hotel restaurant complex. Extremely nice even luxurious one of a kind is the way I would describe it.
Instead of using rocks for the Inn's main fireplace Madonna used boulders.
Exquisitely carved wooden banister at the Madonna Inn in San Louis Obispo, California
Wooden banisters were exquisitely carved pieces.
Exquisitely carved wooden doors at the Madonna Inn in San Louis Obispo, California
Large elaborately hand carved wooden doors decorated entrances. Brass and copper accents and custom-etched glass is liberally used.
Overall the Madonna Inn appeared to be a first class Inn with a lavish splash of the eccentric. Joyce picked up a handout while we were there that indicates the Inn was built by Alex and Phyllis Madonna to express their unique vision of elegance and comfort. In their words they brought together artisans and unusual materials from around the world building a first class hotel with all the comforts of home.
Pink banquet room at the Madonna Inn in San Louis Obispo, California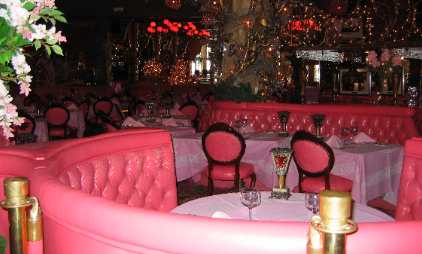 If you are interested check out: Madonnainn.com where you will find photos of all 109 unique rooms. Each of the Inn's rooms is individually decorated with a special theme and color scheme.
Joyce Hendrix and some stunning rock work at the Madonna Inn in San Louis Obispo, California
Many include splendid fireplaces and fountains adorned with hand-placed native rock. I can only surmise what the color schemes might include after seeing that stunningly beautiful hot-pink banquet room.
Until next time remember how good life is.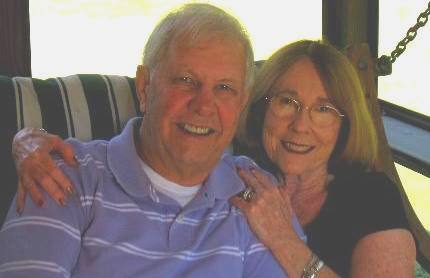 Mike & Joyce Hendrix who we are
We hope you liked this page. If you do you might be interested in some of our other Travel Adventures:
Mike & Joyce Hendrix's home page
Travel Adventures by Year ** Travel Adventures by State ** Plants ** Marine-Boats ** Geology ** Exciting Drives ** Cute Signs ** RV Subjects ** Miscellaneous Subjects
We would love to hear from you......just put "info" in the place of "FAKE" in this address: FAKE@travellogs.us
Until next time remember how good life is.