Pacific Coast Highway north of Morro Bay, California
Places Visited:
California: Pacific Coast Highway north of Morro Bay
Thursday, May 26: Cypress Bay RV Park Morro Bay, California: $31 FHU-30amp. Paved interior roads & sites. N35° 72.165' W120° 51.044'
We have reservations for the 12-noon Hearst Castle tour and the Castle is located 29-miles north of Morro Bay. They request that everyone be there 20-minutes early for some reason. We have several hours to make that 29-mile scenic drive so we are spending time exploring every nook & cranny along the way. Cayucos is a charming little California Beach Community about 5-miles north of Morro Bay that seems to be even more laid back than Morro Bay. Cayucos features sandy beaches, a public fishing pier, shops and restaurants with an extremely wide street running through the middle of town. Many of the historic buildings are now housing restaurants shops and juke joints. These buildings are from the late 1800's.
Cambria is a quaint little town about 20-miles north of Morro Bay. It appears to be another laid back community of individuals that made their money elsewhere and move here to enjoy life. Cambria is heavily forested in Cambria Pine one of the few native California trees we see.
Nitt Witt Ridge sign in the coastal town of Cambria Pine, California
One sign in town caught our fancy. The sign was directing passers by to "Nit Wits Ridge". This wasn't some hand painted sign it was a for real official California historical marker. We followed the sign to see what "Nit Wits Ridge" was all about.
Nitt Witt's home on Nitt Witt Ridge in Cambria, California
A few blocks up a steep mountain road we came to a strange rather eclectic home. I say eclectic because the construction was certainly "different". The name on the mailbox said "Nit Wits" indicating we had found what the historical marker had been directing us to. Much of the structure consisted of rounded river rocks held together with mortar however, old car parts and other items were also utilized. You will just have to see the picture. Structures like this are hard for me to describe. I can only surmise the story behind the structure and individual that created it.
While Cambria is located in a small forest that is not the typical landscape along the southern portion of the Big Sur. The remainder consists of rolling hills like one might see in the mid-west that receive little rain. I read something in the natural history museum yesterday that this area only receives about 10" of rain per-year plus moisture derived from dew and fog. Cattle are grazing on these brown grass hills. Every once in a while chaparral covers the area west of CA-1 between the highway and the cliff leading to the ocean below.
The further north we travel the steeper the cliff face leading to the ocean below. Occasionally, there will be a parking area next to the road where individuals can cross the fence and reach the beach. In one spot we stopped in a para-surfer was enjoying the stiff breeze. Rocks protrude from the water and beach areas providing different vistas. Kelp beds follow the coast. Elephant seals stick their heads and half their bodies out of the water from openings in the kelp. We have yet to spot a single sea otter but the elephant seals were easy to spot all along the coast.
Hurst Castle San Simeon, California
We finally reached San Simeon and Hurst Castle. According to literature the Hurst Castle is the 3rd largest attraction in California behind Disney Land and Universal Studios. The parking lot indicated as much. The State Park system owns and operates the tours of Hurst Castle while the Hurst Corporation still owns the land surrounding the castle. It would be difficult to describe the castle but needless to say it was large, opulent, impressive and what a view.
It is hard to comprehend that one individual could amass enough wealth to build something like this.
Coastal community of San Simeon, California
With the "castle" tour behind us we headed across highway 1 to the old community of San Simeon where we stop to enjoy the old country store and marvel at the old structures.
Sea Lions on a birthing beach north of San Simeon near Piedras Blancas Lighthouse
Several miles north of Hurst Castle is a "birthing-beach" for a colony of California Sea Lions. We have been seeing these creatures in the water but here they are laying in mass on the exposed beach below the fenced viewing area. Sea lions have made a remarkable recovery from earlier this century when they were a threatened species. Marine Mammal protection laws and other things have helped bring about this recovery. One informational sign said that sea lions could dive as deep as 5,000'. That is so hard for me to comprehend, 5,000 feet is a long way down. After breeding the bulls leave in search of food as far away as the northwestern reaches of Alaska before returning here to breed again next winter. During time away from the breeding colony sea lions are generally solitary mammals.
If you are looking for this concentration of elephant seals they are located at the vista points south of Piedras Blancas Lighthouse. Available literature says the Piedras Blancas colony has grown to around 11,000 animals, ranging in size and age from tiny 60-pound newborn pups to giant 5,000-pound bulls. An estimated 3,000 pups were born on the beach in 2004. The literature didn't say how many pups were born in 2005. The beach is full of seals shedding their winter coats.
Para-boarder in the Pacific Ocean along California's Pacific Coast Highway
In one pullout we spent a few minutes watching para-boarders being pulled along on their small boards at breakneck speeds.
View from Ragged Point along the Pacific Coast Highway around 50-miles north of Morro Rock
Continuing north along the coast the terrain slowly changes from grass lands. The hills become steeper, the cliffs become more pronounced. Trees began to appear, mostly conifers. We stopped in a grove of ancient cypress trees clinging to the side of a cliff not far south of Ragged Point. The view from the cliff accented with these huge cypress trees was so picturesque, something out of a fairy tale book.
We stopped at Ragged Point and walked around the facilities. They have a "pricy" cloth napkin restaurant, several gift shops, a burger joint and motel along with flower gardens and walkway along "Ragged Point". We enjoyed the flower garden and walk along Ragged Point. This was as far as we ventured north today, about 50-miles north of Morro Rock.
Joyce Hendrix in the Cayucos Tavern in Cayucos, California
Joyce wanted to eat and spend the evening in a juke joint back in Cayucos. The Cayucos Tavern was supposed to have live music and food. It was advertised as the "old-west" meeting the "beach-boys" or some such. True to the hype it was an old west tavern right out of the Wild West days complete with memorabilia and atmosphere. We walked through the place before realizing that they didn't serve food ----- and we were hungry.
I managed to get these pics in the tavern before we headed out the door in search of food.
When that didn't work out Joyce's mind went into high gear, the way it does when she is thinking about live music and cotton napkins. We ended up at Otter Rock on the waterfront in Morro Bay complete with live music and outlandish prices. I guess the sunset over Morro Bay accented by Morro Rock was what we were paying for. At least the sunset and music was good. VBG
From our motorhome we can plainly hear the blast made by the Morro Bay sea buoy. In the quietness of the night it is a sound that reminds us we are near the ocean.
Until next time remember how good life is.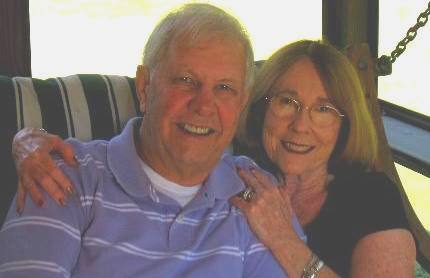 Mike & Joyce Hendrix who we are
We hope you liked this page. If you do you might be interested in some of our other Travel Adventures:
Mike & Joyce Hendrix's home page
Travel Adventures by Year ** Travel Adventures by State ** Plants ** Marine-Boats ** Geology ** Exciting Drives ** Cute Signs ** RV Subjects ** Miscellaneous Subjects
We would love to hear from you......just put "info" in the place of "FAKE" in this address: FAKE@travellogs.us
Until next time remember how good life is.