Julian, California
Places Visited:
California: Julian

Saturday, May 7, Paradise RV-Resort Oceanside, California: $39.50. FHU with 50-amps, Paved interior roads and sites plus cable and free WIFI. N33° 10.707' W117° 21.993'.
We spent the day in Julian with our friends, Ken and Katharine that live in Carlsbad. Ken & Katharine have a motorhome that they keep in a storage place north of Carlsbad. Ken picked up the motorhome on Friday and drove it to Julian while Katharine was working. Ken spent Friday night in the Motorhome in Julian. We stopped by and picked Katharine up this morning, Saturday and we drove to Julian on CA-78. We started out in Carlsbad at sea level and ended up in Julian at 4,500' elevation. We climbed those 4,500' over 60-miles.
Once we got on the east side of I-15 CA-78 became two-lane and the climb began through an agricultural area. At first we encountered nurseries growing palm trees and such then shifted to citrus and avocado groves then vineyards and grazing areas in the meadows. As we gained elevation we started seeing apple orchards.
Joyce and Katharine at Dudley's Bakery Santa Ysabel, California
Not long before we got to Julian Katharine motioned for me to stop at Dudley's bakery in the small community of Santa Ysabel. It is totally unbelievable to see this big, bustling bakery out here. There just does not seem to be a large enough population base to support an operation like Dudley's. The place smelled divine as only a bakery can. I had a yummy pastry with walnuts sprinkled over it. The girls refrained but we did get some bread and a pineapple upside down cake for later.
Ken & Katharine's RV-Park is 6-miles on the other (east) side of Julian so we just breezed through without stopping. The KQ Ranch RV-Park is one of those family oriented campgrounds with a swimming pool, fishing lake, hiking trails club house, tennis courts and myriad other activity related amenities.
Evidence of the huge fire that raviged this area in 2003
This area was decimated by a huge fire in 2003. Evidence of that fire is everywhere. Only a few homes and businesses were saved. However, it seems that the heroic efforts of firefighters saved most of the historic town. The majority of Oak Trees seem to have survived the fire while most conifers did not.
Manzanita bushes are sprouting from rootstock beneath charred branches
Manzanita bushes are sprouting from rootstock beneath charred branches. Green grass and flowers are thriving in what was once under story or chaparral. The scars of this fire will be visible for ages to come.
After spending time in the RV-Park we jumped in the Saturn and visited the historic old gold mining town of Julian. Julian sprang to life in 1869 when gold was found in a creek. Interestingly enough it was a black cattleman who found the first flecks of gold. Mining continued until the 1930's. Following the initial gold rush settlers and pioneers began to farm the rich land. Julian turned out to be a good place to grow apples. Julian apples took first prizes in competitions at the Chicago World's Fare in 1893 and The San Francisco World's Fare also in 1893. Julian's apples also took top awards at the LA County Fair for 22 years. Apples continue to be cultivated in Julian. Their sweet fresh flavor lures thousands to the mountains to sample not only fresh apples in the Fall but cider, and other delicacies throughout the year.
Once in Julian we meandered through a few stores in the pretext of killing time. Our real reason driving to town was---------you guessed it,-------------- fresh apple pie from the Julian Pie Company complete with cinnamon ice cream. OH my gosh! Talk about sinning. This had to be one of the "big-sins"! There was no way we could walk this off. Talk about yummy, this was it. Katharine says the Julian Pie Company has the best apple pies in town. Ken disagrees but Ken did not carry enough weight to dissuade Katharine on where we were going to purchase and enjoy our afternoon delight.
After licking our bowls clean we ambled around the myriad curio shops in Julian in a vain attempt to walk off the apple pie and ice cream. When we tired of that game we got in the Saturn and went looking for some of the abandoned gold mines but didn't actually crawl around in any. We did drive out to Lake Cuyamaca not far from their RV-Park. The lake was created by damming a small creek. Fishermen were enjoying the lake. Boats were available for rent and it looked like a fun place to spend time.
We enjoyed a steak dinner hosted by the RV-Park before saying good by to Ken and Katharine and heading back to Oceanside and the coast. The drive back was beautiful with the sun sinking in the sky behind the mountains to our west. As we weaved our way down from the mountains we would get spectacular glimpses of the glowing red sky peaking through the occasional openings in the mountains.
Life is good. There is nothing like good friends, good times and apple pie alamode.
Until next time remember how good life is.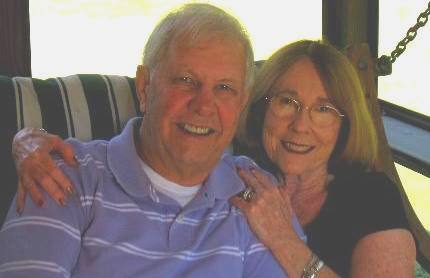 Mike & Joyce Hendrix who we are
We hope you liked this page. If you do you might be interested in some of our other Travel Adventures:
Mike & Joyce Hendrix's home page
Travel Adventures by Year ** Travel Adventures by State ** Plants ** Marine-Boats ** Geology ** Exciting Drives ** Cute Signs ** RV Subjects ** Miscellaneous Subjects
We would love to hear from you......just put "info" in the place of "FAKE" in this address: FAKE@travellogs.us
Until next time remember how good life is.