Places Visited:
Louisiana: Atchafalaya Basin

Acadiana City Park & Campground in Lafayette, Louisiana. $13 for 50-amp & water with central dump paved interior roads & sites: N30° 49.436' W91° 59.417'
Friday, June 24: We made it to Pensacola and home today.
As difficult as it was we got up and had the motorhome at the Chevy Dealer by about 7AM. The mechanic met us with his handy tester. He plugged it in and away we went on another test drive. Sure enough that "check engine soon" light came on and had the same trouble code that it had when we arrived in Lafayette on Monday. As we made our way back to the dealership I discussed with the mechanic what the plan was. He didn't know and said he would have to discuss it with the shop foreman. The shop foreman wanted to try another part this one would cost $294 plus labor but they did not have that part in stock and it would be Monday afternoon before they could obtain one.
I called a "time-out" and requested that we get together with company management high enough in the chain of command to make a decision. I said that it was time for all of us to walk away from this while we were still speaking and presumably friends. Thankfully, they agreed. Management disappeared to discuss the situation with the mechanic, service representative and foreman. Then management made me the offer I wanted and accepted. They would refund ALL labor charges but I would have to pay for the parts they had replaced. All together the parts not under warranty came to around $300. They also said they would reinstall my OLD parts if that would make me happy but I would have to pay the labor to reinstall them.
I accepted their offer. They refunded me the entire labor charge and I paid for the parts they installed and we parted ways still friends.
I agreed to pay for the new parts because the problem was MUCH improved and the new parts had obviously fixed much of the problem.
I will share that we had a 6.5 liter chevy diesel in our 33' motorhome that was "unfixable". When I say "unfixable" that is what it was. Specs for the 6.5 liter diesel allowed for so much blow by that it would blow out seals as in the rear seal, the front seal the valve cover gasket. Of course I would have to pay for replacing these because the engine was within specs. To top it off Cheyv's engine sensor would light up telling us to "check engine soon"... the code always told the technician it was a problem with blow by but the engine was within specs. So what could a mechanic do? The 6.5 L chevy engine was designed without a turbocharger but chevy had added a turbocharger to these motorhome engines. That may have been part of the problem plus this engine was a diesel pusher probably with a smaller than necessary radiator. The engineering debacle for this chassis was classic. Chevrolet should have gone out of business for selling crap like this but the Federal Government saved them instead of letting them fail.
OK, enough of that, I am off my soap box and ready to finish our journey back to Pensacola, Florida and home.
By 9:30 we were on our way to Pensacola. But first we have to cross over the Atchafalaya Basin (the original river where the Mississippi River flowed to the Gulf of Mexico before levees were build to contain it in the heavily dredged channel that now meanders past New Orleans before emptying into the Gulf 60-miles or so south of New Orleans. The Atchafalaya Basin is 18-miles wide where I-10 crosses. As you can imagine it was a major engineering feat to construct I-10 across the basin.
Atchafalaya Basin as seen from the I-10 bridge
The Atchafalaya Basin still funnels nearly half of the flow of the Mississippi River to the Gulf of Mexico the other part flows past Baton Rouge and New Orleans.
Atchafalaya Basin as seen from the I-10 bridge
Atchafalaya Basin as seen from the I-10 bridge
One can only imagine the engineering required to construct I-10 across this dense swamp. As you can see they had to dredge a canal between the bridges to bring in supplies and equipment.
The I-10 bridge as it crosses Atchafalaya Basin
Approaching the I-10 Mississippi River Bridge at Baton Rouge, Louisiana
Not long after crossing over the Atchafalaya Basin we were looking at the Mississippi River Bridge in Baton Rouge. It is a pretty sight. Once on the other side restaurants will serve sweet tea. West of the Mississippi waitresses look at you like you have lost your mind if you order "sweet tea".
I-10 Mississippi River Bridge at Baton Rouge, Louisiana
I-10 bridge across the Mississippi River at Baton Rouge, Louisiana
I-10 bridge over Mobile Bay in Alabama
Before long we have crossed over the entire state of Mississippi and have negotiated the only tunnel on I-10 that happens to go under the shipping channel leading to the Alabama State Docks in Mobile. East of the tunnel is another long bridge that spans Mobile Bay.
View from the I-10 bridge heading east over Mobile Bay looking at Spanish Fort, Alabama
We rolled and rolled without stopping. The trip had been fun but we were ready to be home. When we were in Alabama nearing the Florida State line we got hit with a fierce thunder storm with winds so bad that it forced everyone on the interstate to slow down to a crawl. We couldn't see and the wind was blowing us around. We exited along with all the 18-wheelers within sight. There just happened to be a big truck stop where we exited and all of us headed to their big parking lot in single file where we parked for 10-minutes or so while the cell passed.
Joyce and I laughed as we remembered that the last time we had seen rain was on our way to California in mid-March as we were in Louisiana just west of the Mississippi River. That was three months ago. We know we are back on the Gulf Coast where these thunder storms are as much a part of life as humidity and sunshine.
This is the end of another great trip. We will be in Pensacola until next Friday when we head east about 200-miles to St. George Island, Florida. Joyce had said that we were home for awhile and she would let me know when "awhile" was up but that for sure it would be after the grandchild was born in August. Obviously, that was before she knew that our Son & his family were going to spend a week at St. George Island. I guess I can stick around Pensacola for 6-days. It will be rough but I think I can do it. While we are over that way we will probably stop by and visit with friends on Cape San Blas.
Then we will also probably spend some time visiting with my Mom in Panama City. My BIL lives on Panama City Beach and he is "Da Man" that is going to get my computer world turned right side up. He has ordered me a new laptop, plus a new hard drive for my "former" number one laptop. When I leave Panama City Beach this time I should have two really kicking laptops plus the back-up laptop that I am writing this on. Oh thank Heaven for a BIL that can work magic on computers.
Until next time remember how good life is.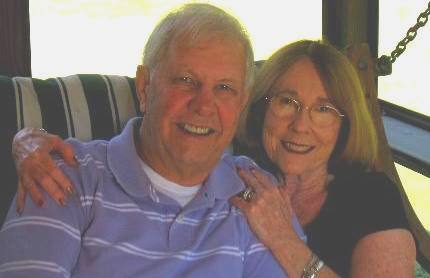 Mike & Joyce Hendrix who we are
We hope you liked this page. If you do you might be interested in some of our other Travel Adventures:
Mike & Joyce Hendrix's home page
Travel Adventures by Year ** Travel Adventures by State ** Plants ** Marine-Boats ** Geology ** Exciting Drives ** Cute Signs ** RV Subjects ** Miscellaneous Subjects
We would love to hear from you......just put "info" in the place of "FAKE" in this address: FAKE@travellogs.us
Until next time remember how good life is.