Ft Myers, La Belle, Grandma's Grove RV-Park, Sanibel Island, Captiva Island, Ding Darling National Wildlife Refuge on Sanibel Island, Ortona & Clewiston all in Florida
Places Visited:
Florida: Ft Myers, La Belle, Grandma's Grove RV-Park, Sanibel Island, Captiva Island, Ding Darling National Wildlife Refuge on Sanibel Island, Ortona & Clewiston
Friday, February 6, 2004
Grandma's Grove, La Belle (25-miles east of Ft Myers) N26 44.190' W81 28.753'
$16 for "overflow site" 15 amps & water---central dump available
Last nights low temp dropped to 70 then headed into the low 80s by early afternoon. Weather reports were predicting rain today. It didn't happen. By 10:00 AM clouds disappeared. It was a beautiful day.
Joyce had us scheduled to visit Sanibel and Captiva Islands today. These barrier islands offshore Ft Myers are enclaves of posh gated communities. The 6,350 acre J. N. Ding Darling National Wildlife Refuge on Sanibel Island was our primary destination. The 4-mile driving trail was our objective but it was closed for the day so we settled for making the best of the visitor's center. Ding Darling was the founder of the National Wildlife Federation and the driving force behind the creation of the Duck Stamp. This is twice we have visited Sanibel Island this year without taking the wildlife trail through Ding Darling. Oh well, there is always next time.
Next we lunched outdoors, under umbrellas, at JC Otters a touristy restaurant on Captiva Island. The featured entertainment today was an accomplished jazz guitarist. While he was very good I prefer a "Buffetesque" performer. Across the street another upscale "hot-spot" was featuring entertainment more to my liking. That brings me to offering some advice---when dining on Captiva Island spend a few minutes determining which of these fine establishments are offering entertainment that suits you best.
We next visited the Sanibel Captiva Conservation Foundations Nature Center located across the road from Ding Darling National Wildlife Refuge. This organization controls land surrounding a considerable portion of the freshwater Sanibel River as it threads its way through the island preserve, sustaining an unusual diversity of plant and animal life. Four and one-half miles of walking trails are available in this unusual conservation area consisting of coastal areas, lakes, rivers and springs; freshwater marshes and swamps; hardwood forests and hammocks. We found the Nature Center to be a great place to browse for landscape ideas, learn names of native plants and get ideas on how to create a wildlife habitat in one's own yard. You can explore the network of trails alone or with one of the volunteer guides. They have a native plant nursery with of all things--native plants for sale to the public.
Our next stop was the Shell Museum. When we found that it would cost $7 each we quickly made other plans. Not too long ago we visited the Shell Factory in North Ft Myers where they feature a world class shell display for free. We knew that it would be hard if not impossible for this "shell museum" to display a more impressive collection of shells than the Shell Factory did for free.
We drifted down the road to Tarpon Bay Recreation area. This place, located in the Ding Darling National Wildlife Refuge, is a commercial venture operated under the umbrella of the National Wildlife Refuge. Kayak rentals, pontoon boat nature cruises and fishing guides are some of the activities available at this location.
Saturday, February 7, 2004
Grandma's Grove, La Belle (25-miles east of Ft Myers) N26 44.190' W81 28.753'
$16 for "overflow site" 15 amps & water---central dump available
In South Florida Saturdays mean Festivals this time of year. This Saturday was no different. We decided to partake in two of these "small-town" Festivals today.
On the way to our first festival we passed a weekend flea-market in La Belle. So much local-flavor was evident that we wheeled in to investigate. No more than 10% of the flea-markets customers & vendors spoke English. This is the first time we have seen such a concentration of the Latin community. I suppose that on weekdays most of them are disbursed in farming activities so prevalent in the area.
We enjoyed wandering through this open air market. Vendors were peddling an intriguing variety of fresh fruits & vegetables. Some of these vegetables were familiar while others were totally foreign. I am fascinated by these tantalizing vegetables and fruits that I am not familiar with. What if something as awesome as okra or mango is lurking out there waiting for me to discover it? It would be so neat to know how to prepare some of these fresh vegetables.
This flea-market was a mass of swarming people yet the dearth of automobiles in the small parking area was inescapable. As we exited the flea- market this anomaly was explained-- crowds were peregrinating to and from this weekend event from several miles in all directions.
On SR-78 between La Belle and Moore Haven is Ortona a "bump in the road" so small it doesn't even command a stop sign. The Ortona Volunteer Fire Department was sponsoring a Cane Grinding Festival in a local park. It was a fun local event with County Commissioners selling tickets and the school principal grinding cane. Grinding cane is a euphemism for squeezing juice out of sugar cane. They were collecting this juice and selling it—I guess it is an endemic thing. Wanting to experience "local-flavor" we purchased a drink made from a concoction of this fresh cane juice and fresh sour orange juice (wild oranges sprouting from orange seeds produce "sour-oranges"). With thousands upon thousands of acres of oranges under cultivation there is no shortage of wild "sour-oranges". The oranges you eat are the result of grafting a "sweet-orange" twig/scion onto "sour-orange" root stock. Our concocted drink (cane juice and sour-orange juice) was OK but is probably not going to offer serious competition to lemonade, which it resembled.
Several individuals in Grandma's Grove RV-Park insisted that Moore Haven was having a Sour Orange Festival today. Our information said this festival was to be held the 2nd weekend in February and it was the Lakeport Sour Orange Festival not Moore Haven. As we entered Moore Haven it was evident that the festival would be next weekend. No problem. We continued on to Clewiston without so much as slowing down. Moore Haven is one of those places you can drive through without missing much.
We wanted to eat lunch at the Clewiston Inn anyway. Dining in the Clewiston Inn was something we missed when we visited Clewiston several weeks ago. The Clewiston Inn, built in 1938, is on the National Historic Register. It was built by the United States Sugar Corporation to host company executives and visiting dignitaries. US Sugar Corporation has a huge sugar refinery in town.
The Everglades Lounge, in the Clewiston Inn, features an impressive 360- degree oil-on-canvas mural depicting Everglades' scenery and wildlife. World-renowned artist J. Clinton Shepherd painted the mural. Mr. Shepherd stayed at the Inn for several months in the early 1940s, making daily trips into the Everglades to study and sketch vegetation and wildlife. He completed the mural in 1945 and it remains a "must-see" during your visit to Clewiston. In case you did not understand the Everglades Lounge and mural are located in the Historic Clewiston Inn.
Back to lunch at the Clewiston Inn's Restaurant. The restaurant is a whimsical mix of southern cooking, table cloths and goblets for beverages. They offered "fried-yucca" as one of their side items. Now that ought to impress their dignitaries! We have seen yucca roots in the vegetable section of grocery stores for years. However, Joyce has never purchased much less cooked one. This was my chance to try "yucca". Once my lunch arrived it was evident that they had prepared the yucca root by removing the skin (probably much like we do a potato or carrot) then quartering the large carrot shaped root length-wise. Finally they deep fried these wedges. Fried yucca tasted a lot like an extremely thick & dry fried potato wedge. I ate mine garnished first with butter then ketchup. It was so dry I had to add something to choke it down. I questioned our waitress about yucca. She said that she was Mexican from the Rio Grand Valley of Texas and they did not eat yucca at home. She said that yucca was a "Cuban" food and Cubans usually boiled them like we do potatoes, mashing them and adding oil and garlic. She said that the she liked yucca prepared in that fashion by the Cuban restaurant located next door. I will have to try the "mashed-style" yucca at a Cuban restaurant while we are down here. Fried yucca was much too dry for me. I am sure that you know that tapioca pudding is made from yucca root starch. So, many of you have eaten yucca since it is a featured desert in virtually every Chinese restaurant.
Another "must-see" in Clewiston is Roland and Mary Ann Martin's Marina, Restaurant and RV-Park. Actually, the complex belongs to Mary Ann -- the result of a nasty divorce settlement. Funny thing though—she still utilizes "Roland" as if the marina complexes eponymous founder was still around and involved. For those of you not "in-the-know" Roland Martin is/was an icon in the professional Bass Fishing World.
Next door to the "Roland & Mary Ann Martin Complex" is Wayside RV- Park operated by the Hendry County Commission. Like other RV-Parks in South Florida this time of year they are full or nearly full. Vacancies run around 1%. Most residents are snowbirds---staying in one site for the entire winter. Virtually all winter residents of this RV-Park and others in the area are fishermen---after all they have historic Lake Okeechobee in their back yard and not much else. The phone number for Wayside RV-Park is 863-983- 5455.
It was cloudy all day but it never rained. Temperatures were in the mid-70s most of the day but as the sun dropped in the sky so did the temperature.
Sunday, February 8, 2004
Grandma's Grove, La Belle (25-miles east of Ft Myers) N26 44.190' W81 28.753'
$16 for "overflow site" 15 amps & water---central dump available
This was a down day for us. We have been going hard this week and needed to chill for a day. Being a down day it gives me a day to document some of the bird life we have been seeing while in South Florida:
Sandhill Cranes—we first started spotting them around Ocala. They are big birds that are seen throughout the south central part of the state. We usually see at least two together. They mate for life and spend the remainder of their lives very close to one another. At other times we have seen 30-50 sandhill cranes feeding together in open fields.
Belted Kingfisher—we have seen these throughout Florida. They are a daily sighting when we are out driving. They can be easily spotted on telephone lines above ditches. They are almost always by themselves. We have seen them spaced every half-mile for mile after mile.
White Pelican—these are seen in shallow brackish water areas. They can be spotted but not in nearly the numbers as brown pelicans.
Brown Pelican—these are very common whenever we are near salt water.
Shrike—we see shrikes occasionally and always inland and next to an open field. Whenever we spot one invariably we will see 20 or more in the area.
Kestrel—Kestrels are everywhere. We spot most on power lines near open fields. They are almost always by themselves and spaced a half-mile or so apart. These small hawks must be feeding on grasshoppers or other large bugs.
White Ibis—this is probably the most visible bird in South Florida. Generally we spot them in groups of 20 or so. They are a white bird the size of a chicken with long legs and a long curved, orange bill.
Great Blue Heron—these are big solitary birds. We never see them in groups. They have very long legs and beaks. One Great Blue Heron appears to be stationed at every fish cleaning table in the state.
Great White Egret—this is another large bird that is solid white. They are solitary birds except at nesting time. The great white egret is the bird that early plume hunters were after and were almost hunted into extinction.
Cormorants—these are fish eating birds that resemble ducks. They are black except for an orange mask around the bill. The can be seen in great numbers near salt water areas. However, we also saw them in Lake Okeechobee and other fresh water areas, but as a general rule they stick to salt water.
Anhinga or (snake-bird)—this is another fish eating bird. When you see this duck like bird in the water it looks like a snake because all you can see of it is the long neck and bill. The anhinga really does look like a snake sticking about a foot of its body out of the water. The body is below the surface unlike a duck that floats on the water like a cork. Anhingas can be spotted in trees around fresh water with their wings spread in order to gather as much sunlight as possible. Their feathers are not oily so they soak up water. The birds have to sun themselves in order to dry. When they are drying they look like small buzzards with whitish wing spots.
Little Blue Herons, Tricolored Herons, Little Green Herons & Snowy Egrets are seen around almost every body of water in Southern Florida. You see them individually not in flocks.
Cattle Egrets—This is another white bird that is see in great numbers. Unlike other herons that feed around wet areas on fish, snakes and frogs the cattle egret feed on bugs in upland areas and fields. Cattle egrets congregate in cattle pastures near the cattle where they harvest bugs stirred up by the moving cattle. These birds appeared in Florida in the1940s/1950s. It is speculated that they were blown over here from their native Africa, possibly by a hurricane.
Tree Swallows—in several places we have seen great numbers of Green Tree Swallows. A large flock winters on St George Island in St George Island State Park every winter. Around La Belle we have seen thousands appear in the late afternoon to dine on flying insects above the orange groves.
Purple Martins—we have only seen 6 to 8 of these and they were at Ortona Lock east of La belle. All of them were on or near a Martin house in the Ortona Lock COE campground. We saw them on the morning of February 9 and wondered if by chance they had arrived from South America last night. In any event, those of you that maintain martin houses will need to clean them out. They are on their way north.
Eurasian Collar Dove—this big dove with a long square tail with a white band across the end of the tail is not even listed in some authoritative bird books. However, it is one of the more common bird sightings in Florida. Tho not common in fields and pastures they are prolific in congested residential areas. They were a common cage bird only a few years ago. Escapees quickly multiplied and spread around the state. They are the size of a small pigeon with breeding habits that would make a rabbit blush. Would you believe they raise 6-broods a year?
Osprey—this large bird looks very much like a small bald eagle. They build large nests in dead trees near large bodies of water. They also build nests on special platforms placed on power poles by the power company or special platforms constructed in individual's yards.
Bald Eagle—we are able to see these big birds from time to time but they are not nearly as abundant as the osprey. They build nests in live trees in remote areas. While the Osprey will nest in your yard an eagle will not. They do not want humans around their nest.
Merganser Ducks—Mergansers are a family of fish-eating ducks that can be seen on many of the areas lakes and inland saltwater estuaries. To my knowledge you will never see mergansers roosting in trees or on power poles. Look for them on the water as they dive for food.
If you are the least bit interested in the birds you are seeing in this area the above list should cover most of them that you will see wintering in South Florida. By the way, you will not see many of them if you visit here in the summer since they migrate north in the spring just like the car driving snow birds.

Until next time remember how good life is.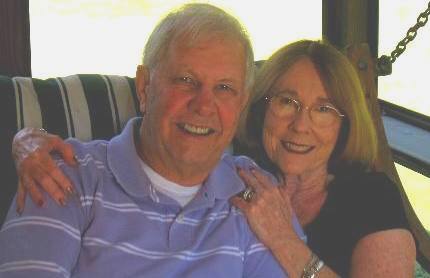 Mike & Joyce Hendrix who we are
We hope you liked this page. If you do you might be interested in some of our other Travel Adventures:
Mike & Joyce Hendrix's home page
Travel Adventures by Year ** Travel Adventures by State ** Plants ** Marine-Boats ** Geology ** Exciting Drives ** Cute Signs ** RV Subjects ** Miscellaneous Subjects
We would love to hear from you......just put "info" in the place of "FAKE" in this address: FAKE@travellogs.us
Until next time remember how good life is.