Sanibel Island, Florida
Places Visited: La Belle, Sanibel Island, Captiva Island, Ding Darling National Wildlife Refuge
Our RV-Park was Granny's Grove in La Belle, Florida east of Ft Myers
Bowman's Beach on Sanibel Island, Florida

Nothing evokes a day at the beach quite like gulls and sea oats. These pictures were taken at Bowman's Beach on Sanibel Island.
Gulls on Bowman's Beach: Sanibel Island, Florida
Gulls make a day at the beach. They are social and do not mind humans encroaching on their space. On the left are laughing gulls in various stages of winter dress.
The gull on the right is ring billed gull.
Strangler fig trees on Sanibel Island, Florida
Last weeks travelogue had a picture of a strangler fig growing out of the top of an ancient cypress tree. Most of the time strangler fig trees that we see are being hosted by cabbage palm trees like the ones in these pictures. The fig tree fruit is dropped by an animal or bird and lands in the fronds of a palm tree where it sprouts and begins life. Cabbage palms make good host plants because they have a fibrous, crisscross pattern of old frond bases around its trunk that provides good rooting material for the seedling. Aerial roots are sent downward while branches are sent upward. Using the host tree for support, the strangler fig gradually establishes itself and chokes/kills the host.
Strangler fig trees are are one of the most interesting trees we see in south Florida. They certainly have a unique survival strategy. Starting life in the branches of another tree provides a strangler fig with more light, an advantage over trees which start life on the ground.
Strangler fig trees on Sanibel Island, Florida
Look how massive the root system has become around the palm tree to the left while the strangler fig tree on the right is just beginning to encase the host palm tree with those strangling roots.
Hurricane Charlie passed over Captiva Island in the summer of 2004 (the summer Florida was visited by 4-hurricanes). Thankfully, hurricane Charlie was small in size. The swath of damage was less than 10-miles across. However, within that 10-mile diameter hurricane Charlie did a lot of damage to trees on Captiva Island. Tall trees were particularly vulnerable while smaller varieties were less affected.
Effects of Hurricane Charlie on Captiva Island, Florida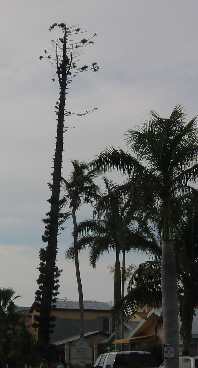 The trees in these photographs are what remains of Norfolk Island pines. While they look like fuzzy telephone poles now the "fuzzy" part you see is new growth. The survival strategy for Norfolk Island pines is for their limbs to break off where they connect to the trunk. These trees were about 98% "delimbed". The new growth is sprouting from where the limbs once were. Note that the Norfolk Island pine on the right has been "topped" in addition to being delimbed. A pair of osprey have constructed a nest and set up housekeeping in the top of the Norfolk Island pine on the right. This is the only osprey nest I have seen in a live tree. While eagles nest in live trees osprey almost always choose a dead snag.
Note that palm trees sustained little noticeable damage from hurricane Charlie. In addition to having a strong root system their trunks have great elasticity and their fronds bend into the wind reducing air resistance. This survival strategy works well.
Australian pines suffered severe damage as well. Australian pines have a shallow root system and brittle wood. Those that did not have trunks that were broken off were toppled with the huge-but-shallow root system just coming out of the sandy soil and breaking off around 10' from the base.
Friday and Saturday were destined to be different in that south Florida's dry season was interrupted by a torrential downpour that lasted from around noon on Friday until after noon on Saturday. Evening news on Saturday said that La Belle received 5" of rain from that front. I can believe it. In addition to torrential rain thunder and lightening flashed and boomed for hours on end. As the afternoon wore on the sky cleared up and the temperature dropped. The sunset was spectacular. It would have been a good time to be at the beach for that sunset. We took pictures of the sunset from our RV-Park but they are not nearly as spectacular as they would have been at the beach.
Sunset from La Belle, Florida
Sunset from La Belle, Florida
Red sky at night is a sailors delight. If that diddy is correct tomorrow will will be a wonderful day.
Until next time remember how good life is.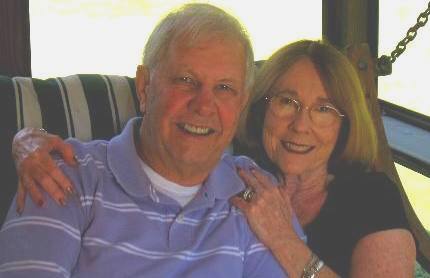 Mike & Joyce Hendrix who we are
We hope you liked this page. If you do you might be interested in some of our other Travel Adventures:
Mike & Joyce Hendrix's home page
Travel Adventures by Year ** Travel Adventures by State ** Plants ** Marine-Boats ** Geology ** Exciting Drives ** Cute Signs ** RV Subjects ** Miscellaneous Subjects
We would love to hear from you......just put "info" in the place of "FAKE" in this address: FAKE@travellogs.us
Until next time remember how good life is.