Sarasota, Myakka River State Park, Sun N Fun, Casey Key & Venice, Florida
Places Visited:
Florida: Sarasota, Myakka River State Park, Sun N Fun, Casey Key & Venice
Friday, January 23, 2004
Sun N Fun RV-Resort, Sarasota, Florida. N27° 20.322' W82° 24.707' 1-800-843-2421
Full hookup $34 www.sunnfunfl.com 1,600 sites with tons of planned activities.
Temperatures remain cool with highs possibly reaching 70. Jeans and long sleeves were our choice. Snowbirds continue to roam around in shorts and T shirts while some even go swimming. Not me.
We lunched at Sugar N Spice one of the better Amish Restaurants in Sarasota. We all enjoyed our lunch. It was good food at a reasonable price. Mom really loved her peanut butter pie, so much so that she purchased a WHOLE strawberry pie when we exited the restaurant. We are going to SIN (behind closed doors) when the sun goes down.
We spent the afternoon at Myakka River State Park, only 15-miles from downtown Sarasota. Myakka River State Park preserves large and diverse natural areas. The "Florida Wild & Scenic" Myakka River flows through 58 square miles of wetlands, prairies, hammocks and pinelands preserved in Myakka River State Park. The river and several shallow lakes provide home to a myriad of wetland creatures.
Myakka River State Park is also noted for its "Canopy Walkway" where a suspended walkway snakes its way through the tree tops. This unique walkway is like one of those you see on the Discovery Channel taken by scientists studying life in the canopy of some tropical rainforest. We didn't take this walk as it was a bit much for Mom. If you are ever in the Sarasota area the Canopy Walk is something you want to experience.
We saw alligators from afar. Not as many as we would have liked but it was cool and they tend to stay submerged when temperatures are this low. We did see sand hill cranes and a bald eagle in addition to myriad other shore birds. Tiny sandpipers were trotting back and forth like tiny wind-up toys along the water's edge.
Spanish Moss draped live oak trees in Myakka River State Park near Sarasota, Florida
Much of the park road wends its way through veritable tunnels of green created by oaks, palms and Spanish moss overhanging the road. Joyce took some pictures of the evening sun filtering through this spectacular tunnel.
Just outside the park we spotted an armadillo feeding in the right of way. Then we spotted another and yet another. They were scattered about a mile apart. Down here they are referred to as possum on the half shell.
Karaoke at the RV-Park was our entertainment tonight. Mom stayed home to watch CNN & FOX news. She was probably sneaking another piece of that strawberry pie also. Mom is a news junkie. Joyce and I like to step out on the "wild-side".
Saturday, January 24, 2004
Sun N Fun RV-Resort, Sarasota, Florida. N27° 20.322' W82° 24.707' 1-800-843-2421
Full hookup $34 www.sunnfunfl.com 1,600 sites with tons of planned activities.
We slept late this morning recuperating from excessive dancing at the parks karaoke bash last night. We went down to watch the model sailboat races around 10:00 AM but there was no wind. The wind was still. A dome of high pressure has settled over our part of Florida. When the high pressure moves out over the Atlantic later today temperatures are supposed to jump dramatically. I can't wait.
By noon a slight breeze was blowing and the sailboat races were in full swing. By mid-afternoon people were hanging around and in the pool in droves. The sun warmed everything up and everyone returned to normal activities and dress-that being shorts and T shirt.
Mother treated us to lunch at Sugar & Spice today. She really enjoyed lunch yesterday and secretly wanted to try their cocoanut pie. We still have some of that strawberry pie she purchased yesterday. We sinned last night but obviously saved some for tonight when the shades are drawn once again.
The park sponsored a dance in one of the rec rooms that Joyce and I enjoyed. It wasn't anything fancy, just a volunteer playing CDs connected to a good sound system. The music was at an almost background level enabling conversation. Several hundred park residents were enjoying themselves. We met several nice couples. Mother missed this in favor of CNN. It was her loss. Of course we left her with the strawberry pie---as if I was not going to check on her degree of sinning when we returned. VBG
Sunday, January 25, 2004
Sun N Fun RV-Resort, Sarasota, Florida. N27° 20.322' W82° 24.707' 1-800-843-2421
Full hookup $34 www.sunnfunfl.com 1,600 sites with tons of planned activities.
The Sun N Fun church had 313 in attendance this morning. After church we had Sunday brunch at the Sun N Fun restaurant while listening to live keyboard music. It doesn't get much better.
Temperatures were approaching the high-70s by noon. The pool area was filled to capacity. A one man "Jimmy Buffet" act was providing entertainment poolside. Some residents were in the swimming pool and hot tubs, others lounging in the sun while others danced the afternoon away. I would be remiss if I didn't include those that clung to the bar stools as if glued in place. It really is hard to describe the facilities and activities at this place. The pool is humongous by any standard as is the sunbathing deck surrounding it. Sun N Fun truly has put together a resort that provides endless entertainment. This afternoon was no exception.
For those of you freezing your buns off that intuitively know there is something better: Sun N Fun is more than likely what you are dreaming about. Even though Sun N Fun is an RV-Resort is has "tons" of park models that the park rents. Many people visiting the park just rent one of these park models. Some rent them by the week while others stay for 3 or more months. We did not realize that so many of the parks residents were so transient. This year we have met many groups that rent a park model every year and have been for years and years. If you are interested in the facilities, activities and rates you can probably obtain information from their web site: www.sunnfunfl.com
Monday, January 26, 2004
Sun N Fun RV-Resort, Sarasota, Florida. N27° 20.322' W82° 24.707' 1-800-843-2421
Full hookup $34 www.sunnfunfl.com 1,600 sites with tons of planned activities.
The weather was balmy here today while the northeast section of the nation is locked in an ice storm. All day a south wind was basting us with 75° humid air that began the day over the Gulf Stream south of Key West. This warm humid air flowing north is meeting with frigid air dropping down from Canada and causing the horrid weather across the northern tier of states.
We ate lunch at Yoder's, another of Sarasota's famous Amish Restaurants. From the looks of the plaques, news paper articles etc., prominently displayed on the walls of Yoder's this is the "Best of the Best" in Sarasota. After sampling lunch today I would vote for that assessment. Yoder's is the best of the Amish places we have tried here in Sarasota.
After lunch we drove south to Casey Key and Venice. Casey Key is an extremely narrow island about 6-miles long. When I say narrow I mean narrow. A single narrow road wends its way through Casey Key from north to south. Many times the island is so narrow that estates will only fit on one side of the road. Of course estate owners own property to the water on both sides of the road in these instances. Where the island is wide enough some sure enough palatial estates have been constructed complete with tropical landscaped botanical gardens ablaze with color. From time to time the road hugs a narrow beach framed by the azure Gulf and waving palms. BMWs & Mercedes are common as flees. Residents must be NBA super stars or Halliburton executives.
We enjoyed the drive on Casey Key then headed to Venice. Venice is an upscale town complete with canals like its namesake in Italy. Venice is built around boats and docks and a trendy shopping area. The main street is a boulevard with huge islands of greenery in between east & west lanes. Without being told I think we have found "Rodeo Drive East". This must be the place where the "beautiful people" on those islands come to shop and dine.
It is Monday night and we don't have a dance or karaoke to enjoy. What is this place coming to?
Tuesday, January 27, 2004
Sun N Fun RV-Resort, Sarasota, Florida. N27° 20.322' W82° 24.707' 1-800-843-2421
Full hookup $34 www.sunnfunfl.com 1,600 sites with tons of planned activities.
The 10:00PM news last night said it was 71° (mind you it was 71° at 10PM not 71° for the high). That is a major change from earlier in the week when we were hoping to break 70 as the daily high not low. We woke to rain this morning, however, it was short lived.
We got up early and took Mom to Tampa where my brother, Steve, is meeting us. Steve is taking Mom back to Panama City. We met Steve in Tampa at the Cracker Barrel that is part of the Lazydays complex (all RV'ers have heard of Lazydays). After a good breakfast we said our goodbyes and they headed for the Florida Panhandle. Joyce and I headed next door to Camping World.
Folks were grabbing stuff off the Camping World shelves like it was being given away. I can assure it wasn't. RV'ers literally go crazy in Camping World stores. Joyce and I don't get it.
The Lazydays complex is impressive (possibly the largest RV dealer in existence). I wonder how many service bays they have for motorhomes. One thing is for certain they are not lacking for business. We are not in the market for a new motorhome or we would have spent time wandering the myriad acres of new and used motorhomes. As we exited the complex we passed by "Rally Park" and Flying J. Like I said this is an amazing complex of establishments catering to RV'ers.
By the time we headed back to Sarasota the sun was out and stayed out the remainder of the day. Back at Sun N Fun I took the laptop up to the business center (5-modem and 9 ethernet connections) where we download e-mail. It is also a place where individuals make quick phone calls on the "modem" phone lines when they are not being used by computers. A plethora of conversations is going on at all times. The funny part about ALL these conversations is the GLOATING by the person on this end of the line. A typical conversation goes like this; how are things going? How is the weather? Snow & Ice! 5-below ZERO! Holy horrors, you poor darlings. We are going to the pool as soon as we get off the phone. Snerk-snerk. The snerk varies from individual to individual but it is a practiced and wicked sound.
Calling relatives is one thing but calling coworkers (at work no less) to tell them they are lounging by the pool -------- actually they ask how things are going without them but quickly the subject changes to------ you guessed it. Like a coworker back in Green Bay wants to know they are basking in 80 degree weather and about to go swimming when those folks are praying for the thermometer to rise above ZERO.
Tuesday night at Sun N Fun is Karaoke and you can bet we were there and having fun. Joyce is a real party animal. If only her friends back in Pensacola could see her now.
Wednesday, January 28, 2004
Sun N Fun RV-Resort, Sarasota, Florida. N27° 20.322' W82° 24.707' 1-800-843-2421
Full hookup $34 www.sunnfunFlorida.com 1,600 sites with tons of planned activities.
Rabid snowbirds are still rambling around in shorts and T shirts, however, many of us have traded shorts & Ts for jeans and corduroy. The high today only reached the high 60s after several days in the 80s. Snowbirds grouse about the high 60s down here like it was below 0-------- that is, they grouse until they get on the phone to friends and relatives. By mid-afternoon most were back in shorts and Ts. That was fine until the sun went down. When the sun went down everyone donned long pants and shirts.
This was a down day for us. Down days do not offer material for travelogues.


Until next time remember how good life is.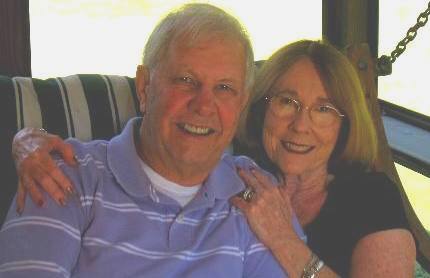 Mike & Joyce Hendrix who we are
We hope you liked this page. If you do you might be interested in some of our other Travel Adventures:
Mike & Joyce Hendrix's home page
Travel Adventures by Year ** Travel Adventures by State ** Plants ** Marine-Boats ** Geology ** Exciting Drives ** Cute Signs ** RV Subjects ** Miscellaneous Subjects
We would love to hear from you......just put "info" in the place of "FAKE" in this address: FAKE@travellogs.us
Until next time remember how good life is.