La Belle, Sarasota, Lido Key, Longboat Key, Anna Maria Island, Casey Key & Siesta Key, in Florida
Places Visited:
Florida: La Belle, Sarasota, Lido Key, Longboat Key, Anna Maria Island, Casey Key & Siesta Key.
Sunday, January 18, 2004
Grandma's Grove: La Belle on the west side of Lake Okeechobee.866-472-6478 $16
We are staying in an overflow spot with water & 15amps. N26° 43.198' W81° 28.451'
A central dump is available plus a free for the picking orange & grapefruit grove.
We woke to rain. The good weather we have been blessed with faded by daylight. It rained until early afternoon.
We took the day off to rest and recuperate.
The only significant thing we did today was pick our friends Linda & Paul a variety of citrus from the grove at Grandma's Grove RV-Park where we are staying. After picking the fruit we jumped in the Saturn and headed 3.5 miles down state road 80 to River Bend RV-Resort where they are spending the winter. They have a phone connection and graciously let me download e-mail and update my web site.
Good friends are special.
Monday, January 19, 2004
Sun N Fun RV-Resort, Sarasota, Florida. N27° 20.322' W82° 24.707' 1-800-843-2421
Full hookup $34 www.sunnfunfl.com 1,600 sites with tons of planned activities.
Around noon we arrived in Sun N Fun RV-Resort in Sarasota. Sun N Fun isn't a "high-end" RV-Park and it isn't cheap. What it has is 1,600 RV sites and tons of activities. People stay here for the activities. They have a huge pool and two hot tubs that are used actively until near midnight. The deck area around the pool sports a bar and grill like you might imagine at some exotic tropical island resort. The place even has its own beauty salon, restaurant and church. Men seem to be in the woodworking shop around the clock. Women spend time with painting, pottery, basket weaving, stained glass, sewing and sundry other activities of that ilk.
Joyce and I treated ourselves to a digital camera for Christmas. We have been learning to take pictures and download them to the computer. Don't laugh there is a lot to learn. After you download pictures to the computer each picture must be viewed to determine if it can be used. Pictures selected for use must be cropped and downsized before they can be added to a web site or e-mailed. All this takes time, time and more time. It is also something else I have struggled to become proficient at. Thankfully, my daughter-in-law spent time instructing me before we took off on this excursion. Now I have the capability to add pictures/graphics to travelogues I post on my web site. So the travelogues I post to my web site have the same text as the e-mail version plus I have added graphics.
The other thing I have wanted to do is put together a collection of amusing "signs". I have now started that collection----- if you are interested check out "signs" on my home page.
Is there anyone out there that can give me hints on how to get text to "wrap" around graphics? Any help with that would be appreciated.
Larry & Cindy Gobin, RVing friends of ours were in Venice, Florida just down the road from where we are in Sarasota. We have been keeping in touch as both of us moved around the state, ain't e-mail great? Now that we were close we used cell phones to set up a dinner date at the Sunset Grill next to the bridge on south Casey Key. More on meeting up with Larry & Cindy in a paragraph or so.
When we were on Casey Key last year we noticed a number of RVs in the "day use" city park on the south end of Casey Key, all with Ontario tags. Like last year I tried to find out where they stayed at night and like last year they said "in a friend's driveway". Yeah! I was born at night but not last night! I really wonder where they stay at night. Wherever it is you can bet they are not paying much if anything---while RV-Parks in the area run from $35 per-night to the stratosphere, if you can find a vacancy this time of year. These snowbirds have mooching down to an art. They spend the day in a beautiful county park where they fish, play cards, checkers, read and fix pot luck lunches. The county park does not allow overnighting so they have to go somewhere at night. Oh well, one day I might know their secret.
We met Larry & Cindy for dinner at the Sunset Grill located at the bridge to Casey Key. It was fun catching up on all that has gone on in their lives since we last spent time with them in Bayou Segnette State Park near New Orleans last Fall. Larry and Cindy are heading to the Florida Panhandle tomorrow. We hope to run into them again when we head home.
Tuesday, January 20, 2004
Sun N Fun RV-Resort, Sarasota, Florida. N27° 20.322' W82° 24.707' 1-800-843-2421
Full hookup $34 www.sunnfunfl.com 1,600 sites with tons of planned activities.
The weather was chilly today by south Florida standards. Highs may have reached the low 70s. On top of that a stiff breeze was blowing making things chilly. Long sleeves were the order of the day, even though most were sticking with shorts.
Flowers in Marie Selby Botanical Gardens Sarasota, Florida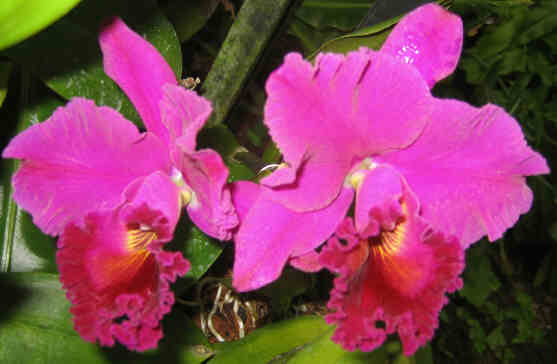 We toured Marie Selby Botanical Gardens in downtown Sarasota today. The Gardens is world renowned for is collection of orchids and bromeliads, as well as its bamboo and palm displays. We toured these Botanical Gardens last winter and enjoyed them just as much this year. Selby Gardens is a world center for the study and display of orchids, bromeliads and other epiphytes (air plants, or plants that live on other plants), and their canopy habitats. Their Tropical Display House is a showcase for a spectacular living collection of rare orchids and bromeliads. The Tropical Display House is temperature controlled with extremely high humidity. It is easy to spend an hour or so ooooohing and aaaaaahing at all the beautiful orchids and bromeliads. There are so many varieties with such vivid colors and shapes.
Screw Pine in Marie Selby Botanical Gardens Sarasota, Florida
In the outdoor Garden area Joyce particularly liked the screw pine. We got a good look at this unusual tree that looks more like a funky palm tree than a pine. The screw pine is native to Pacific Islands where soil is shallow therefore the roots develop above ground like legs/arms that branch out from the trunk to brace/anchor against wind and waves. The female screw pine has fruit that resembles pineapple. The fruit is edible and prized by Pacific Islanders.
Star Fruit on display in Marie Selby Botanical Gardens Sarasota, Florida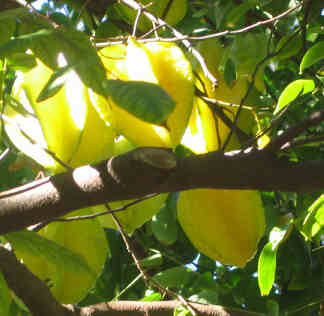 Also, for the first time we saw star fruit on a tree. We have seen star fruit in the grocery store for years. We also see star fruit in roadside stands here in south Florida. Like honor system vegetable stands you see in rural parts of America, south Florida features "honor system" fruit stands where individuals place papaya, guava, star fruit, citrus and avocado. Now we have actually seen ripe star fruit on the tree.
The Gardens are situated on a peninsula jutting into the bay, in other words it is surrounded on 3-sides by water. Views around the property are simply awesome. On one side we were able to peak across a narrow waterway to an exclusive neighborhood of waterfront homes and associated yachts parked in the back yard.
Sarasota Bay and Bridge from Marie Selby Botanical Gardens Sarasota, Florida
One particularly awesome view was of a sailboat moorage with a hundred or so beautiful sailboats all swinging on anchor with the skyline of downtown Sarasota in the background. One sailor had positioned his sailboat in the shallow water near Selby Gardens and was standing in the shallow water painting the side of his boat. Sailors on a budget use this method instead of paying to have their vessels hauled out of the water. In any event the view across the water is as interesting as the exotic foliage in the Gardens.
We ate lunch at one of the Amish restaurants Sarasota is noted for.
We had a ball at the RV-Park's karaoke party. The park sponsors karaoke on Tuesday and Friday nights. Remember that the park has 1,600 units to create a really enthusiastic audience plus talented participants. Additionally, a group of really talented local residents join the karaoke talent pool. Several hundred people turn out for these events. Everyone dances, sings along and those with REAL talent perform. The performers tonight were professional grade singers. They may be professionals for all I know. In any event from 7:00 until 10:30 fun was at the maximum.
Wednesday, January 21, 2004
Sun N Fun RV-Resort, Sarasota, Florida. N27° 20.322' W82° 24.707' 1-800-843-2421
Full hookup $34 www.sunnfunfl.com 1,600 sites with tons of planned activities.
It was cool today as in mid-60s for high temperatures. I wore shorts with a long sleeve shirt. Does that make sense?
We had a good time on Lido and Longboat Keys. At a county park on Lido Key we saw a flock of wild parrots. It was exciting watching wild parrots that most of us have only seen in cages. Mother spotted mango fruit on a mango tree. We had been identifying mango trees by their foliage, but this was the first one with fruit on it.
African Tulip tree blooming on Lido Key
We also got a good look at a blooming African tulip tree. We have seen a number of these trees but this was the first time we were able to get a close up look at the huge bright reddish orange blooms.
New Pass Grill & Bait on Lido Key
We ate lunch at New Pass Grill & Bait on Lido Key. Located directly on the azure waters of New Pass, local folks especially fishermen know this site well. It is one of those local places that is "fun". The Grill is famous for their award winning burgers.
New Pass Grill & Bait on Lido Key
We ate outside at a bar on the deck facing New Pass only a few feet from the water. Herons, seagulls, ospreys and pelicans provided action. Seagulls try to steal the burger out of our hands; obnoxious rascals! Other birds were content to wait on fish. Fishermen stop by on their way into the Gulf to get bait and fuel, or to clean fish after a "good" day on the water, especially if they have some "big-uns" they want to show off. A sign over the fish cleaning station reads "slow dancing". Joyce loved the sign, I didn't get it.
The bait house next door had a great blue heron that appeared to be part of the operation since he made himself at home inside the bait house. We have seen brazen great blue herons but never one that would walk in an open door, much less with people in the room.
Thursday, January 22, 2004
Sun N Fun RV-Resort, Sarasota, Florida. N27° 20.322' W82° 24.707' 1-800-843-2421
Full hookup $34 www.sunnfunfl.com 1,600 sites with tons of planned activities.
I am tired of this cool weather. The highs have been in the low 70s to high 60s for days. I put on jeans today instead of shorts and was glad that I did.
We toured Siesta Key today. It is an enclave for the rich & famous from the looks of those estates. While we are paying $34 per-night for our RV-site I don't think it would pay the daily taxes on those places. We ate in the village at Siesta Key with the "beautiful-people". We would have dined outside but it was a bit chilly. I thought we were in Florida.
For our afternoon entertainment we attended a training session for the Royal Lipizzan Stallions of Austria. These horses are descendants of the Royal Lipizzan Stallions saved at the end of (the big War in Europe) by General George Patton and the 3rd army. The show we watched is the daily training session for these stallions that travel 6-months per-year putting on an average of 3-shows per-week all around the world.
For those so inclined, visitors are invited to stroll through the stable area to get closer to the stallions. Some rush to have their pictures taken with the stallions while others actually mount one for a picture.

Until next time remember how good life is.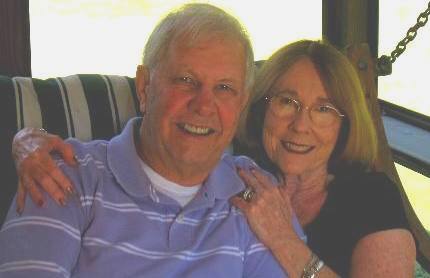 Mike & Joyce Hendrix who we are
We hope you liked this page. If you do you might be interested in some of our other Travel Adventures:
Mike & Joyce Hendrix's home page
Travel Adventures by Year ** Travel Adventures by State ** Plants ** Marine-Boats ** Geology ** Exciting Drives ** Cute Signs ** RV Subjects ** Miscellaneous Subjects
We would love to hear from you......just put "info" in the place of "FAKE" in this address: FAKE@travellogs.us
Until next time remember how good life is.