La Belle, Ft Myers, Pine Island, Sanibel Island & Captiva Island, Florida
Places Visited:
Florida: La Belle, Ft Myers, Pine Island, Sanibel Island & Captiva Island
Wednesday, January 14, 2004
Grandma's Grove: La Belle on the west side of Lake Okeechobee.866-472-6478 $16
We are staying in an overflow spot with water & 15amps. N26° 43.198' W81° 28.451'
A central dump is available plus a free for the picking orange & grapefruit grove.
We moved the motorhome this morning. Our objective was to find an RV-Park near Ft Myers on Florida's west coast. It would have been nice to find a park in Ft Myers proper but that was highly unlikely (at least in the price range I am willing to pay) so we were scouting out places 20-miles east of Ft Myers.
We have friends spending the winter in Alva a small town 15-miles west of Ft Myers on State Road 80 and want to spend some time with them. The park our friends are working in is truly expensive so it was eliminated. The first park on our list to check was Grandma's Grove three miles west of La Belle. It did not have any full hookup spots available but did have overflow spots with 15 amps and water with a central dump for $16 per-night. We though about it and decided to jump into the overflow site and scout out other parks in the car.
Joyce picking free oranges out of Grandma's Grove where we are camped in La Belle, Florida
Grandma's Grove is a nice park with a decided advantage. They are situated in a citrus grove with grapefruit, oranges and tangelos. The neat thing is they allow RV'ers staying with them to pick as many as they want. Mother was really excited about getting to pick all the fruit she wanted.
Joyce in Grandma's Grove picking free oranges.
Flora & Ella's Restaurant and Country Store is a La Belle, Florida landmark
After checking into the park we headed to lunch at Flora & Ella's, a La Belle landmark. Flora & Ella's has been featured in Southern Living several times. Flora & Ella's was established in 1933 by two sisters. One of their daughter-in-laws now owns and runs the restaurant. We chose the restaurant because the parking lot was full to overflowing. That is the best clue available to guarantee a good place to eat. This was no exception.
Once inside we knew we had stumbled onto something special. Their specialty is fresh homemade pies but they also offer some unique entrees. We were conservative in our orders but may venture out next time. As we exited the restaurant we stopped to read some of the history and admire the Southern Living articles prominently displayed.
From La Belle we drove east on state road 80 to Clewiston a small town on the southwestern shore of Lake Okeechobee. Clewiston was put on the map by bass fisherman Roland Martin who had a marina, motel & campground on the shores of Lake Okeechobee. Many can remember Roland Martin's fishing show on Saturday and Sunday afternoon TV shows. It appears that the marina, motel & campground now belong to Roland Martin's wife. There must have been a nasty divorce.
Clewiston proclaims itself to be "America's Sweetest Town". That is a play on words having to do with the areas sugar industry. Clewiston is home to a big sugar cane refinery operated by US Sugar. We were in town when the whistle blew to change shifts. From the looks of traffic exiting the refinery they are Clewiston's major employer.
Back at Grandma's Grove RV-Park we took bags into the groves in search of free citrus. We were not disappointed. There was a variety of oranges and tangelos to choose from. We wanted to make some fresh juice from the sweetest oranges. It was difficult to determine which variety was the sweetest. We chose two varieties and filled our bags.
Back at the motorhome we washed the oranges and ran them through our electric juicer. The fresh juice is unusually sweet.
Thursday, January 15, 2004
Grandma's Grove: La Belle on the west side of Lake Okeechobee.866-472-6478 $16
We are staying in an overflow spot with water & 15amps. N26° 43.198' W81° 28.451'
A central dump is available plus a free for the picking orange & grapefruit grove.
This was an exploration day. The temperature was right. It was cool last night, probably in the mid to high 40s but by 8:00 temps were moving to the 70s. We could not ask for better weather.
On the way to Ft Myers we dropped by the W.P. Franklin Lock COE park on the Chlosahatchee River. It is located a few miles west of Ft Myers on the Chlosahatchee River. Franklin Lock is part of the Lake Okeechobee system where barge and boat traffic on Florida's West coast can travel from the Gulf up the Chlosahatchee River, thru the Franklin Lock and into Lake Okeechobee. Once crossing Lake Okeechobee boaters can enter another lock system that takes them to the Atlantic Ocean.
The RV-Park at Franklin Lock is first class with concrete pads and landscaped to perfection with water, 30-amps &central dump for $16. The only thing bad (from our standpoint) is you need reservations this time of year because snowbirds have all the spots reserved. You can only stay 14-days in any given 30 day period. RV'ers can make reservations up to 240 days in advance. Astute snowbirds have mastered moving from COE Park to COE Park all winter long. One day Joyce and I will be more laid back. Until then we will just keep bouncing around.
From Franklin Lock RV-Park we headed to Pine Island, one of the barrier islands off Ft Myers. We did not know much about Pine Island except that it was/is a hot bed of commercial fishermen that went wild after Florida citizens overwhelmingly passed the Net Ban amendment about 10-years ago. Many of the commercial fishermen never stopped using their illegal nets. That was the mental picture we had of Pine Island. It wasn't far removed from reality.
Between the mainland and Pine Island is a series of small islands connected by bridges and a long causeway. One of the small islands is Matlacha. Matlacha is more interesting than Pine Island in many ways. It appears to be a hub of activity catering to the local commercial fishing industry. Matlacha is probably a good representation of what Key West was 50-years ago before tourist invaded it. "Never do today what you can put off until tomorrow" could be the mantra for Matlacha residents. Matlacha is a peewee-sized place where locals live and work or should I say fish. The town is a mile long stretch of quaint "businesses" along the road leading to Pine Island. Outrageous seem to be the theme. Store owners may have a macaw on their shoulder, or sport a polka dot building, or a manatee mail box. Ladies sport fish hooks on their shirt pockets-that identify them as "hookers", members of a local civic club which runs charity fishing tournaments. Even more ubiquitous are the men in shin high white rubber boots associated with the commercial fishing industry. Locally those white boots are called Matlacha Reeboks. One ramshackled building along the highway proclaimed the place to be "Earl's" the home of "The Earl of Matlacha". That one was good; I like the sound of "The Earl of Matlacha". I would have taken a picture but underbrush obscured the faded sign above the front door. Authority is obviously something not highly regarded in Matlacha as evidenced by the "No Parking" signs scattered along mangrove lined waterways. Obviously, residents think that the county signs serve a better purpose protecting mangrove swamps. A uniquely unpretentious community would describe Matlacha. The kind of place where it takes several residents to figure out what day of the week it is as if any of them cared.
Fishing is not the only thing to do around Matlacha. There's shrimping, crabbing, clamming, canoeing and birding.
Pine Island has a community center where the causeway that funnels traffic onto the island stops at the north/south road traversing Pine Island. There is a small business district at this intersection. North of the center is several miles of palm nurseries. We have never seen so many palm trees. Acres upon countless acres of palm trees of every variety imaginable line both sides of the road for miles. Just as the nurseries disappeared we reached the north end of Pine Island and crossed a small bridge to the affluent island of Bokeelia.
Bokeelia has its share of opulent residences but it was the ambiance of lush vegetation and landscaping that captivated us. Ripe cocoanuts littered the ground under stately groves of palms. We collected one of the cocoanuts as a souvenir. Driving along the waterfront on Bokeelia we stopped to gaze across Charlotte Harbor at the famous island of Boca Grande.
Osprey with a nice fish dinner in Bokeelia, Florida
We also spent time watching an osprey dine on a 13 to 14 inch red fish. Just today we have seen 4 ospreys dining on fish so it is beginning to be a common sight, still it is intriguing.
Slowly driving through the charming Bokeelia neighborhoods made up for the disappointment of Pine Island proper.
Mother and Joyce at Capt'n Con's Fish House Restaurant on Bokeelia Island, Florida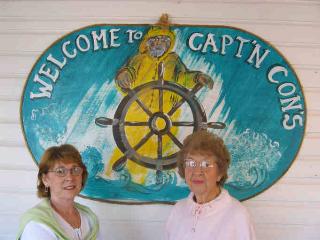 It was after noon when we stumbled upon Capt'n Con's Fish House Restaurant on Bokeelia. It beckoned us. We were looking for the "Waterfront" or the "Lazy Flamingo" restaurants on Pine Island because friends had recommended them. It was not to be. We were hungry and the search for the Waterfront or Lazy Flamingo would have to wait. Capt'n Con's was OK but nothing to write home about.
Osprey are paired up and setting on nests this time of year. Power companies provide nesting platforms on power poles, businesses erect platforms and private residences construct platforms on utility poles and place them for easy viewing from their Florida Room windows. Everyone seems to be in on providing a nesting platform. Ospreys oblige by building their aerie atop the provided platforms. There is a lot of activity around the nest as papa osprey brings fish to both mother and young. Later both mother and father are kept busy providing fish for hungry youngsters.
At the north end of Pine Island, look for Jug Creek marina. Jug Creek Marina is home to the Jug Creek Cruise Boat. We got information on the Jug Creek Cruise Boat and found it to be a good deal. Their cruise starts at 9:30 AM and returns around 4:00 PM while stopping for lunch at Barnacle Phil's on North Captiva Island, all for $22.50. We might return and do this cruise before leaving the area. If not we will schedule it for next time.
We finally found the Waterfront Restaurant at the south end of Pine Island. We never found the Lazy Flamingo. The south end of Pine Island consisted of a large cattle ranch and several palm nurseries in the middle, then a neat upscale community at the south end where we also located the Waterfront Restaurant.
Friday, January 16, 2004
Grandma's Grove: La Belle on the west side of Lake Okeechobee.866-472-6478 $16
We are staying in an overflow spot with water & 15amps. N26° 43.198' W81° 28.451'
A central dump is available plus a free for the picking orange & grapefruit grove.
The weather remains wonderfully south Florida, and that is cool as in upper 40s at night and high 70s during the day. This is exactly what we were looking for.
This was our day to tour Edison's winter estate in Ft Myers. Actually, the tour is of the Thomas Edison and Henry Ford estates in Ft Myers. This is where Edison liked to spend several months every winter. Some people are intrigued by the Edison & Ford homes while others are mesmerized by the botanical gardens on the property. The properties contain four Florida Champion Trees (largest of their kind) on the grounds. The Ford estate next door to Edison's place has the Champion Royal Palm. Edison's place has the National Champion Banyan Tree (it is the 2nd largest in the world) with the mother tree being in India. It seems that Harvey Firestone was touring the world in the 1800s when he saw the Mother Banyan tree in India and purchased a sapling from the tree for his friend Thomas Edison. The estates landscaping was filled with exotic trees, especially tropical fig trees, guava, mango and others.
National Champion Banyan Tree at Thomas Eddison Estate in Ft Myers, Florida
National Champion Banyan Tree at Thomas Eddison Estate in Ft Myers.
Ft Myers is a beautiful tropical city. The city itself has done much to promote itself as the "City of Palms". The moniker is well deserved. They have all the major streets and roads lined with royal palms. It is an impressive sight. We learned that Thomas Edison is the one who started lining streets with royal palms. One of the main roads in town bisected Edison's property back in the late 1800s. It was a dirt road that went through his property. Edison sent his gardener to Cuba to bring back some royal palms and plant them every 20' along both sides of the road on his property. The idea caught on with his neighbors and they did the same on their property. Somewhere along the line the city got involved. Now thousands upon thousands of royal palms line the streets of Ft Myers.
Farmers Market Restaurant in Ft Myers, Florida
We had several restaurants selected for lunch consideration. Joyce decided on the Farmers Market Restaurant in the 2700 block of Edison Avenue. She had read something about it featuring Southern home cooking specializing in fresh vegetables obtained from the farmers market next door. Joyce hit a home run with this selection. Their collard greens were to die for, all three of us agree on that. Everything they fixed was great but where else can you get fresh collard greens for lunch? If you like fresh vegetables fixed like grandma used to cook this is the place for you. It is not a 5-star place. In fact The Farmers Market Restaurant is housed in a nondescript concrete block building.
We met our friends Linda & Paul late in the afternoon at their motorhome in River Bend RV-Resort near Alva on state road 80, east of Ft Myers. River Bend is one of those high-end resorts catering to Class "A" Motor Coaches. It is a NEW Park with around 375 spaces. Spaces are being sold but rentals are available starting at $45 per-night and rapidly going skyward from there. Individual lots are running $100K and up. Did I say it was nice? If not let me say again; if extremely nice facilities inside a gated community, is what you are looking for River Bend RV-Resort is the place for you.
Saturday, January 17, 2004
Grandma's Grove: La Belle on the west side of Lake Okeechobee.866-472-6478 $16
We are staying in an overflow spot with water & 15amps. N26° 43.198' W81° 28.451'
A central dump is available plus a free for the picking orange & grapefruit grove.
Again today the weather was divine. Cool nights with days in the high 70s. Rumor has it that the area is expecting rain on Sunday.
We headed to Sanibel and Captiva Islands today. Sanibel is world renowned for superb shelling. It is also home to Ding Darling National Wildlife Refuge, one of the premier Refuges in the national system. We drove around neighborhoods on the south end of Sanibel admiring the lush tropical foliage in the yards. At the extreme north end of Sanibel Island is Wulfert Golf community - at least that is what I think it is called. It is located at the end of Wulfert Road. Anyway, the homes/estates bordering this golf course are on the other side of ostentatious. Every yard is manicured to perfection featuring all manner of tropical foliage. The entire community around the golf course is something to see. If you visit Sanibel Island make sure that you drive through this community.
Great Egret and snake do battle on Sanibel Island in Florida
While driving around the golf community we spotted a great egret and stopped to photograph it. The egret was 10' from the car when he grabbed an 18" snake out of the brush. The snake as you might imagine wasn't keen on being the egret's lunch. For several minutes a serious battle ensued. The egret may have been larger but the snake was determined. The snake would strike at the egret as the egret shook the snake in his long bill. The snake would wrap itself around the egret's bill and neck. At one time the egret started swallowing the snake head first but the back half of the snake wrapped itself around the egret's neck and cut off the egret's oxygen. The egret became desperate for oxygen, so much so that it rolled on the ground. We thought the egret was done for. The snake almost won but the head of the snake must have been overcome by digestive juices. The egret recovered as the snake released it's strangle hold around the egret's neck. That put the egret back in charge and the swallowing process continued. We could see the snake wiggling in the egret's neck. A great egret stands about 40" tall with a pencil thin neck that is around 15" long. The snake was still struggling as it slid down that long runway to the egret's stomach. Joyce got pictures with our digital camera. When I get a chance I will post some of them to the web site.
The egret finally won.
RC Otters Restaurant on Captiva Island, Florida
North of Sanibel is the Small Tropical Island of Captiva. Captiva is a potpourri of upscale residences and condominiums. On the north end of Captiva is a small cluster of funky tropical restaurants and condominiums. If you are not familiar with a "Tropical-motif" think of "Key West colors / bright pastels".We stopped and ate lunch at "RC Otters" one of the tropical restaurants where we dined outside under an umbrella with a musician providing Jimmy Buffet music for our dining entertainment. The food was great, the music was great, and the weather was perfect, I have my two favorite women with me - what more could I ask for?
These two pics should give you an idea of "Key West Tropical pastel colors" RC Otters is the Restaurant where we ate. In the pic with the picket fence that is Mother & Joyce eating under the umbrella.
Joyce shelling on Sanibel Island, Florida near Ft Myers
Back on Sanibel we stopped at a public beach where we went shelling. One simply can not visit Sanibel without walking on the beach and looking for shells. The beaches of Sanibel are a Sheller's delight with mounds of shells all along the beach. It is hard to know where to look since there are piles upon piles upon piles of shells all down the beach. Everyone has a bag full of shells. We moved on when Joyce tired and her bag filled.
Joyce filling her bag with shells on Sanibel Island.
We will be spending next week at Sun & Fun RV-Resort in Sarasota.
Until next time remember how good life is.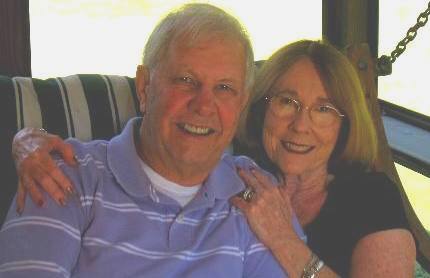 Mike & Joyce Hendrix who we are
We hope you liked this page. If you do you might be interested in some of our other Travel Adventures:
Mike & Joyce Hendrix's home page
Travel Adventures by Year ** Travel Adventures by State ** Plants ** Marine-Boats ** Geology ** Exciting Drives ** Cute Signs ** RV Subjects ** Miscellaneous Subjects
We would love to hear from you......just put "info" in the place of "FAKE" in this address: FAKE@travellogs.us
Until next time remember how good life is.