Florida from: Pensacola to Silver Springs, Land Yacht Harbor in Melbourne, Jetty Park in Cape Canaveral
Places Visited:
Florida from: Pensacola to Silver Springs, Land Yacht Harbor in Melbourne, Jetty Park in Cape Canaveral
We have been in Pensacola dealing with the aftermath of hurricane Ivan. I don't want to poor mouth too much because so many people (friends) suffered so much loss. The destruction wrought upon our house and yard is miniscule compared to those folks. However, I now have $1,700 invested in dealing with the downed trees in my yard alone and we have provided the vast majority of labor involved in getting that debris to the street. I still have a chain link fence that was crushed by a good sized sweet gum tree, a demolished bedroom window and some roof damage that have not been addressed. Someone talked with a roofer the other day and he told her he would put her on his list at number 523. I have a roofer that talks with me and says he is coming by but he hasn't shown up yet. So far he has promised to drop by 5-times. I have tarps over the bad parts of the roof. The broken window (glass & wood on the double hung window will have to be replaced)….it isn't just a "replace some glass" job. The chain link fence may get repaired in the next year or so but I wouldn't bet on it.
We are heading to south Florida for a friends wedding. While we are down there we will spend some time with Joyce's dad in Melbourne.

Now to the travelogue:
Tuesday October 12: Colby RV-Park 4-miles east of Silver Springs, Florida. $15 PPA 30-amps sewer & water-semi paved interior streets & sites: N29° 12.000' W81° 58.913'
We traveled I-10 east across the newly opened I-10 bridge over Escambia Bay. Riding across the operational bridge provides a good view of the devastation wrought upon the adjacent bridge. It is truly hard to comprehend the awesome power of nature. It looks like ½ mile of bridge will have to be replaced. The decking is GONE. Pilings are twisted in grotesque angles, these will have to be pulled and replaced.
To give you an idea of what conditions are like I-10 across Escambia Bay in Pensacola pre-Ivan consisted of two bridges, one for east bound traffic the other for west bound traffic. The east bound bridge suffered the most damage as you might imagine since it is located on the south side of the west bound bridge. When Ivan struck from the south it really battered the southern most bridge (east bound lanes). Emergency crews using BIG cranes took good deck sections from the east bound bridge and installed them where deck pieces were missing on the west bound bridge. Now the "old" west bound bridge functions as a two lane bridge funneling ALL east and west bound I-10 traffic over that single bridge. This morning around 9AM the east bound lanes were moving at a steady 45-mph with no discernable backup prior to approaching the bridge. Things were not flowing as smoothly for the west bound I-10 traffic. There appeared to be about 1-mile of backed up traffic east of the bridge where traffic was merging into one lane to get across the operable bridge. There may have been some complaints but only from those that did not know how much better that was than the horrendously slow and long detour they were avoiding.
We had planned to get diesel about 50-miles east of Pensacola. That turned out to be a BAD plan. Stations that normally sold diesel were severely damaged and many were not operating yet. There were some service stations that had diesel but we could not get into them to get our fuel they just didn't have room for the motorhome and tow car. This same destruction was at every exit until we were over 100-miles east of Pensacola. This isn't to say you can't get fuel along that stretch----you can. There just isn't a station where big motorhomes pulling vehicles or 18-wheelers can get fuel.
Fuel when we did find it was EXPENSIVE as in $2.16 for diesel. That is more than we have ever paid for diesel. I do not recall having to pay over $2.00 per-gallon on our 3-month trip this summer.
We stopped in a Pass Port America PPA Campground 4-miles east of Silver Springs, Florida for the night. We chose that because the PPA campground guide advertised it as $9.50 per-night which was cheaper that others along the way. As it turned out -----it always does-they charged $14.95 with PPA. I wasn't happy but what can I say. Their rates went up and the $14.95 was half price. I certainly wouldn't pay $30 to stay here but it appears that a bunch of snow birds do. The place looked like it had several hundred sites.
The remainder of our time in south Florida was spent dealing with a major problem with the Motor home's diesel engine. We got it to a repair shop and spent the night with Joyce's sister who lives in Indialantic the small town on the barrier island east of Melbourne. In addition we drove to West Palm Beach in our Saturn and stayed in a motel while attending a dear friend's sons wedding. We took the time on our drive to West Palm Beach and the return trip to Melbourne to view destruction caused by the two hurricanes that came ashore there.
The Atlantic seaboard from Melbourne on the north to West Palm Beach on the south experienced two hurricanes this summer and are in the throws of recovery. Hotels along the Atlantic Ocean were hammered bad and are closed. Major repair work is underway in ALL of them. Carpet, furniture and sheet rock are being replaced by the truck load. There is a booming mattress & sofa business as well as sheetrock & roofing.
Buildings along the coastline received a LOT of damage but the carnage visible on the barrier islands did not stretch inland. That is not to say they didn't receive damage inland ---they did. Inland in that area did not receive nearly as much damage as the inland areas around Pensacola. There is stark contrast to the damage we saw down there (east coast of south Florida) and what we see in and around Pensacola. There are more trees down 100 miles inland around Pensacola than there are down 1-mile inland along the Atlantic coast.
We saw more effects of the hurricanes around Orlando (downed billboards & trees/blue roofs) than we did several miles inland along the Atlantic coast. The folks living down there don't want to hear that they didn't get hit with a REAL hurricane but they need to get out of their cocoon and see what kind of destruction a REAL hurricane leaves in its wake.
After spending a few days visiting with Joyce's dad we returned to Pensacola in our Saturn leaving the motorhome with the diesel repair shop. The diesel engine will have to be replaced and that is going to take time.
XXXXXXXXXXXXXXXXXXXXXXXXXXXXXXXXXXXXXXXXXXXXXXX
Note that there is a TWO MONTH time delay in here.
XXXXXXXXXXXXXXXXXXXXXXXXXXXXXXXXXXXXXXXXXXXXXXX
This saga is continued on December 28, three days after Christmas, when we head back to Melbourne to retrieve our motorhome that now has a new diesel in it. Although it has taken several months the motorhome is like new again.
Tuesday December 28: Land Yacht Harbor RV-Park in Melbourne, Florida. $25 50-amps sewer & water-paved interior streets & sites: N28° 6.518' W80° 41.563'
After driving the Saturn over from Pensacola and retrieving our motorhome from the diesel mechanic we got settled in Land Yacht Harbor where we went about unloading the Saturn (everything we brought with us to stay for several months). We are in Melbourne to (1) Retrieve our motorhome and (2) Spend time with Joyce's dad who is in a nursing home here. (3) Spend time with Joyce's two sisters and their families, who both have RV's. We are all going to meet in Jetty Park Campground in Cape Canaveral and stay through New Years. And finally (4), when all the relatives return home Joyce and I plan to bum around South Florida until mid-February before returning to Pensacola.
I know everyone is interested in knowing what happened to our diesel engine. I would like to know more about that myself. Exactly what happened and why will never be known ----- and it might be just as well. What is CERTAIN is: there was a sudden massive loss of oil. The loss of oil caused the diesel to shut down. The massive loss of oil was "most likely" a "defective" rear seal. There had been a nagging even irritating oil leak for several thousand miles. I had the rear seal replaced in Montana this summer. The replacement reduced the oil leak but it persisted. You will remember that we had to return to Pensacola to deal with damage to our home and property from hurricane Ivan. I guess there was a grove/burr on the crank shaft that was causing the main seal to not seal properly but that is just speculation on my part. When the rear seal ----- if that is what it was------- came apart, all of the oil in my diesel drained out in a matter of minutes. That extremely dirty black oil got on everything. The Saturn was coated in that black oil as was the back end of the motorhome. Talk about a MESS, there is NO way I could ever describe how horrible the mess was. The Saturn was so trashed with that black film of oil that the oil literally dripped off it when it was sitting still.
We had to take paper towels and degreaser to even get in the doors. We had to clean the windshield so we could see out of it to drive. Our first stop was at Wal-Mart where we purchased a gallon jug of degreaser and a spray bottle. Then we found one of those car washes with hot water under pressure. After spraying the Saturn down with the degreaser we washed it down with the high pressure soapy water. Amazingly, several applications of the degreaser and high pressure soapy water got that mess off. Neither of us thought our Saturn would ever be the same again. We were wrong. It is back to normal.
The mechanics had our motorhome for almost 2 and ½ months. For what we were doing that was what I call normal. From the time the diesel actually died it was a week before we located a mechanic that would replace the diesel for a reasonable cost. The local Chevy dealer quoted $17K plus unforeseen stuff to install a new GM diesel. They did not even want to discuss a rebuilt or used diesel. The Chevy dealer had a $140 labor rate with at least 40 hours being required for the job. Simple math says that is $5,600 in just labor. I told them thanks but that I was going to look for someone cheaper.
I found a local diesel shop that serviced fleet vehicles that had a labor rate of only $70. I say ONLY because that is half what the Chevy dealer was charging. This shop also dealt with Jasper a national remanufacturer. Before ordering a remanufactured diesel he suggested that we spend some time on the internet and some of his sources looking for a used diesel. After a week or so of looking he determined that there was not a suitable used 6.5 liter GM diesel for our application available in the US. There was one in Canada but they could not, or would not, give any details about it. We decided at that time to go with a rebuilt engine from Jasper. Jasper did not have a rebuilt 6.5 liter GM diesel on the shelf. Once our mechanic placed an order for my 6.5 liter GM diesel it took two weeks for them to build it up and put it on a dynamotor to check it out. Then it had to be crated and shipped. Once installation began my mechanics determined that there were several different turbo charger arrangements on 6.5 Liter GM diesels and of course my remanufactured engine came with an application different than what was needed, that took another week or so to order and receive the correct turbo charger arrangement, then a bracket broke and that took another week or so to find-order-ship, receive and replace, then the radiator needed to be removed and a leak fixed. As you can see there was nothing unexpected, it just took time.
Wednesday December 29: Jetty Park Cape Canaveral, Florida. $24.80 30-amps & water centrally located dump site, dirt interior streets & grass sites: N28° 24.403' W80° 35.674'
We spent the better part of last night cleaning the motorhome and unloading the Saturn that contained our clothes and everything else we brought with us for the winter. We looked like the Clampet's----- at least the Saturn looked like the Clampet's truck as they were headed to Hollywood. It is hard to pack everything in a Saturn that you are going to need for spending the winter in south Florida.
By mid-afternoon we had taken Joyce's Dad to lunch and gone grocery shopping. By then we had received a phone call from Joyce's sisters wondering where we were ---everyone was waiting for us at Jetty Park in Cape Canaveral. We said good by to Pop's then fueled up the motorhome and headed to Jetty Park

Until next time remember how good life is.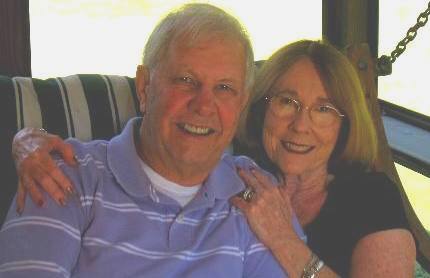 Mike & Joyce Hendrix who we are
We hope you liked this page. If you do you might be interested in some of our other Travel Adventures:
Mike & Joyce Hendrix's home page
Travel Adventures by Year ** Travel Adventures by State ** Plants ** Marine-Boats ** Geology ** Exciting Drives ** Cute Signs ** RV Subjects ** Miscellaneous Subjects
We would love to hear from you......just put "info" in the place of "FAKE" in this address: FAKE@travellogs.us
Until next time remember how good life is.