Okeechobee, Brighton Seminole Indian Reservation, Melbourne, Ocala, Micanopy, McIntosh, Gainesville, Carrabelle & Apalachicola in Florida
Places Visited:
Florida: Okeechobee, Brighton Seminole Indian Reservation, Melbourne, Ocala, Micanopy, McIntosh, Gainesville, Carrabelle & Apalachicola
Sunday, February 22, 2004
Big "O" RV Resort: Okeechobee, Florida 866-357-9619 $36 ($19.80 Passport America) full hookup. N27° 10.215' W80° 51.412'
The weather is simply fantastic, clear blue sky with a slight breeze and temperature in the low 80s. Does it get any better?
We headed back to the flea market in Okeechobee looking for more ethnic food. Today the Latino/Anglo mix was 70/30. Obviously yesterday was a work day for some of the Latino community. We ate at a Mexican place in the flea market. Their menu was in Spanish. I ended up with a gordita and Joyce got a taco. Neither was anything like Taco Bell. Both had small chunks of meat instead of ground beef and were copiously garnished with cilantro. The thick wrapping was made from ground corn not flour. I like the Baja beef gordita from Taco Bell better.
We tried three different ethnic drinks today; rice, cantaloupe and watermelon. The cantaloupe and watermelon drinks were made by putting melon meat through a blender and adding sugar. They were good. I have no idea how they made the rice drink. To me it had the taste of sweet cocoanut. The color is opaque white. We both agreed that "rice-drink" was something good enough to be addicting. I have no idea how they make rice-drink. It does not have pulp in it like the watermelon, cantaloupe and tamarind. Do any of you know anything about making these drinks, especially the rice drink? We will also entertain suggestions on the preparation of plantain and yucca root also.
We stopped by Okee Tantee County (Park, RV-Park and Marina) on our way home thinking there might be a fishing tournament. The tournament bass fishermen had been replaced by meat hunting crappie fishermen-no catch and release here. The cleaning station was crowded with men filleting their limits of crappie. Most of the men at the table were using electric knives to filet their catch. Everyone had their limit, someone responded to a question on that subject by saying no one comes in without a limit, it just takes some longer than others---snerk, snerk. There were so many wood storks and herons ganged around the table begging for scraps the place looked like a chicken yard. Men were disposing of crappie heads & backbones in a 55-gallon drum while feeding rib-cages and skin to the birds in a time rehearsed ritual. I suppose someone from the park comes by to dispose of the 55-gallon drums of heads and backbones every day (heads with attached backbones are too large for the birds to safely swallow without getting a bone lodged in their neck). One thing for certain is they don't want to dispose of them around the marina. That would be a gigantic alligator magnet. I would imagine that by the time all the fish are cleaned today there will be 3 to 5 of those 55-gallon drums of heads & backbones to be emptied.
Monday, February 23, 2004
Big "O" RV Resort, Okeechobee, Florida: 866-357-9619 $36 ($19.80 Passport America) full hookup. N27° 10.215' W80° 51.412'
What a beautiful day. The sun was shining, birds singing and snowbirds were being drawn to the Parks pool like rednecks to Wal-Mart.
We made this a down day spent just bumming around the park except for one short excursion to the Okeechobee cattle auction. The place intrigues me. I found a snowbird from Kentucky at the auction that was a cattle rancher wintering down here. He likes to drop by the auction to stay in tune with the market. He helped me understand more of what was going on.
Several buyers were representing packing houses (one out of Georgia). Several buyers were purchasing small steers & heifers to transport to feed lots in the mid-west while a few ranchers were looking for a good bull or possibly some heifers.
There is a LOT I don't know and don't understand about the business. Understanding what the auctioneer says is another mystery. It seemed to me that large cattle -- as in full grown bulls and other 1,000 pound plus animals were bringing .55 cents per-pound. Worn out dairy cows heading to slaughter (as in Mac Donald's) were bringing .45 cents per-pound. While heifers in the 200-400 pound range were bringing $1.00 per-pound. Steers in the 200-400 pound range were bringing $1.25 or more.
A mind is a terrible thing to confuse but I don't get it. If you pay $500.00 (400lbs * $1.25) for a steer to take to a feed lot or grazing range expecting to sell it when it reaches 1,000 pounds for $.55 per-pound or $550.00 where is the profit? They must be selling for more than these buyers are paying for the big bulls and cows selling here for the slaughter market.
Someone that understands the business better than me can certainly shed some light on this mystery. TIA (Thanks In Advance)
Tuesday, February 24, 2004
Land Yacht Harbor: Melbourne, Florida -- N28° 06.550' W80° 41.650' $25 Full hookup
We packed up and moved to Melbourne today. It is only a 95-mile drive from Okeechobee to Melbourne. The drive could have been a few miles shorter via I-95 but we opted to travel north on U.S. 441 then east on U.S. 192 to Melbourne. For us the "local" flavor has been lost on interstates. Unless we are in a hurry we prefer to travel on red and blue highways. Traveling north on U.S. 441 today was rewarding in that we traveled through remote sections of Florida.
The tiny community of Fort Drum, north of Okeechobee, has several "overnight" boondocking opportunities. Ft. Drum has a General Store with a boondocking lot and the Fort Drum Diner had a large lot suitable for boondocking.
North of Fort Drum we spotted a flock of 7 or 8 wild turkeys feeding in the right-of-way on the side of the road. That is a normal sight in the Hill Country of Texas but unexpected down here.
At the intersection of U.S. 441 and State Road 60 in the middle of nowhere is the Desert Inn-a small restaurant and Inn. A big sign outside the place advertises that it is on the National Register of Historic Places. It was an interesting looking place and we will plan to stop here in the future. There was parking for big rigs and 18-wheelers across the street.
Along U.S. 441 we traversed prairies dotted with cypress domes and intermittent hardwood hammocks. Visually we stopped seeing as many wading birds but started seeing more sand hill cranes, always in pairs.
One mile before reaching I-95 in Melbourne we ran into a dense cloud of love bugs, that one-mile swath of love bugs devastated the front of our motorhome. Thankfully, we were within 5-miles of our RV-Park. One of the first things we did upon reaching the RV-Park was wash those wretched sticky globs off the paint and windshield. Now I am dreading our trek across Central Florida when we start heading home later this week.
I would be remiss if I did not mention that it rained today. Actually, the wind blew warm moist air from the southwest until 3:30 this afternoon. At that time ominous black clouds rolled in from the west and the winds shifted to blowing out of the northwest. It rained hard for 45-minutes then started drizzling. With the rain and heavy cloud cover temperatures dropped into the low 60s. It looks like our 80-degree weather will not return until this system passes.
Wednesday & Thursday February 25 & 26th, 2004
Land Yacht Harbor: Melbourne, Florida -- N28° 06.550' W80° 41.650' $25 Full hookup
It rained a slow drizzle all night that continued throughout the day. High temperatures today only made it to the mid-70s. A stiff breeze made it feel chilly even though temperatures made it to the mid-70s. It is scheduled to rain all night.
Around noon on Wednesday the rain clouds disappeared and were replaced by clear blue sky.
We spent both days with Joyce's Dad.
Friday, February 27, 2004
Grand Lake RV and Golf Resort: 10-miles north of Ocala full hookup "resort" 10-10-10 park for you RV'ers $31 per-night. N 29° 25.50 W 82 12.19°
We pointed the motorhome north and west today. Within a week or so we will be back in Pensacola and this journey will be completed. Our destination today was Ocala in the north central part of Florida. We started out in Melbourne on Florida's east coast. The 138 miles we traveled today is pure driving misery. We could either take $20 worth of toll roads from Melbourne to I-75 west of Orlando then I-95 north to Ocala or we could take U.S. 192 west thru Kissimmee & St Cloud past Disney World to U.S. 27 and take U.S. 27 north to Ocala. When we left Melbourne our plan was to lunch with several friends staying just south of Disney World, otherwise we would have taken the toll roads instead of U.S. 192. We were not in a hurry and chose not to take the toll roads. Thank goodness we weren't in a hurry! It took around 3-hours longer to make the 138-mile trip. It is a 2-hour trip on the toll roads and I-95 yet it took us 5-hours in the middle of the day. I shudder to think what it would have taken during rush hour traffic. The information I am trying to impart is: The traffic anywhere around Orlando and that part of Central Florida is simply terrible. Gridlock would be more appropriate. If you want to get anywhere fast---take toll roads.
As we neared St Cloud on U.S. 192 we spotted two wild turkeys feeding beside the road. Other that these turkeys we did not see any other unusual wildlife until after we got to Ocala. We will discuss that shortly.
On our way to Pensacola we plan to visit with 5-couples/individuals many of which are virtual friends (as in internet friends). Staying in contact with friends moving around in RVs is an inexact science. As a rule we know where each other are in general terms. Actually, we know things like they are wintering in Florida or even Central Florida. Arranging a get together under these circumstances takes copious amounts of luck, persistence, multiple e-mails and finally the cell-phone.
After getting settled into the RV-Park north of Ocala we headed to Hunter's place.

Hunter just happens to be the first of these friends we are getting up with. We called Hunter on the cell phone and she said "come on out, she was waiting on us". We actually missed the first group of friends when we didn't stop and have lunch with them as we passed Disney World earlier today.
Hunter is a virtual friend I met years ago on the RV-newsgroup. Hunter is an interesting well written, well traveled individual full-timing in her Airstream. She writes about her travels like I do. You can read about her 2003 travels at: http://members.aol.com/arstm2268/roadtrip2003.htm
Hunter is spending the winter in Ocala on the farm of a friend. The small farm has a menagerie of animals and wildlife. One of the most spectacular is a pair of breeding bald eagles. The farm has horses, donkeys, ponies, sheep and a multitude of border collies (sheep dogs). Then there is a pond stocked with bream & bass (hand fed daily) a gaggle of geese, four wild merganser ducks and any number of tame ducks. Pileated woodpeckers and a number of herons were also making their presence known. Then there was that pair of bald eagles nesting in a big pine tree near the lake. It would have been hard to pack more tame and wild life into a zoo.
Nesting pair of bald eagles in Ocala, Florida
It was good to put a face with a name, especially one that I have communicated with over the years. We give Hunter our thanks for giving us the royal tour and sharing her eagles with us.
Hunter took this picture of her eagles and is allowing me to post it. Thanks Hunter!
This was a good day. We traveled across Central Florida, we met Hunter and we got to tour the farm and see her eagles. The weather was all we would change. It was cold. I am not sure how cold it has been but something tells me that the high temperature today was less than 50. This is the coldest weather we have seen all winter. The 10 PM weather said that this was the coldest day in Central Florida in 4-years. Remember that we are now in north Central Florida not South Florida.
Saturday, February 28, 2004
Grand Lake RV and Golf Resort: 10-miles north of Ocala full hookup "resort" 10-10-10 park for you RV'ers $31 per-night. N 29° 25.50 W 82 12.19°

Temperatures dropped into the high 30s last night but rebounded to almost 70 by mid-afternoon. It is supposed to be back in the 80s in a few days.
We are in Grand Lake RV and Golf Resort because this is the RV-Park that virtual friends Larry & Cindy Gobin were staying in. We spent much of the day with Larry and Cindy. They are the second of our virtual friends that we are getting together with on our way home. We actually missed spending time with two couples (Big Al & Cathy and Fred & Nancy). I used to work with them back in Pensacola. Joyce and I were planning on stopping by and having lunch with them yesterday when we passed by Disney World. That did not happen. We were so agitated by the terrible traffic that we passed them by in favor of making Ocala before "rush-hour" traffic.
We crossed paths with Larry & Cindy in Louisiana, December a year ago then again in January of this year in Venice, Florida. Larry and Cindy are from Rhode Island but now fulltime in their motorhome. We like spending time with them they are so much like us.
In our Saturn the four of us headed to the small town of Micanopy, a quaint "old" Florida town that has transformed itself into an antique shopper's mecca. Antiques may not be an appropriate label----"junque" would be more descriptive. Our girls ambled thru the junque shops while Larry and I obediently tagged along. Eventually, the girls tired of their sport. Then we piled into the Saturn and headed to Payne's Prairie State Park. From an observation tower in the park, overlooking the prairie, we searched for bison, wild Spanish cattle and wild Spanish horses. We were able to see 4 or 5 wild horses but did not spot any bison or cattle.
On the way home, as we neared the small town of McIntosh, several signs caught our eye. The first sign "welcomed us to McIntosh a Victorian town" the next was one of those small brown signs denoting McIntosh Historic District or some such. On a whim we turned down a side street. After all, we weren't in a hurry. What a surprise. Yes, there were beautifully refurbished Victorian homes. However, it was the ancient live oak trees with immense arms reaching over the road that captured our imagination. These beautiful trees were romantically draped in Spanish moss. Bright green resurrection fern lined the upper surface of massive horizontal limbs. The afternoon sun cast lazy shadows through the canopy creating a tantalizing feeling of solitude. Tall, slim cabbage palms were interspersed among the oaks. Cindy commented on the philodendron vines climbing many of the palms. We all noted how local planners routed streets around noble ancient oak trees. It is obvious that this town has been preserving their vintage buildings. They have also done a magnificent job of protecting and caring for the ancient live oaks. There is certain serendipity to the way this whimsical side trip turned out.
It was a great day. The weather warmed up to comfortable temperatures. The sky was clear blue. We spent the day with good friends. What more could we ask for?
Sunday, February 29, 2004
Grand Lake RV and Golf Resort: 10-miles north of Ocala full hookup "resort" 10-10-10 park for you RV'ers $31 per-night. N 29° 25.50 W 82 12.19°

This is leap year thus the extra day in February. We have a friend back in Pensacola that was born on February 29. She has been breathing almost as long as Joyce and I but seeing as how she was a leap year baby we were thinking she might be celebrating her 12th or 13th birthday-happy Birthday Karen. VBG
The weather was beautiful with temperatures in the 70s. The memory of that terribly cold day is almost behind us. I met a man downloading e-mail this morning that said he had to fly back to Chicago the other day. When he boarded the plane in Chicago, for his return flight, it was 45°. When the pilot came on the intercom system as they were about to land in Orlando---you guessed it-----he announced the temperature in Orlando was 45°. Like I said earlier it was the coldest day in the area in 4-years. Yesterday everyone was back in shorts and T-shirts.
We met Bruce and Anthe Hoffman for lunch in Gainesville. Bruce and I went to High School together back in the early 60s. He is now a prominent attorney in Gainesville and Anthe works for the University of Florida in the grants department. We stop by and renew friendships from time to time when we are traversing thru Central Florida. It is always enjoyable spending time catching up on what has transpired in our lives. Friends are friends forever.
Gainesville is so different from south Florida. Gainesville is a college town. The average age looks to be 20. South of Gainesville the average age must be 75. It is refreshing to see all these young folks.
Other changes are apparent in the area around Micanopy, McIntosh and Gainesville. Redbud and plum trees have burst upon the scene visually announcing the arrival of spring. Meadow larks and killdeer are abundant in pastures. We are starting to see a smattering of robins. Something tells me the robins are stragglers and the majority are several hundred miles north. The abundance of wading birds, so prevalent in south Florida, has thinned out. We hear sandhill cranes in the RV-Park but can not see them. They are somewhere on the grasslands where Orange Lake once was, more on Orange Lake in a moment.
The RV-Park we are staying in was constructed on the Shore of Orange Lake. Two years ago a sinkhole drained the lake in a matter of days. The drained lake quickly became a prairie or grassland. Governmental wrangling has ensued since the sinkhole incident. Some want to let nature take its course while others want to build a retaining wall/dam around the sinkhole and let the lake refill. The issue has been stalemated. Recently, it seems that the sinkhole got plugged with debris on its own and the lake is slowly refilling. For those of you not familiar with Orange Lake it is not a small lake or pond. Orange lake is around 15-miles in length and from one to two miles wide. You can bet owners of "lake-front" property wanted to do what was necessary to return water to the lake. I wonder if their tax assessments were reduced since the property was no longer waterfront.
When we got back to the motorhome around 7:00 Joyce found a "care-package" on the motorhome steps. It was fresh strawberries and books. Our friends Larry and Cindy had stopped by. What did I just say about friends being friends forever? Thanks Cindy.
Monday, March 1, 2004
Ho Hum RV-Park, on the Gulf of Mexico in Carrabelle, Florida. Full hookup $24.80.
N29° 52.29 W84° 36.55
We headed north and west this morning toward Carrabelle a small fishing town in the Big Bend (where the peninsula of Florida connects to the panhandle). This remote area on the Gulf is quickly becoming a bedroom community of Tallahassee. We are stopping in Carrabelle to visit with Canadian (Nova Scotia) friends who are wintering there.
As we traveled west toward Chiefland we began to see more and more evidence of last week's torrential rain. This area received upwards of 5" of rain in one day alone. As we neared Perry standing water alongside the road and in swampy lowlands gave stark testament to the severity of that rain. From Perry eastward on U.S.98 the tremendous amount of standing water gradually subsided.
As always we stopped for lunch at the Chaparral Steak House in Perry. This has become one of the things we look forward to experiencing when we pass through Perry on our way to south/Central Florida. Today was no exception.
The first thing we saw upon pulling into Ho Hum RV-Park in Carrabelle was Blue birds… Preston & Betti-Ann had told us about the abundant bird life in the park. We had expected shore birds not blue birds! Several pairs of these pretty little birds were operating in "exclusive" territories where only they know the boundary. A large raft of red head ducks fed in the shallow water in front of the RV-Park during our entire stay. Several laughing gulls were continuously caterwauling making much ado about absolutely nothing. It kind of reminded me of several individuals I know, always screeching about this and that. Have you ever noticed a large group of birds can gather along the shore and all the dissonant noise is made by the two or three gulls? The next time you are in a social grouping see if you can pick out the "gulls".
This park is one of the few parks in Florida that have true "water-front" sites. They have about 20 spots where motorhomes can pull in facing the Gulf of Mexico lapping the shoreline 10-feet outside their front window. When storms blow in off the Gulf they have to move until the storm subsides. They are that close to the water. Needless to say snowbirds, like Preston & Betti-Ann, homestead these spots for the winter.
Preston, the effervescent life of the party, put together a good size group from the RV-Park to dine at a local spot. Preston and I even found a newly arrived couple and invited them to join us. As it turned out the entire group turned out to be extroverts. Thankfully, the restaurant was not busy; otherwise our boisterous "crowd" would have run a more reserved group out of the place. We had our run of the place. We were all RV'ers and did what you would expect RV'ers to do----- we exchanged favorite places to visit and recommended/badmouthed RV-Parks.
As if we hadn't enjoyed each others company enough seven of the dinner bunch got together in the Park's rec'room and played cards until midnight.
Tuesday, March 2, 2004
Our driveway in Pensacola, Florida. We are home.
We spent some time socializing with Preston & Betti-Ann before saying our good-bys and continuing our journey west and home. Joyce is always plotting ahead, today was no exception. Shortly after getting on the road Joyce casually says "how would you like to stop in Apalachicola and have lunch at the Apalachicola Seafood Grill". Dah!--Like she does not know the answer to that question. I don't know if you are reading between the lines yet. Don't feel bad if you have not realized the REAL reason we stopped in Apalachicola, I didn't realize either. At least not until we started out of the restaurant after lunch-that is when she purred "I am going to look around in the shops, you don't mind do you?" BAM!!!! Like a deer caught in the headlights. That is when my mind put things together. Joyce had cunningly planned this long before we headed out of the RV-Park this morning. That leaves me to wonder if I will remember this ploy the next time we are headed to Apalachicola--probably not!
We stopped by Panama City and visited with Mother and my brother-in-law then said our good-bys and headed for Pensacola and home.
There is nothing like arriving in Pensacola and having your grandson standing in the yard waiting for you. It doesn't get any better.
This is all until we head out in early May to do the Lewis & Clark Trail. If anyone is planning on doing the Lewis & Clark Trail let us know we may be able share notes and possibly get together along the way.

Until next time remember how good life is.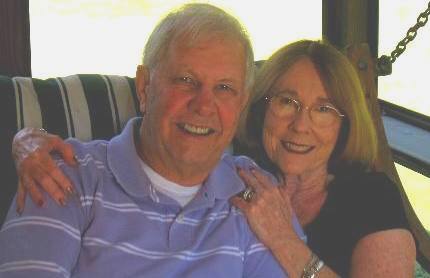 Mike & Joyce Hendrix who we are
We hope you liked this page. If you do you might be interested in some of our other Travel Adventures:
Mike & Joyce Hendrix's home page
Travel Adventures by Year ** Travel Adventures by State ** Plants ** Marine-Boats ** Geology ** Exciting Drives ** Cute Signs ** RV Subjects ** Miscellaneous Subjects
We would love to hear from you......just put "info" in the place of "FAKE" in this address: FAKE@travellogs.us
Until next time remember how good life is.