Ft Myers, La Belle, Grandma's Grove RV-Park, Ding Darling, Manatee Park Ft Myers, Gatorama in Palmdale, Belle Glade & South Bay, Okeechobee, Brighton Seminole Indian Reservation in South Florida
Places Visited:
Florida: Ft Myers, La Belle, Grandma's Grove RV-Park, Ding Darling, Manatee Park Ft Myers, Gatorama in Palmdale, Belle Glade & South Bay, Okeechobee, Brighton Seminole Indian Reservation.
Monday, February 16, 2004
Grandma's Grove, La Belle (25-miles east of Ft Myers) N26° 44.190' W81° 28.753'
$16 for "overflow site" 15 amps & water---central dump available
It turned cool last night and only got into the low 70s for a high today. We dressed in long sleeves and jeans as we headed out.
Our first stop today was Manatee Park on state highway 80 just east of I-75 in Ft Myers. The warm "cooling-water" exiting a power generating plant attracts manatee every winter. For those of you not familiar with manatees they are tropical, vegetarian, mammals, or "sea cows". Historically, when the temperature in salt water estuaries became too cold, manatee historically migrated up rivers to fresh-water-springs. Spring water stays a constant temperature, generally around 70-degrees. With the advent of electrical power generating plants another source of warm water was available during the winter. Now manatee also winter in the warm outflow of power generating plants around the state. Ft Myers has provided a nice city park (Manatee Park) along the warm outflow from the local electrical generating plant. It is a good place to watch manatee if you are in Ft Myers during the winter.
We lunched at the Farmer's Market restaurant on Edison Street in Ft Myers again today. This is the third time we have dined at this restaurant in 2004. We are attracted to the variety of fresh vegetables on their menu.
After lunch we toured a small citrus processing facility. The tour was barely OK. The plant was washing and waxing fresh Indian River fruit. They box, bag & ship a wide variety of citrus from their retail store. Citrus that did not have near perfect eye appeal was diverted to a juicing operation. We watched this small juicing operation produce about 4-gallons per-minute. They only juice between 10:00 AM and 3:00 PM. We enjoyed the free fresh juice almost as much as watching the man fill gallon "milk-jugs" with fresh orange juice. Actually, all the "tour" got to see was a movie. Prior to the "tour" we watched a machine wash fresh oranges then a man putting lids on gallon jugs full of orange juice. This wasn't particularly exciting so I am not advising anyone to go out of their way for this tour.
Tuesday, February 17, 2004
Grandma's Grove, La Belle (25-miles east of Ft Myers) N26° 44.190' W81° 28.753'
$16 for "overflow site" 15 amps & water---central dump available
We awoke to another cool day. It was overcast but not raining. The high temperature was probably in the high 60s with a stiff wind blowing making it feel much cooler. All but the most die-hard snowbirds opted for long pants and sweatshirts.
Ding Darling NWR (National Wildlife Refuge) on Sanibel Island was our destination. We have missed Ding Darling NWR on two previous excursions to Sanibel Island this year, but not today. The 4-mile Wildlife Drive through Ding Darlings pristine natural ecosystem was what we wanted to experience. We spent over 3-hours on our 4-mile drive. It was more than anything we could have asked for and more. Hundreds if not thousands of wading birds and ducks were in plain view. Besides the sheer numbers of birds the variety of different species was spectacular. The Temperature was so cool that alligators were not out sunning. A few tourists were disappointed since all they wanted to see was alligator.
Don't be concerned about the location of Ding Darling NWR, if you visit Sanibel Island you will drive by it.
Wednesday, February 18, 2004
Grandma's Grove, La Belle (25-miles east of Ft Myers) N26° 44.190' W81° 28.753'
$16 for "overflow site" 15 amps & water---central dump available
It was chilly again this morning. I don't think the high temperature today got above 65-degrees.
Our outing today was to Gatorama a commercial attraction 15-miles north of La Belle near the small town of Palmdale. Gatorama is in the business of farming alligators and crocodiles. Alligator farming has been legal in Florida since 1986. To protect alligators in the wild, farms and management programs were established to raise alligators for harvest, while allowing the wild population to increase in size. The State of Florida regulates farming and harvest of alligators and the sale of its products and by-products. The Gatorama farming operation provides alligator & crocodile hides for leather goods and alligator meat for human consumption. If you are interested in these products they are available for shipment by calling 863-675-0623.
Gatorama makes much ado about having the only breeding colony of rare and endangered American Crocodiles in the country. This colony of crocodiles was introduced to Gatorama in the mid 1960s before crocodiles were listed as an endangered species. Gatorama has something to boast about with all the huge crocodiles they have on display.
Gatorama has been around since Moses------Not actually but it has been here since 1956 making it one of Florida's oldest tourist stops. They claim to have the largest exhibit of "LARGE" alligators and crocodiles anywhere. After walking through their 15-acre viewing area I tend to agree with them. They had a LOT of 13' plus alligators and crocodiles. We have seen a few of that size from time to time but today we were able to see 20 to 30 of those 13-foot plus reptiles at one time. If it is big alligators that you want to see this is the place for you.
Alligators sunning themselves in Gatorama
Gatorama N26° 54.962 W81° 16.977 is located "off the beaten" path about 15-miles west of Moore Haven on US-27. Or if you are coming from the Ft Myers/La Belle area take SR-29 north out of La Bell to US-27 then east about 1.5-miles on US-27.
We chanced upon an unadvertised RV-Park in Palmdale today. Fisheating Creek Campground N26° 56.278 W81° 19.133 is operated by a concessionaire for the Florida Game and Fish Commission. The RV-Park is a nice full hookup park for $25 per-night but only had around 3-rigs in the campground. If it was run by the Florida State Park System the place would be full. The Game and Fish Commission appears to be as inept at running a campground as they are enforcing fishing laws. This should not surprise anyone from Florida.
Now on the positive side you can contact this campground at 863-675-7855 or fishe@strato.net or http://www.fisheatingcreek.com they could be your answer to a few days of relatively cheap camping in an area otherwise filled to overflowing. Fisheating creek is one of the most pristine rivers in Florida. It is wildly acclaimed for its freshwater fishing as well as canoeing activities. You can rent canoes in the park and the concessionaire will take you and your canoe upriver so that you can paddle your way back to the park.
Thursday, February 19, 2004
Grandma's Grove, La Belle (25-miles east of Ft Myers) N26° 44.190' W81° 28.753'
$16 for "overflow site" 15 amps & water---central dump available.
It was cool this morning but temperatures quickly climbed to the mid or upper 70s by noon.
Joyce decided that we were going to head east to Belle Glade today. We had read about Belle Glade and the surrounding area but needed to visit in order to fully appreciate the area.
We traveled east on SR-80 to Clewiston then southeast on US-27 to South Bay and Belle Glade. The area is predominately sugar cane but truck farming also has a strong presence. Interspersed between sugar cane fields were corn fields. Some fields of corn were 6" high while others were 3' to 4' tall with tassels. It won't be long until sweet corn is on its way to market from here. In Belle Glade we saw an 18-wheel tractor trailer rig loaded with fresh green beans. We have never seen a tractor trailer rig overflowing with green beans. That was more green beans than I could imagine.
On US-27 south of Clewiston we stumbled upon John Stretch Park (N26° 41.626 W80° 48.829) a nice, extremely large, day park with a free dump station. The Park does not allow overnight parking.
Then in South Bay we found a new County RV-Park. South Bay RV Campground N26° 40.868 W80° 43.863 is located on US-27 one-mile north of the small town of South Bay. This is an extremely nice park for a "County" park. The park has 72 paved RV sites each with grill & picnic table, cable TV, water, 30/50amp electrical. A "honey-wagon" service is available twice weekly for $6.50 or you can use the central dump station, all for $16.50: 561-992-9045.
In Belle Glade we checked out the Belle Glade City RV-Park 26° 42.306 80° 43.097 located on Torry Island two miles from downtown Belle Glade. This park has 370 sites most of which are full hookup with the others having electricity and water with free "honey-wagon" service all for $17.60. Virtually everyone in this park has a boat parked in a canal behind their RV. We liked this park as well as the county park at South Bay although this park did not have paved pads for each site. We will be spending time in these parks in the coming years. Those contemplating spending time at one of these parks needs to keep in mind that South Bay and Belle Glade are not destination resort communities. Agriculture is the backbone of their economy. RV'ers are attracted by the relatively cheap RV-Park rates and excellent fishing. The park even has its own natural charm with a mother pig & piglets roaming the park, large alligators sunning on the banks behind RVs and a plethora of wading birds wandering through the sites.
Alligator sunning behind RV in the Belle Glade City RV-Park
This Gator was behind one of the RVs in Belle Glade City RV-Park
We have been through Clewiston at least three times while wintering down here this year. Each time we visit we get a chuckle out of signs posted in a large pasture on U.S. 27 a few miles west of town. The signs "Tame Deer Do Not Harm" are posted every ¼-mile for 3 to 4 miles. We did see deer mingling with cattle in the pastures around those signs. I wonder if the signs have any effect on the areas rednecks.
Friday, February 20, 2004
Big "O" RV Resort 866-357-9619 $36 ($19.80 Passport America) full hookup.
N27° 10.215' W80° 51.412'
After spending several weeks in La Belle we moved 58-miles north to Okeechobee today. We have been without an internet connection for two weeks except for one day that we were able to download at Paul & Linda's place a week ago. I was looking forward to that communication link.
Once we got settled into the new park in Okeechobee, Joyce did laundry and I downloaded e-mail. How is that for an exciting day?
Saturday, February 21, 2004
Big "O" RV Resort: Okeechobee, Florida: 866-357-9619 $36 ($19.80 Passport America) full hookup. N27° 10.215' W80° 51.412'
This was a beautiful day with high temperatures reaching the low 80s.
We drove into Okeechobee this morning so we could experience the big event that occurs on Saturday mornings in Okeechobee and that would be the giant flea market. We are not flea market oriented but other forms of entertainment was lacking this morning. Unlike the corner flea market in La Belle this flea market was a good mix of Anglo and Latin venders but these Latin vendors could communicate in English.
We stopped at one of the Latin food vendors to sample some ethnic food. They were serving fresh rice-drink, tamarind tea, lemonade and cantaloupe drink. I got a large tamarind tea. I remember drinking tamarind tea in a small taqueria in Texas a few years ago. Joyce and I also see the tamarind bean pods in grocery stores from time to time, but have never purchased any to make tamarind tea at home.
This place was also selling bowls of fresh fruit like mango and jicama. We were familiar with mango but not jicama, pronounced He-ke-ma. According to Webster's jicama is: "an edible starchy tuberous root of a leguminous tropical American vine". Jicama roots look very much like a large potato. At a nearby produce stand we purchased one jicama and discussed how to prepare it with a personable Latin sales girl. Even though it is a tuber they consider it to be a fruit. They peal it like we do a potato then chunk it into ½ inch squares and eat the squares like pear or apple. At home we pealed and chunked it. Aside from being a little sweet there was no discernable taste. The flesh was the consistency of a potato, cooking pear or apple but did not drip juice when cut.
We also purchased one plantain. A plantain is a type of banana, the fruit being a bit larger than the bananas we are used to. The greenish starchy fruit of the plantain is a staple food in the tropics. To my knowledge plantains are not normally eaten raw like we do banana. We have experienced fried plantains several times and decided that we would prepare ours in that manner. When frying plantains you have to decide if you are going to cut them crosswise where the fried product will resemble a potato chip or lengthwise so that the result resembles a French fry. We both liked the ones cut to resemble French fries so that is the way I cut our plantain. Our plantain is good. They have the consistency of French fries but taste a bit sweet. Joyce says they taste like fried sweet potatoes, I yield to Joyce but fried sweet potatoes do not taste sweet to me.
We also got four ears of fresh sweet corn. The other day when visiting Belle Glade we saw some corn in the field that looked like it would be harvestable before long. There are obviously some fields we have not seen. They said the corn was local and at 4 for $1.00 I suppose it is.
Near Lakeport, 20-miles southeast of Okeechobee, is the Brighton Seminole Indian Reservation. The Tribe is hosting a professional PRCA rodeo on the Reservation this weekend. They were having festivities this afternoon featuring things like alligator wrestling and a variety of ethnic foods. We did not attend any of the festivities choosing instead to wait until dark for the rodeo.
As we neared the rodeo, 3-miles north of Lakeport on SR-721, we passed a Trading Post, Casino and RV-Park N27° 02.47 W81° 04.17 run by the Brighton Seminole Indian Reservation. Try phoning 863-763-4128 to get information about the RV-Park. The RV-Park looked nice enough from the highway but we did not drive through and inspect it. I suspect they had vacancies.
This rodeo was like all rodeos we attended---extremely patriotic. Tonight's program was dedicated to the brave men and women of our military over in Afghanistan and Iraq. The extreme patriotism displayed is an enigma when the history of the Seminole nation and this reservation is considered.
Brighton Reservation and the Tribe's association with the cattle industry is evident. More cows than people live on this 35,805-acre chunk of cattle range and cabbage palm hammocks on the northwestern side of Lake Okeechobee.
Numerous Seminole camps were erected in this area of Florida after the Third Seminole War by the Muskogee-speaking segment of Seminole Indians. These camps were located on lands not desired yet by white owners and were scattered from the current Reservation, around the top of Lake Okeechobee and over as far as Indiantown. By the 1930s however, the "progress" of civilization began to pressure Seminoles. This situation was best articulated in a petition delivered by Seminole leaders to top U.S. Indian officials visiting West Palm Beach in 1935: "We have learned from our forefathers of the losses of our people in the Seminole War, and during recent years have witnessed the coming of the white man into the least remnant of our homeland."
"We have seen them drain our lakes and waterways, cultivate our fields, harvest our forests, kill our game, and take possession of our hunting grounds and homes. We have found that it now grows more and more difficult to provide food and clothing for our wives and children."
Responding to the plight of the Seminole "Cow Creeks," a 2500-acre tract of land known as Indian Prairie was purchased and set aside for the Seminoles. Within three years, federal funding and state land-exchange programs had increased Brighton Reservation to its present 35,805 acres. Around the same time, during a serious drought in the Southwestern United States, several hundred head of starving cattle were rescued by federal officials and moved to the Brighton lands via a large overland cattle drive. Though most died en route, the survivors formed the nucleus of the Tribe's first significant economic enterprise. The Seminole have been in the cattle industry for half a century and have become one of the major cattle producers in the southeastern part of the nation. In recent years, they have expanded into other areas, such as citrus groves, sugar cane development, turtle farming & processing and raising hogs. Today, the Brighton Reservation is a peaceful, pastoral community of around 500 residents, many of them cattle ranchers and farmers.
If we are in this area next winter we will probably stay in the RV-Park on the Reservation and enjoy all the festivities leading up to the annual rodeo.

Until next time remember how good life is.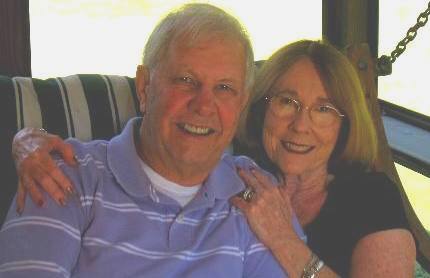 Mike & Joyce Hendrix who we are
We hope you liked this page. If you do you might be interested in some of our other Travel Adventures:
Mike & Joyce Hendrix's home page
Travel Adventures by Year ** Travel Adventures by State ** Plants ** Marine-Boats ** Geology ** Exciting Drives ** Cute Signs ** RV Subjects ** Miscellaneous Subjects
We would love to hear from you......just put "info" in the place of "FAKE" in this address: FAKE@travellogs.us
Until next time remember how good life is.