Ft Myers, La Belle, Grandma's Grove RV-Park, Jug Creek Nature Boat Cruise, Pine Island, Bokeelia Island, Cayo Costa, North Captiva Island, Useppa Island, Pine Island sound, Everglades City, Chokoloskee, Naples, ECHO, Lakeport in Florida
Places Visited:
Florida: Ft Myers, La Belle, Grandma's Grove RV-Park, Jug Creek Nature Boat Cruise, Pine Island, Bokeelia Island, Cayo Costa, North Captiva Island, Useppa Island, Pine Island sound, Everglades City, Chokoloskee, Naples, ECHO, Lakeport
Tuesday, February 10, 2004
Grandma's Grove, La Belle (25-miles east of Ft Myers) N26° 44.190' W81° 28.753'
$16 for "overflow site" 15 amps & water---central dump available
This was another full day for us and the weather cooperated beautifully with afternoon temperatures reaching the mid-80s. As we were driving home the radio reported 82 degrees at 6:30PM so it had to be warmer than that around 3:00.
We spent our day on the "Jug Creek-Nature Cruise Boat" N26° 42.010 W82° 08.972. The cruise boat was a 30' pontoon boat powered by twin 90-hp outboard motors. Our cruise left at 9:30 AM out of Jug Creek Marina on Bokeelia Island/Pine Island. It was a 51-mile drive from where our motorhome is in La Belle. We had to leave the motorhome around 7:30 this morning in order to make it on time. Thankfully, we arrived a few minutes early and had time to look around the dock area which is always interesting for me. This is a big commercial fishing area and many of the boats are outfitted for a variety of commercial fishing operations from netting to crabbing, shrimping and clam harvesting.
The Nature Cruise was a 7-hour adventure. We first motored over to Cayo Costa a barrier island owned mostly by the State of Florida and operated as a State Park. The only way to get to this island is by boat. Some of our passengers disembarked on Cayo Costa and spent the day shelling, sunning and fishing on the beach side. After dropping those passengers off our cruise boat continued on exploring around a number of small islands some with houses others without, some owned by the state others in private ownership. Some islands were rookeries with lots of wildlife. One island could have been called Osprey Island because it supported an incredible number of the bird's aeries. The ospreys were nesting in dead Australian pine trees. Ospreys only nest in dead trees or on man-made platforms. The state of Florida has poisoned the large Australian pines on this particular island resulting in a tremendous number of nesting platforms. Don't feel bad for the Australian pines they are an introduced tree that has taken over large areas of Southern Florida. They crowd out beneficial native plants thus the states eradication program.
At one point we pulled into a cove, on one of these small islands, named "school house" cove. The moniker is a hold over from the early 1900s when this areas only school was on a piece of high ground on the west side of this cove.
Old fish house in Pine Island Sound between Pine Island and Cayo Costa, Florida near Ft Myers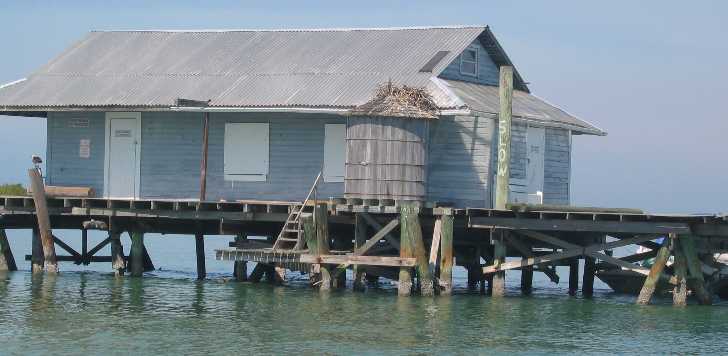 Our guide related that his grandmother drove the "school-boat" that stopped at each of these outlying islands and fish camps (buildings constructed on pilings in the middle of the bay) collecting school kids in the morning and returning them to their fish camps in the afternoon. We passed by many of these old fish houses built on stilts out in the shallow waters between Pine Island and Cayo Costa (these are now privately owned fish camps that have been grandfathered in). Families used to live on these structures as well as operate fishing operations from them. Seeing these structures was an incredible experience for me. What an experience it must have been to have been raised on one of these fishing platforms out in the middle of this incredible estuary.
Around noon our Captain dropped us off on North Captiva Island where we had lunch at Barnacle Phil's a fairly exclusive "Caribbean-style" restaurant with most dining taking place outside. First let me explain that North Captiva Island is a bit "posh" as in--- an enclave for those with more money than they have any idea what to do with, an escape for the privileged. There is NO bridge to North Captiva Island. There are NO cars on North Captiva Island, only golf carts. Milk sells for $9.00 per-gallon if you forgot to bring it with you. Owners generally have their own boats to transport them to and from the mainland while renters utilize the island taxi service (which is a boat), dah! The taxi costs $35 round trip from Pine Island. Those renting a place on North Captiva Island for a week have to bring EVERYTHING they need for the week when they come. You don't want to forget milk or toilet paper or it will cost you dearly.
North Captive Island near Sanibel Island and Ft Myers, Florida
Anyway, we dined at the restaurant that caters to these folks. As we were leaving another cruise boat was inbound to deposit yet another load of customers so in addition to catering to folks vacationing on the island they obviously do a brisk business with cruise boat customers. I didn't check prices at the real estate office located next to the restaurant but another fellow on the cruise with us staggered out muttering something about lots being over $1-million each and housing "restrictions" were double that. He didn't bother to inquire what "double that" meant but assumed that structures (houses) must be a minimum of double the price of the lot. The houses were NICE but I am not sure they were $2-million each although it might cost that much to transport all material and labor to the island by boat. None of the "help" needed on the island lived on the island. All help arrives and departs each day by boat.
Marker for Useppa Island near Ft Myers, Florida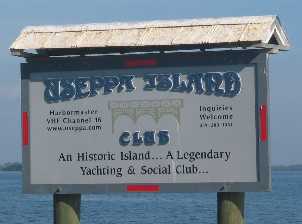 Our afternoon was spent investigating more islands, shelling and walking on the beach at Cayo Costa; then we cruised around "super exclusive" Useppa Island. This place put North Captiva to shame. They have taken snooty to a new level. This 100-acre island does not allow any boat to tie up at any dock on the island until they have paid "Island dues" supposedly, dues are $1,200 and that enables the individual to dock his boat overnight and eat in the restaurant (in case you are wondering YES he has to pay for his food at the restaurant). All the $1,200 is for is to weed out riff-raff like us. Big signs in the harbor instructed those entering the harbor to check with the "harbor-master" on marine channel 16.
Our guide indicated that this island was the height of snobbery. There was no bridge to this island and I did not see any automobiles, since it is only 100 acres they probably get around just fine on golf carts. Every house but one on this island was white. There was one yellow house that had been grandfathered in. I remember our guide saying that the last time one particular house sold it went for $6-mil and that another for $4-mil. Somewhere along the line you just get numb to those numbers. Every house on this island was impressive.
Home on Useppa Island near Ft Myers, Florida
What better way could we have spent 7-hours in paradise. We saw a wide variety of wildlife like porpoise and pelicans. At one point we watched a magnificent frigate bird. Upon spotting it our guide excitedly announced "spring is here, spring is here--when we see the magnificent frigate birds they are our signal that spring has arrived". I thought a temperature in the mid-80s was a fairly good hint---- but the frigate bird took away all doubt at least in our guides mind. We watched this magnificent bird for some time hoping that we could see it feed. That is an exciting thing to watch since they steal fish from eagles and ospreys while in flight. The frigate bird is a magnificent "aerialist" so magnificent that they can swoop out of the sky and grab a fish out of the talons of an eagle or osprey; or out of the bill of a gull or tern. Although we watched this bird for some time we never got to see it steal a meal.
Osprey with freshly caught spanish mackerel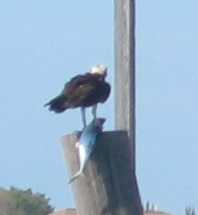 We did see 15 or 20 osprey perched on poles or tree limbs eating ladyfish.
Osprey with freshly caught lady fish
We didn't see any osprey in the act of catching dinner since they had obviously caught these fish earlier in the day and were spending the remainder of the day leisurely devouring their catch. I might add that it takes an osprey many hours to eat a ladyfish weighing between one and two pounds. The ospreys did not fly as we passed their eating perch, to do so would have expended a tremendous amount of energy since the fish weighs as much as they do.
During the day we passed flock after flock of gorged brown pelicans patiently waiting for the return of hunger. Later in the afternoon we stopped and watched a flock of large white pelicans feeding by herding fish into a position between them and the shoreline. The two types of pelicans-brown & white-- feed in totally different ways. Brown pelicans dive for fish. White pelicans work as a group much like a pack of wolves or lions. As a school of fish is surrounded between the pelicans and the beach all pelicans have their bills in the water effectively forming a net. By working together they effectively trap and eat the schools of fish as they attempt to escape. White pelicans winter here then migrate diagonally across the United States to summer in Utah and other areas of the North West. Our guide told us that the day these white pelicans head north for the summer was the day that manatee returned to the bay from their winter area in the warm water discharged from the Ft Myers electrical generating plant. If you want to see manatee during the winter around Ft Myers you need to visit Manatee Park on State Road 80 just west of I-75.
For those gastronomically inclined readers here is a tip. When heading to or from Pine Island on State Road 78 there is a fruit stand just before you get to the causeway. In other words "Tropicaya Tropical Fruit & Gift Market" is located on the mainland before you get to the causeway to Matlacha and Pine Island. We didn't buy any fruit but did get some pina colata ice cream & a raspberry pineapple smoothie. If you are into good smoothies or "tropical" ice cream this is the place.
On the way home we got to thinking that it sure would be nice if Linda and Paul wanted to fix us dinner again tonight. It wasn't to be-our luck had run out. VBG-- maybe I lucked out since Paul may have put another of those evil ideas into Joyce's head.
Wednesday, February 11, 2004
Grandma's Grove, La Belle (25-miles east of Ft Myers) N26° 44.190' W81° 28.753'
$16 for "overflow site" 15 amps & water---central dump available

Joyce had a number of things planned for us today but none of them worked out. It began to be funny as one after another of the things we planned to do were not open. Finally, we gave up and returned to the motorhome to take care of laundry and make plans for the next week or so.
We were planning to visit the Everglades and Naples area later this week. That plan was put on hold after Joyce made a number of phone calls to RV-Parks that were FULL. We could not locate a vacancy even a vacancy in an overflow spot. We finally decided that we would just take day trips to the Everglades and Naples from here.
Thursday, February 12, 2004
Grandma's Grove, La Belle (25-miles east of Ft Myers) N26° 44.190' W81° 28.753'
$16 for "overflow site" 15 amps & water---central dump available
We are still in La Belle in an overflow site with 15-amps. It is all we need but we continue to be amazed & frustrated at our lack of options.
We drove the Saturn to Everglades City & Chokoloskee both on the western side of Everglades National Park. It was a 68-mile drive down State Highway 29 through the farming community of Immokalee.
From Everglades National Park we headed west on US-41 to Collier Seminole State Park. We toured the park to check out RV-sites. Some friends rave about the camp sites while others say they are the pits. We are thinking about making reservations in Collier Seminole State Park next winter and want to check out possible sites. After riding through the Campground I can see where some would get upset if they were put on the many undersized sites (tent sites). We picked out the sites our 33' motorhome would fit on. Now if we decide to spend the winter down here next year we can reserve one of those sites and avoid the undersized ones. While in Collier Seminole State Park we checked out the 1929 "walking dredge" used to construct the Tamiami Trail (US-41) across the Everglades from Naples to Miami. In 1929 it was an impressive piece of machinery.
Our next stop was the downtown shopping area of Naples. It was obvious even to this casual observer that Naples wasn't designed for the likes of me. Naples appears to be the "Palm Beach" of Florida's west coast. Naples's 5th Avenue shopping corridor contains a plethora of trendy boutiques, cozy restaurants, courtyards and other upscale accoutrements. The fine shops, galleries, restaurants and sidewalk cafes along beautifully landscaped promenades literally exude haute sophistication. I was reluctant but we stopped and I dutifully followed Joyce as she made her way through a variety of these establishments. I am as nervous in those shops as a long tail cat in a room full of rocking chairs. I behaved myself and Joyce finally tired of her sport. To say I was relieved to be escaping that environment is an understatement.
Gated communities are popping up like mushrooms on a decaying stump along the US-41 corridor (Tamami Trail) between Naples and Ft Myers. This coastal ribbon is quickly becoming a metropolis of the rich & famous.

Friday, February 13, 2004
Grandma's Grove, La Belle (25-miles east of Ft Myers) N26° 44.190' W81° 28.753'
$16 for "overflow site" 15 amps & water---central dump available
The weather has been unbelievable this week. It has been in the low to mid-80s every day then when the sun goes down it cools off to good sleeping temperatures. Thank goodness, for the cool nights otherwise we would have been in a pickle with only 15-amps of electricity.
We finally made time for the ECHO (Educational Concerns for Hunger Organization) tour, N26° 43.080 W81° 47.503 we have scheduled around for days. The ECHO tour/program only has one program per-day and that is 10:00AM. Yesterday was a long day so we slept in this morning making it a perfect day to catch the ECHO program. We would have visited earlier if we would have had any idea how interesting it was.
ECHO is a non-profit, inter-denominational Christian organization dedicated to fighting world hunger through innovative ideas, information, seeds and agricultural training. ECHO networks with community leaders and missionaries in developing countries to provide agricultural solution for families growing food under difficult conditions. ECHO provides solutions to agricultural problems in the form of ideas, information, seeds and training.
At the heart of ECHO is the demonstration farm, known as the "Global Village". We are at this "Global Village" today seeing and experiencing what they are all about. The Global Village is well-suited for introducing the public to ECHO's work by opening it to tours, its primary purpose is to train interns, missionaries and overseas development workers in tropical agriculture and animal husbandry, and allow ECHO to grow seeds for the seed bank.
ECHO sends trial seed packets of over 300 varieties of promising but hard-to-find tropical crops. If the crops do well, farmers can save their own seed for themselves and their neighbors.
College graduates train for one year at ECHO as interns. During their year on the farm they get hands-on experience growing tropical crops. They also learn about sustainable agriculture through specific training and seminars.
One demonstration project in the Global Village really interested me. It had to do with producing protein, a "real" problem in third world countries. This particular demonstration project teamed Ducks and Tilapia (a fast growing, "vegetarian", freshwater fish that you can find in most supermarkets). The Global Village ducks are living in a symbiotic relationship with the tilapia fish: the duck's droppings promote algae growth in the pond which provides food for the "vegetarian" tilapia. Ducks are useful because they have fewer disease problems than chickens. Duck eggs taste similar to chicken eggs, and ducks are a meal-size package of protein (an important thing to peoples without refrigeration).
Tilapia thrives in warm tropical ponds. They live in water with low oxygen levels and eat a variety of algae and small plants. Tilapia begin reproducing when they are only 2 inches long and thus present the farmer with the "problem" of having to continually harvest the large fish in order to allow the smaller fish room to grow. This is a "problem" third world countries need to have.
I could write about all the neat things we saw but it would bore many. Instead I will provide a web site for the interested ones to visit: www.echonet.org These folks also have an incredible selection of books dealing with planting these plants and preparing them - echo@echonet.org or phoning them at: 239-543-3246 should help.
Saturday, February 14, 2004
Grandma's Grove, La Belle (25-miles east of Ft Myers) N26° 44.190' W81° 28.753'
$16 for "overflow site" 15 amps & water---central dump available
We spent time yesterday planning our schedule for the next two weeks. Our plan was to return to Sarasota where friends Lee and Joe are volunteering in Myakka River State Park. We planned to stay at Sun N Fun Resort a few miles away where we always have so much fun. Sun N Fun was full as in FULL until mid-March; imagine 1,600-sites and NO VACANCY. Then we tried a number of RV-Parks in Venice 20-miles south of Sarasota-they were full. Next we called every campground in Arcadia 40-miles inland but within commuting distance-all were full until mid-March. This is when we came to the realization that we were staying here next week. There is still plenty for us to do in the area we were just getting a case of "hitch-itch". So much for our wanderlust, we are staying here thru Thursday then heading back to the small town of Okeechobee for three days.
We drove over to Lakeport on the western shore of Lake Okeechobee today. They were having a sour orange festival. This was another of those small town festivals in yet another town not large enough to command a stop sign on State Highway-78, the main street of town. Lakeport's call to fame is access to Lake Okeechobee for fishing and hunting. Fisheating Creek enters Lake Okeechobee at Lakeport and Fisheating Creek is one of the prize ecological areas in the state. It is noted for fishing and wildlife.
West of Lakeport the ground is FLAT as in pancake flat. It is cattle country with scattered live oak hammocks and the ubiquitous sable palm trees. Herbert Hoover Dyke surrounds most of Lake Okeechobee to protect surrounding communities from devastating flooding that can occur with a bad hurricane. South of Lakeport there is a gap in the levy where, under severe conditions like extremely high water being driven by hurricane force winds, water from Lake Okeechobee can flow out of the lake. This opening acts as a safety valve for the levy system. The opening in the levy is 4-miles wide. Even though there is an opening in the levy, legs of the levy extend several miles inland on both sides of this opening so that when water is blown out of the lake through this opening it will not be flooding villages around Lake Okeechobee. The flood water will flow onto the hundreds of square miles of perfectly flat cattle grazing area located west of the Big Lake. Fisheating Creek flows into Lake Okeechobee through this opening or relief valve. Those of you familiar with the area know that Fisheating Creek is one of the top freshwater fishing areas in the entire country.
There is another "Safety Valve" like this one on the north side of Lake Okeechobee where the Kissimmee River empties into Lake Okeechobee. Legs of the Herbert Hoover Levy extend many miles up both sides of the Kissimmee River so that flood waters will pour out into flat wilderness areas there also.
I have taken Joyce to 2 (TWO) Valentine Dances this week one on Friday night and another last night at an RV-Park down the road. Is this making up for all those stick in the mud years or what?
Sunday, February 15, 2004
Grandma's Grove, La Belle (25-miles east of Ft Myers) N26° 44.190' W81° 28.753'
$16 for "overflow site" 15 amps & water---central dump available
This was a down day.

Until next time remember how good life is.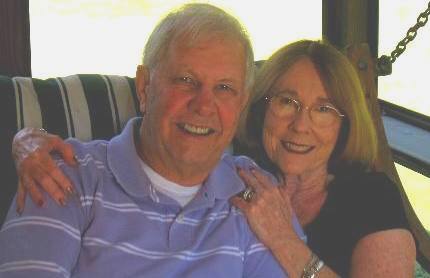 Mike & Joyce Hendrix who we are
We hope you liked this page. If you do you might be interested in some of our other Travel Adventures:
Mike & Joyce Hendrix's home page
Travel Adventures by Year ** Travel Adventures by State ** Plants ** Marine-Boats ** Geology ** Exciting Drives ** Cute Signs ** RV Subjects ** Miscellaneous Subjects
We would love to hear from you......just put "info" in the place of "FAKE" in this address: FAKE@travellogs.us
Until next time remember how good life is.